Tesla's (NASDAQ:TSLA) CEO, Elon Musk, recently suggested that the company could be profitable in Q1.
That's a bold statement, and my reaction was somewhere between "yeah, right", and "sure... perhaps in the same narrowly technical sense that you were FCF neutral in Q4 for a week or whatever".
With two weeks of Q1 left to run, my suspicion is that reality is probably still somewhere around the second of those two scenarios. However even if Tesla only manages to achieve some sort of normalized profitability in the final week of March, that would be a monumental accomplishment for the company. Tesla would be standing on its own feet, unaided, and this would be dire news for Tesla shorts (who've already taken a hiding in recent months).
Life is about to get a lot worse for the shorts for other reasons. A reader alerted me to a little cited article in the Westfield Republican, where Tesla's supplier Jamestown Plastics announced that it is currently fabricating and shipping 500 units per week. Jamestown Plastics make the liner for the Model S's forward trunk, or 'frunk'... and last time I checked there's only one of those per car. Any quality issues would be dealt with on the Jamestown Plastics side, so 500 units shipped per week means that either:
Tesla is over-ordering by 25% because the company is terrible at inventory management (unlikely)

Tesla has started a side business manufacturing frunk-shaped beer chillers (unlikely, but not impossible)

Tesla, having surpassed 400 Model S units/wk, is now building around 500 units/wk.
George Blankenship, Tesla VP of Sales, has stated in his latest update on teslamotors.com that:
"During the past three weeks we have averaged more than 500 Model S deliveries per week, and it looks like we'll be setting another record this week."
Straight from the horses mouth, and while deliveries are not necessarily leveled production, these two reports combine to make the beer chiller scenario look very unlikely.
500 units/wk is 26,000 units/yr, and that is some bad news if you're short Tesla. Worse news is that, come Autumn, Jamestown is expecting deliveries to increase to 650/week; or 33,800/year.
Last September I wrote an article on Tesla, 'Profit point', in which I detailed Tesla's approximate gross margin and profit at varying production rates using two key data-points the company had indicated (8000/annum product line breakeven, and 20,000/annum Gross margin of 25%). Applying this same methodology to the new rates implied by the Jamestown Plastics report, and using Tesla's Q4 overheads of $115M/qtr ($69M R&D + $46M SG&A) we can get a feel for the company's positioning in 2013.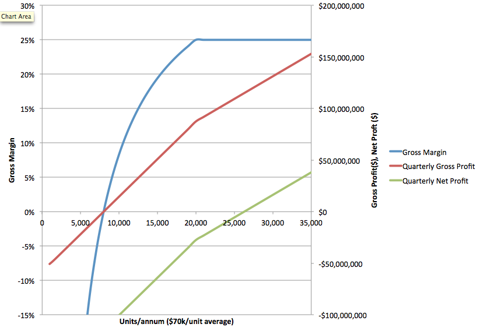 I've conservatively had the achievable Percentage Gross Margin saturate at 25% at the 20,000unit/annum level, otherwise things would be even more spectacular.
| | | | |
| --- | --- | --- | --- |
| | Gross Margin | Gross Profit/qtr | Net Profit/qtr |
| @26,000/yr (Now) | 25% | $113.75 Mil | -$1.25 Mil |
| @33,800/yr (Q3 target) | 25% | $147.88 Mil | +$32.88Mil |
This suggests two things. The first is that Musk's claim of 'profitability "in" Q1' may be entirely attainable. The second is that by Q3, Tesla may be profitable to the tune of $132 Mil/annum. Or, to put it another way, trading at a P/E of only 31 at the current share price. For a company with a growth opportunity that beggars belief, those are going to be pretty hard numbers for the bears to swallow.
If I remove the saturation on the Gross Margin at 20,000 units, and allow it to grow up to 30% at the 33,800 rate, the annual net profit grows to $250Mil. Maintaining the P/E of 31 would imply a market cap of nearly $8Bil, and a share price (assuming 120mil shares on issue) of $64.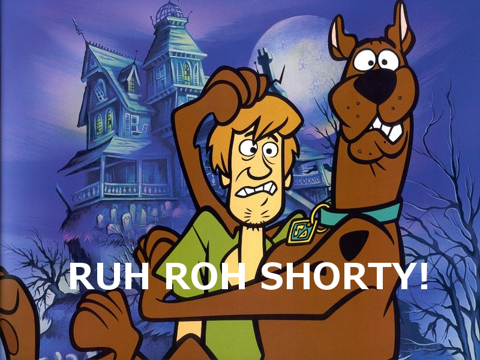 Twelve months ago there was still a lot of speculation and if/but in forecasting these scenarios. Now it looks as though they're very much on the cards. To bastardize the immortal words of Scoobydoo...
I've had a hard time maintaining a long position in Tesla lately; with the volatility in the stock I keep establishing one only to find that the optimal sell point I calculated is hit a week later and I'm forced to exit to remain true to my trading plan. However, I've just opened a new one with Jan 2014 $35 Calls. It could be well worth your while taking a look at something similar, as I won't be at all surprised if Tesla is trading over $60 at some point before the end of this year.
Disclosure: I am long TSLA. I wrote this article myself, and it expresses my own opinions. I am not receiving compensation for it (other than from Seeking Alpha). I have no business relationship with any company whose stock is mentioned in this article.