Intuitive Surgical, Inc. (NASDAQ:ISRG) was up 0.53% and closed at $489.39 on March 22, 2013. ISRG had been trading in the range of $455.18-$594.89 in the past 52 weeks. ISRG has a market cap of $19.64B with a beta of 1.58. A lot has happened since mid-February for ISRG, including questioning of robotics surgery, notice of FDA investigation, and questioning of da Vinci's effectiveness by professionals, resulting in a 14.75% decline for ISRG after my last article on ISRG, dated February 23, 2013. With the new share repurchase plan, we will take a look at ISRG after all the turbulence in the past month.
Defending Side
On March 21, 2013, as reported, ISRG is fighting back after getting slammed by short sellers, trade groups and government agencies about the risk/reward of its robotic surgical devices over the past month. ISRG's board of directors had authorized the company to repurchase an additional $1B of the company's outstanding common stock, which will be available after the company's internal trading window opens on April 23, 2013. With this authorization, the total amount available for share repurchases by the Company is approximately $1.21B, which includes approximately $208M remaining from previous authorizations. $1.21B represents 6.16% of ISRG's current market cap of $19.64B.
On March 18, 2013, Canaccord Genuity upgraded ISRG from hold to buy and lowered the price target from $590.00 to $527.00. Canaccord Genuity analyst Jason R. Mills commented,
"Our valuation analysis for both scenarios uses 1) 1.5x P/E/G multiple (in line with mid/large cap med-tech comps), and 2) two-year EPS CAGR derived from the aforementioned scenarios. The "moderate" downside scenario generates a year-end '13 target of $517, while the "significant" downside scenario implies a $474 target. Averaging our previous target of $590 (based on current estimates) with these scenario-based targets gives us a mean year-end target of $527. With more than 10% upside potential to our new target (15% to be exact), we upgrade to a BUY rating."
Attacking Side
On March 14, American Congress of OB/GYN (ACOG) president President James T. Breeden posted a publication indicating that he doesn't see robotic surgery as the most cost-efficient hysterectomy nor best minimally invasive approach. As reported by MarketWatch, President Dr. James Breeden questioned whether ISRG's da Vinci robotic surgeon offered any added value when performing hysterectomies over conventional means. Canaccord Genuity's analyst Mills noted Breeden's complaints were countered by another group of surgeons who advocate minimally invasive procedures, saying:
"Receiving a minimally invasive surgery is without question advantageous to the patient in whom this approach is prudent. Hopefully, we can all agree on that. The question then becomes: is she being offered a minimally invasive approach? The data clearly indicates that prior to Robotic Surgery that was not the case for the majority of women."
Analysts' Calls
Analysts currently have a target price of $608.00 and a median target price of $622.50, suggesting 24.24%-27.20% upside potential. Analysts are estimating an EPS of $3.99 with revenue of $582.95M for the current quarter ending in March, 2013. For 2013, analysts are projecting an EPS of $17.53 with revenue of $2.56B, which is 17.60% higher than 2012.
Fundamentally, there are a few positive factors for ISRG:
Higher revenue growth (3 year average) of 27.5 (vs. the industry average of 6.3)
Higher operating margin of 40.3% and net margin of 30.1% (vs. the industry averages of 15.9% and 11.6%)
Stronger ROE of 21.1 (vs. the average of 13.4)
ISRG has a total cash of $1.32B and zero total debt
ISRG generates an operating cash flow of $814.20M with a levered free cash flow of $567.81M
Technically, the MACD (12, 26, 9) indicator is showing a bearish trend, but the MACD difference continues to converge. The momentum indicator, RSI (14), is increasing but still indicating a bearish lean at 40.57. ISRG is currently trading below its 200-day MA of $523.60 and 50-day MA of $539.90, as seen from the chart below.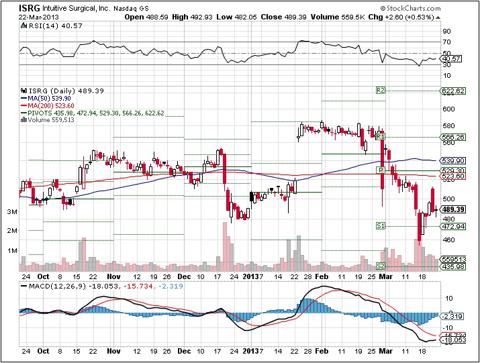 Source: StockCharts.com
How to Invest
As the debates continue on, ISRG becomes less suitable for investors seeking stability and consistent growth. However, for risk takers, ISRG may present a good buying opportunity now after the pull back. With its estimated 17.69% annual EPS growth for the next 5 years, high margins and ROE, as well as a healthy balance sheet, ISRG still has lots of upside potential in the long-term. The last reviewed options positions of April 20, 2013 $460/$480 put and April 20, 2013 $480/$500 put are currently resulting a loss; however, both will still result a profit for credit premium if ISRG closes above $480 or $500 by April 20, 2013. If ISRG fails to close above $480/$500, ISRG shares will be acquired at sub-$480/sub-$500 price levels. Investors can also review the following ETF to gain exposure to ISRG:
Dow Jones U.S. Medical Devices Index Fund (NYSEARCA:IHI), 6.95% weighting
Note: All prices are quoted from the closing of March 22, 2013. Investors and traders are recommended to do their own due diligence and research before making any trading/investing decisions. The author has no intention to defend da Vinci Surgical System, and the investment review is mainly based on valuation and technical analysis.
Disclosure: I have no positions in any stocks mentioned, but may initiate a long position in ISRG over the next 72 hours. I wrote this article myself, and it expresses my own opinions. I am not receiving compensation for it (other than from Seeking Alpha). I have no business relationship with any company whose stock is mentioned in this article.