Aerospace-related stocks have seen substantial gains so far this year compared to the S&P 500. iShares DJ Transportation Average (NYSEARCA:IYT) has rallied 17.01% compared to a modest 9.0% rally on SPY. However, regional airlines are outperforming big sisters and the potential profit is far from over. Amongst the small airlines, Alaska Airlines (NYSE:ALK) has rallied 46% this year, and it is still not an overvalued stock. The following lines will discuss fundamental analysis and the reasons why I believe the rally is not over.
Fundamental Analysis
ALK is currently trading at a P/E of 14.35 and a forward P/E of 10.07. Although it is up almost 50% YTD, it is still not considered an expensive company, and the forward P/E shows it will make more money next year. It has about $1.2 billion in cash and it's trading at a price-to-book of 3.11. It currently has small debt; however, the sales are increasing and it should be repaid in the near-to-intermediate future. According to the latest earnings report [see transcript], its revenue increased by 8.5% quarter-over-quarter. ALK has strong fundamentals, and recent news point to a secure future throughout 2013.
News
According to a press release, the company reported an increase of 6.2% in traffic compared with February 2012. This resulted in a 0.6% increase in load favor. Its revenue increased from $1.341 billion to $1.376 billion from the same quarter a year ago which represents a change in 2.6%. More importantly, year-to-date estimates indicate a revenue increase of $2.854 billion from $2.695 billion for a change of 6.5%. Moreover, Horizon Air (daughter of ALK) reported a revenue increase of 6.5% year-to-date. This leads me to think that ALK is doing things right in generating more revenue and since the summer break is relatively here, it seems like ALK will see a similar increase in revenue.
Furthermore, on February 27, 2013, a press release informed that Alaska Air Group distributed $88 million in bonuses to its 13,000 employees for exceeding the company's 2012 operational and financial goals which equals about a month's salary for each employee. It is further evidence that the company board of directors is confident on the outlook.
In addition, with the alliance of U.S. Airways (LCC) and American Airlines, Alaska Air Group is being fed with more passengers because the alliance now controls almost 90% of the air traffic in the United States. This should also be reflected in future earnings releases.
Technical Analysis
Although it may seem like the rally may end soon, the Bollinger bands are expanding and increasing as well as its moving averages. An entry may be considered here with a stop-loss order at the 20dma.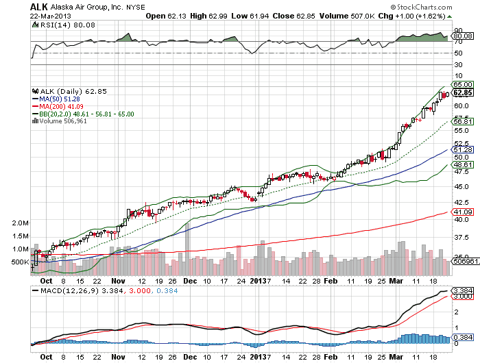 Conclusion
The company's fundamental analysis is strong and not considered "expensive" on valuation. Its sales quarter-over-quarter is positive and so far this year they reported an increase in revenue from 2.6% to 5.9%. It is a well-capitalized and well-run operation and the generous bonus that was distributed to its employees suggests that the future should be brighter.
Disclosure: I have no positions in any stocks mentioned, and no plans to initiate any positions within the next 72 hours. I wrote this article myself, and it expresses my own opinions. I am not receiving compensation for it (other than from Seeking Alpha). I have no business relationship with any company whose stock is mentioned in this article.