Income investors continued to be challenged by a Federal Reserve that is determined to pump money into the economy even at the continued detriment of savers. Yield hungry investors have a few choices. They can accept low bond yields such as those available in ten year treasuries, with a very good possibility that an interest rate rise could put a significant dent in their income portfolio (if 10 year rates rose to the average of the last decade, 10 year treasuries would lose approximately 23% of their value). Those seeking yield could also seek the comfort of investing in some of the traditional dividend paying sectors of the market such as Consumer Staples or Utilities. However, both of those sectors are trading at a premium to the overall market and also trading at much higher than normal historical valuations measured by metrics such as P/E or P/S. In addition given the regulatory environment as well as tepid domestic growth, it is doubtful that much revenue growth is coming out of the utility sector in the near future. Slow international growth also provides a headwind to the prospects for multi-national consumer staple stocks like Procter & Gamble (NYSE:PG) which is yielding less than three percent (2.9%), growing revenues at 1.5% this fiscal year and trading at over 17x forward earnings.
Two non-traditional sectors that income investors should look to for yield are technology and energy. Today, we will discuss the income opportunities available in the energy patch through limited and master limited partnerships (MLPs). These entities are thriving as a huge expansion of domestic energy production continues. Tomorrow we will cover yield opportunities with the tech space "Tech Stocks: The New Dividend Payers". MLPs have some unique tax structures and here is a good primer an investor can use to familiarize themselves with the unique tax benefits and consequences of the entities. (Thought I would be proactive as I also get questions about this structure every time I write about a MLP).
The landscape for MLPs is very positive. The United States is well on its way to be the leading oil producer in world by the end of the decade despite tepid support at best from the current administration. In addition, these entities continue to enjoy access to low cost financing given their strong cash flows which ensures their growth in investment will continue to be robust. Finally, based on historical precedent these entities should perform just fine in a rising interest rate environment. The largest portion of my income portfolio is allocated to these types of energy yield plays. Here are a couple of income plays in the space I like here.
Linn Energy LLC (LINE) is an independent oil and natural gas company, engages in the acquisition and development of oil and natural gas properties.
4 reasons LINE is a good income play at $36 a share:
The entity yields close to eight percent (7.7%). It makes frequent and consistent increases to its distribution payouts and has more than doubled those payouts in the last seven years.
LINE is growing rapidly. It should achieve better than 60% revenue growth in FY2013 and over 25% sales increases in FY2014. The recent purchase of Berry Petroleum (BRY) for $4.3B (its largest acquisition to day) bodes well for future cash flow growth.
According to Credit Suisse, it is the best hedged upstream operation it covers as well as the most aggressive acquirer given its easy access to liquidity. These hedges protect it almost completely from commodity price volatility through 2016.
The median price target by the 15 analysts that cover the stock is $44 a share. It is also selling just above a solid technical support level (see chart).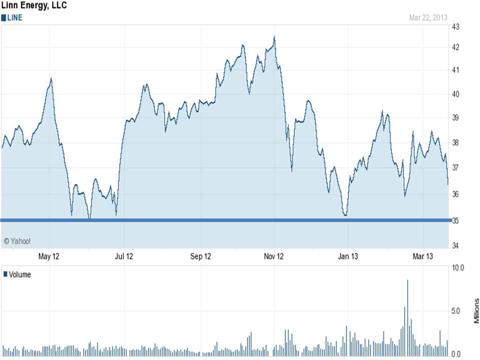 Martin Midstream Partners L.P (NASDAQ:MMLP) collects, transports, stores, and markets petroleum products and by-products in the United States Gulf Coast region. The company owns or operates 27 marine shore based terminal facilities and 12 specialty terminal facilities among other assets.
4 reasons MMLP belongs in your income portfolio at $37 a share:
MMLP yields close to nine percent (8.8%) and has more than doubled its payouts since it became a public entity in 2003.
Analysts are projecting that the company will grow revenues at an approximate 7.5% CAGR over the next two years. I would look for distribution rate growth on a similar path over the next two years as well.
Insiders have been small but consistent purchasers of the stock over the last two years.
The company is using divestitures to reduce its exposure to natural gas gathering and processing. Martin will be able to focus more on its oil storage, sulfur services and marine transport businesses which will help to streamline the firm.
Disclosure: I am long LINE, MMLP. I wrote this article myself, and it expresses my own opinions. I am not receiving compensation for it (other than from Seeking Alpha). I have no business relationship with any company whose stock is mentioned in this article.