Over the last three years, the stock market has followed a distinct pattern. Stocks have peaked during the month of April before falling into correction over the next few months. And with the stock market already running hot so far in 2013 despite lackluster fundamentals and the renewed threat of crisis from Europe, some investors are anticipating that this same pattern for stocks may play out once again this year. The mere potential for it raises an important question. If stocks do indeed peak in April (if not sooner) and sell off over the next few months, where exactly is the money likely to go that is flowing out of the stock market? In other words, how can investors seize the opportunity offered by stock investors "selling in April and going away"? Recent history since the outbreak of the financial crisis several years ago leads to two distinct answers.
The first is long-term bonds. This includes not only long-term Treasury products such as the iShares Barclays 20+ Year Treasury Bond ETF (NYSEARCA:TLT) and the Vanguard Extended Duration Treasury Index ETF (NYSEARCA:EDV), but also investment grade spread products such as the Vanguard Long-Term Corporate Bond ETF (NASDAQ:VCLT) and the PowerShares Build America Bond ETF (NYSEARCA:BAB). Over the last few years, this higher duration (and thus higher risk) segment of the bond market has exploded higher from the very moment that stocks (NYSEARCA:SPY) have reached their April peaks and fallen into correction.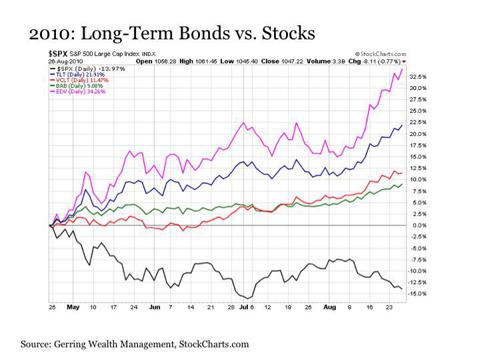 In 2010, the stock market peaked on April 23 and entered into a -15% correction that lasted through August 26. During this time, long-term Treasuries posted robust gains of +34% and +22% on the EDV and TLT, respectively. The performance of VCLT and BAB was also impressive at +11% and +9%, respectively.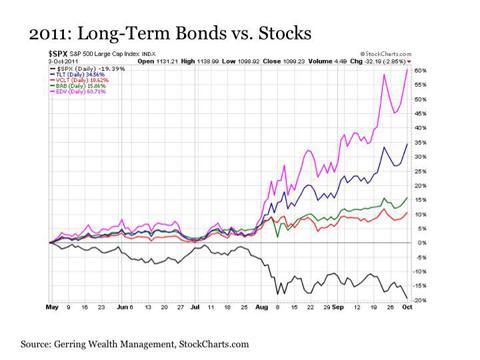 In 2011, stocks peaked on April 29 before entering into a sideways grind into July before plunging -20% lower by early October. Over this same time period, all of these long-term bond categories performed reasonably well through the spring and catapulted higher once stocks tumbled starting in July. Overall, the EDV and TLT gained +60% and +35%, respectively, while the BAB and VCLT posted strong double-digit gains in their own right of +16% and +11%, respectively.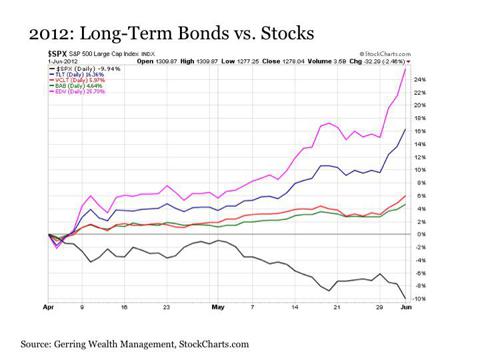 And in 2012, the stock market topped out on April 2 before correcting by -10% through early June. During this stretch, EDV and TLT were once again the leaders with gains totaling +26% and +16%, respectively. And the VCLT and BAB also posted respectably solid returns of +6% and +4%, respectively.
If recent history is any guide, when investors have sold in April and gone away, the money has not simply just moved into cash. Instead, a good portion of it is finding its way into the long-term bond market. And if such a scenario were to play out again in 2013, this movement into long-term bonds would more than likely repeat once again, for during the brief moments that stocks have entered into correction in 2013, long-term bonds were the direct beneficiaries with solid gains.
It should be noted that the long-term bond market is not for the faint of heart. While many investors believe that bond investments are low risk, this is certainly not the case for long-term bonds, as the price swings in this asset class can leave even a stock investor flushed at times. After all, if an investment can generate double-digit gains in a short-term period of time, it can also sustain double-digit losses over a comparable stretch. As a result, investors are advised to proceed with caution with this category, with EDV and TLT representing the higher-octane offerings while BAB and VCLT serve as the relatively lower volatility alternatives.
Given the success of long-term bonds during these recent "sell in April and go away" phases, it is reasonable to wonder whether any other major asset classes also merit consideration. The answer? Gold is another category that has also shown the ability to perform well in this regard.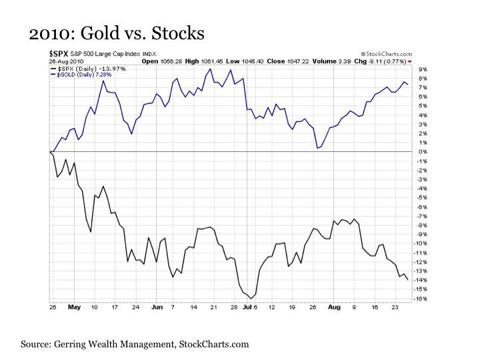 In 2010, gold (NYSEARCA:GLD) moved to the upside with a high negative correlation to stocks during this correction, posting a +7% gain during this time period.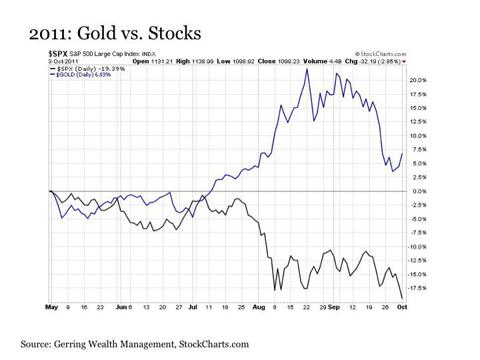 Despite a slow initial start in 2011, gold's performance was even better once the correction in stocks took hold in July, up until the very end when the Fed announced Operation Twist in late September. During this stretch, gold was up over +20% at a time when the stock market was down nearly -20%.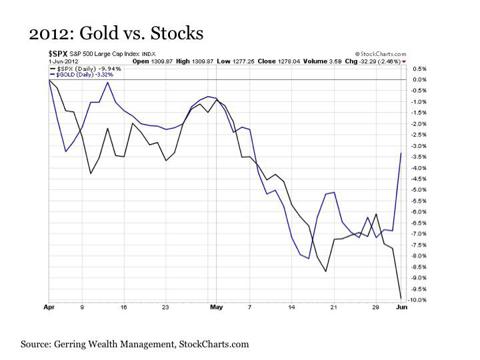 But in 2012, the story suddenly changed. During this correction, gold and stocks followed virtually the identical path lower. Thus, the idea that gold will rally when stocks are correcting is far from ironclad.
Recent trends suggest that the former relationship between gold and stocks witnessed in 2010 and 2011 may return under such a scenario in 2013, however. Over the 57 trading days thus far in 2013, the stock market as measured by the S&P 500 Index has fallen by more than -0.25% on 12 trading days. And during these definitive down days for stocks, gold rallied on 9 of these 12 trading days with an average gain of +0.70%. This at least suggests that investors have returned viewing gold as a safe haven destination during stock sell-offs.
For those interested in holding gold in a securities portfolio, the Central GoldTrust (NYSEMKT:GTU) or the Sprott Physical Gold Trust (NYSEARCA:PHYS) are both suitable choices.
So if we do indeed enter into another "sell in April and go away" pattern in 2013, the safe haven alternatives of long-term bonds and gold continue to represent the most likely destinations for capital to flow. And if recent history is any guide, the further stocks fall, the higher these categories may climb in response.
Disclosure: I am long BAB, TLT, GTU. I wrote this article myself, and it expresses my own opinions. I am not receiving compensation for it (other than from Seeking Alpha). I have no business relationship with any company whose stock is mentioned in this article.
This post is for information purposes only. There are risks involved with investing including loss of principal. Gerring Wealth Management (GWM) makes no explicit or implicit guarantee with respect to performance or the outcome of any investment or projections made by GWM. There is no guarantee that the goals of the strategies discussed by GWM will be met.