Previously I wrote an article giving my reasons for taking some profits, as I felt the risk-reward ratio was becoming less favorable on the long side. The expectation was for a period of profit taking within the confines of a healthy uptrend. My reasoning was based on the weakness in market internals pointing to some change in the market's behavior.
Whereas for many months, the market was "risk on" and anticipating better economic conditions in the future, the underperformance of cyclical stocks, equal weighted stocks, and small caps gave me some caution. These tend to underperform prior to corrections when markets are in distribution mode, however just because they underperform does not mean the market will correct. Nevertheless, when they underperform, it becomes more challenging to make money on the long side even if indexes continue to rise.
Since then, the markets have gone basically sideways. Certain stocks and sectors have remained resilient while others have significantly weakened. More importantly, during this consolidation, signs of accumulation have begun to appear. These signs of accumulation have shifted my stance in the near term to bullish and I think an upside breakout from these levels is very possible.
Breadth
Breadth continues to lead price higher. One of the primary reasons I have been bullish on the intermediate trend is the broad based nature of this move higher. So far, the strong breadth continues. Aggressively shorting is dangerous in such conditions.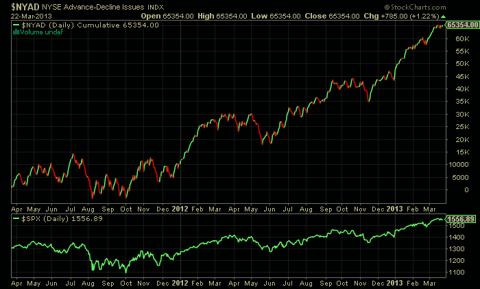 Click to enlarge
Market Internals
As stated above, many of the market internals have "healed" during this period of consolidation. Just like their weakness in early March was no guarantee of a plunge in equities, their current resilience is no guarantee of an upside breakout.
However for my purposes of managing risk, these conditions are much more constructive for being aggressively long. That this strength comes during a time of some macro uncertainty due to Cyprus is another positive. I believe that market action during news driven events can create opportunities. A similar situation happened in late November with the fiscal cliff situation dominating newspapers and contributing to a climate of fear in the markets, however internally the market remained strong with "risk on" measures and market breadth holding up.
Ultimately, this situation was probably the best buying opportunity in the last 6 months for short term and longer term traders. Again, just because the situations have some parallels does not mean the outcome will be the same. In order to manage my downside risk, I am putting a stop at 1540 which was the recent low during this consolidation phase. If I am correct in assessing the market conditions for this short term trade, then this level should not be breached.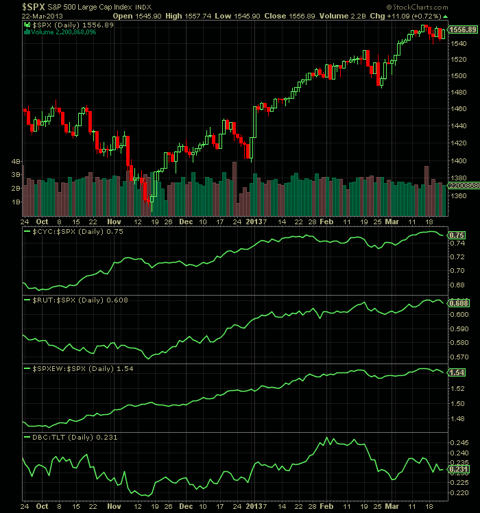 Click to enlarge
Conclusion
One market aphorism is that the market's reaction to news is more important than the news itself. Although the Cyprus news created a dramatic selloff, bulls easily absorbed the weakness. At the end of the week, the market was largely unchanged. My interpretation is that the market reaction to potentially troubling news was quite bullish. Its very easy to imagine during bearish periods such news leading to dramatic selloffs.
I find this short term trade appealing because the downside risk is very low with a stop on the SPDR S&P 500 ETF Trust (NYSEARCA:SPY) at 153.8 or the iShares Russell 2000 Index (NYSEARCA:IWM) at 93. Although I'm not really a technician, the market seems to be forming a bull flag underneath the all time highs. There are also some additional bullish factors such as the end of quarter window dressing and continued Fed injections.
I wrote an article early in the year based on my expectation that the market would make all time highs in 2013 and I think this could become reality in a matter of weeks. Of course, these will only be nominal highs but that is a discussion for another day.
Disclosure: I have no positions in any stocks mentioned, but may initiate a long position in SPY, IWM over the next 72 hours. I wrote this article myself, and it expresses my own opinions. I am not receiving compensation for it (other than from Seeking Alpha). I have no business relationship with any company whose stock is mentioned in this article.