Advanced Micro Devices (NYSE:AMD) is in the news given its recent collaboration with Aviary and also its rating upgrade by Macquarie Capital. Macquarie Capital raised it to outperform based on potential upside from its videogame business, given that its chips are being used in PlayStation 4 and will also be used in Xbox720. However, the company posted a higher net loss vs. last year, is still focusing on its restructuring efforts and continues to be battered by the weak PC market.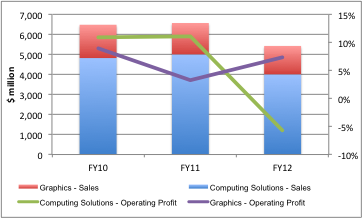 Advanced Micro Devices reports under two segments - Computing Solutions segment which includes microprocessors, sold on standalone basis or incorporated as an accelerated processing unit (APU) and Graphics Segment which includes graphics and multimedia products used in desktops and notebook computers and development and sale of game consoles.
The company has been facing tough times. Its Computing Solutions segment (73% of FY12 revenues) revenues declined 20% y-o-y in FY12 mainly due to slowdown in its PC shipments (due to increasing popularity of tablets) as well as challenging market conditions in the server segment. Further, its previous tablet chips, Hondo and Z-01, failed to impress the market. However, it has started to turnaround its business by focusing on restructuring, reducing costs and achieving design wins.
Moving to the positive side, it has been in the news for some recent notable developments:
Announced collaboration with Aviary, which specializes in mobile and online picture scrubbing. Aviary's new photo editor is available in Microsoft's Windows 8 platform. Aviary will use Advanced Micro Devices' hybrid processors to improve its graphics processing powers. This will help Advance Micro Devices to gain a footing in niche markets like professional graphics editing and digital photography.
Companies like Sony and Microsoft (NASDAQ:MSFT) are increasingly looking to reduce costs and are using custom made chips. Advanced Micro Devices stands to gain as its off-the-shelf chips provide the required visual horsepower through its APUs.
In collaboration with Crystal Dynamics, it launched the most awaited PC game - Tomb Raider. The game has used leading technology, TressFX Hair, which imparts lifelike appearance. Market experts claim that the game has pushed the boundaries of realism to the next level.
Microsoft Visio (a diagramming and vector graphics application, mainly for architects) will use Advanced Micro Devices' products in its two touch-based ultrathin and Windows 8 tablet, given the industry-leading graphics and long battery life.
Advanced Micro Devices is struggling to increase its market share against its competitors Intel (NASDAQ:INTC) and NVIDIA (NASDAQ:NVDA). However, it posted weak FY12 results. FY12 revenues declined 17% while gross margins continued to be negatively impacted by $273 million Lower Cost or Market charge (in relation to agreement with Global Foundries) and $703 million charge related to a limited waiver of exclusivity from Global Foundries. As a result, gross margins dipped to 23% vs. 45% in FY11. Excluding the above, gross margins would have been 41%.
Coming to its segments - As mentioned earlier Computing solution revenues declined 20% and it posted an operating loss of $323 million mainly due to the $273 million charge. Graphics segment revenues declined 9% due to decline in Graphics Processing Unit revenue partially offset by increase in game console revenue and work station graphics sales. Its increase in game console revenues helped in improving its operating income, which was up $54 million y-o-y. On its restructuring efforts, it plans to reduce its workforce, resulting in $190 million savings in FY13. By 3Q13, it expects $450 million reduction in operating expenses.
Its Cash balance remains strong at $1.2 billion and well above its minimum target of $700 million and optimal cash balance of $1.1 billion. However, future cash outflows include $175 million to Global Foundries and $31 million for severance charges.
While its first priority is to turnaround its business, it is also looking for opportunities outside its traditional space. According to the Management, its new APU and graphics offerings will lead it to profitability and positive free cash flows in 1H13. Further, it expects 40-50% of its revenues to be delivered from high-growth markets (providing cloud server solutions through SeaMicro) and expects its APU business to contribute 20% of total revenues.
Its key competitor chip giant Intel is also facing the brunt of weak PC market as it announced a 25% decline in its 4Q12 profit and provided a weak FY13 outlook due to the uncertainty of PC sales and as the high-profile Windows 8 operating system faces lackluster demand.
On the other hand, its close peer, NVIDIA reported a bigger than expected 50% jump in its net profit. Best known for its graphic chips and circuit boards (used for games on personal computers and consoles), it sensed the weakness in the PC market and moved into mobile chips (currently Google and Microsoft tablets use its chips). It reported revenue increase of 16% with 35 cents EPS (vs. analyst expectations of 24 cents)
Conclusion:
AMD's share price declined 66% in the last one year and there isn't any significant catalyst in the future. Besides, Advanced Micro Devices has provided a weak outlook for FY13 with revenue decline of 9% and flat gross margins. In my opinion, this stock should be chipped off from your portfolio, given its weak foothold in a market largely dominated by its key competitor, Intel.
Disclosure: I have no positions in any stocks mentioned, and no plans to initiate any positions within the next 72 hours. I wrote this article myself, and it expresses my own opinions. I am not receiving compensation for it (other than from Seeking Alpha). I have no business relationship with any company whose stock is mentioned in this article.