It's interesting to watch what kinds of investments the well-known funds make, as the analysts behind these decisions are out there on the front lines managing other people's money. While I deeply appreciate many of the insights that come from the sell-side analyst community, when it comes to determining the Street believes that a stock is a viable long term investment, it is typically much more instructive to look at fund holdings rather than analyst recommendations.
A position that I have been bullish on for quite some time has been Nvidia (NASDAQ:NVDA). Say what you will about Intel's (NASDAQ:INTC) integrated graphics or Qualcomm's (NASDAQ:QCOM) marketing department working overtime to try to discredit Nvidia's work, but I believe that Nvidia is a fundamentally well run company with a strong balance sheet and an ambitious and focused management team. The vision is simple: dominate visual computing. Whether it's discrete GPUs for PCs, workstation graphics, cloud gaming, or mobile computing, Nvidia wants to be a major player in these areas, and I believe that the company has the technical chops and the vision to succeed.
That being said, despite my confidence in my thesis, I would look rather silly if nobody else were thinking along the same lines, so I decided to dig a little deeper to see who exactly owns this stock, and who has been buying.
Fidelity's Growth Fund Likes It
I noticed that Fidelity's Growth Fund (MUTF:FDGRX) recently made this one of its top 10 holdings, giving it a 1.38% portfolio allocation: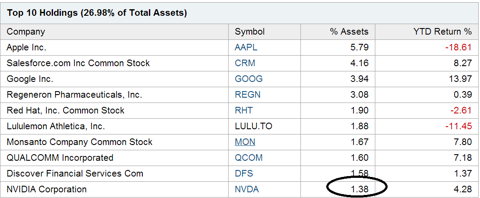 Interesting that Nvidia, which many pundits have declared "dead" thanks to an apparently stagnant PC ecosystem, is included in a high profile growth fund. Well, if you dig a little deeper, you start to see exactly why growth funds may be quietly picking up shares: it's growing and will likely to continue to grow for many years to come.
The Growth Opportunity
Take a look at the trend in Nvidia's top line over the last 10 years: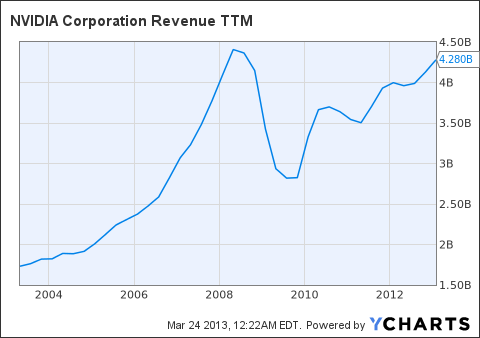 NVDA Revenue TTM data by YCharts
We see that from pre-2004 until about 2008, Nvidia was en fuego. However, the financial crisis happened, the economy went to hell in a hand-basket, and sales cratered. It also didn't help that PC microprocessors moved towards tighter integration, which effectively shut Nvidia out of its ~$1B/yr PC chipset business. Now, Nvidia had coveted an X86 license for years, but Intel obviously wouldn't license it to them. With the introduction of the tablet/smartphone computing paradigms, the ARM (NASDAQ:ARMH) instruction set and even reference core designs allowed Nvidia to be viable in this new world of computing.
Being forced out of the chipset business was actually quite serendipitous, as it forced Nvidia to look for a new market. The smartphone/tablet SoC business is much higher growth and potentially more lucrative than the PC chipset market ever could have been, so this allows Nvidia to be a viable and interesting growth story rather than a 100% PC levered company with little to no growth ahead.
Anyway, so the top line growth since the crash has been good and thanks to both GPU growth as well as Tegra growth: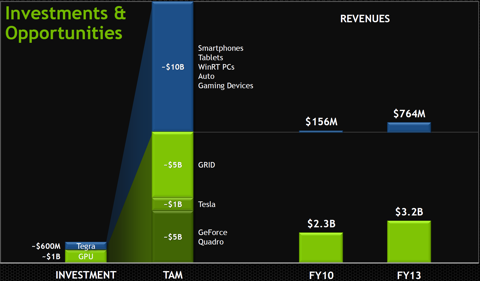 Nvidia seems fairly confident that there is a large growth opportunity with "GRID" - both for enterprise computing as well as cloud gaming. This comes on top of the very real potential for Nvidia to make a splash in smartphones with its integrated LTE solution ("Tegra 4i") set to hit phones in late 2013/early 2014, as well as in Android tablets with both Tegra 4i and Tegra 4 (I am writing off Windows RT as I do not expect much of a future for this platform).
The company has been working to both seize opportunities in existing markets as well as to create entirely new markets in which its products have a very distinct competitive advantage. Given how thinly AMD (NYSE:AMD) - the only other vendor of high performance graphics - seems to be stretching its resources, I doubt that it will produce a major competitor to Nvidia's "GRID".
In short, today's revenue base is ~$4.3B against a TAM that looks like it could be in the $20B+ range. There is significant operating leverage here. The consumer products business ("Tegra") sees an investment level of $600M. At ~$754M in sales with 50% gross margin, this accounts for about a $223M loss, or a $0.36/share drag on EPS. There is significant operating leverage here, as once this division ramps volumes to reach breakeven, then we at the very least take back $0.36/share on the bottom line, and from there we can start to see this business accretive to earnings. Take FY2013's $0.90/share EPS and add back $0.36/share and we are looking at $1.26/share in earnings simply from breaking even on Tegra. This discounts any potential upside from GRID, from Project Shield, and growth in the GPU business (particularly HPC/workstation which are very high margin). Assuming an earnings multiple of 10x - a discount to market multiple - coupled with ~$7.52 in net cash per share after the Intel payments are completed, a medium term (2-3 years) price target of $20.12/share actually seems quite reasonable.
On top of this, it is important to note that as the bottom line sees relief of the Tegra operating loss pressure, there will be significant room to increase the dividend. At $1.26/share in earnings, with a payout ratio of 40% (a slight improvement from today's ~36%), investors could be looking at a $0.50/share dividend. As of the most recent closing price of $12.48, this represents a 4% yield, which could help attract the dividend growth investors on top of those looking for growth with a fairly reasonable risk/reward at these levels.
Conclusion
It's easy to see why Fidelity's growth oriented fund decided to hop on board the Nvidia train - the potential for growth is quite enormous, and the downside on the shares is fairly minimal. At today's ~7x TTM EPS ex-cash, the company is essentially priced for death. While the arguments that integrated graphics will hurt GPU sales going forward may be valid, I believe they are completely overblown as games continually push the visual fidelity in ways that integrated graphics simply can't handle. Further, Nvidia is hedging its bets with its cloud gaming and cloud computing initiatives in a bid to sell systems packing its GPUs as well as lucrative software licenses to go with them. Finally, the Tegra business is likely to grow into its cost structure, and even breaking even here adds back quite a bit to the bottom line given its $0.36+/share drag on EPS.
Nvidia isn't the kind of stock for everybody - it's not volatile enough to excite the swing/day traders, and it's not yet certain that the growth initiatives will pay off, but if they do, I see substantial upside ahead for the shares with fairly minimal downside. Even during the depths of the crash, shares didn't breach the $6/share mark, and with ~$6/share in net cash on hand, that floor is only raised.
Disclosure: I am long NVDA, INTC, AMD, and I am short ARMH. I wrote this article myself, and it expresses my own opinions. I am not receiving compensation for it (other than from Seeking Alpha). I have no business relationship with any company whose stock is mentioned in this article.