After calling four Trust Preferreds on March 15, Citigroup (NYSE:C) raised $500 million on March 19 by issuing 20 million shares of its new 5.80% perpetual fixed-rate preferred, Series C. The position is currently trading OTC under the ticker symbol CITGL and is expected to trade on the NYSE within 30 days (the permanent symbol is still yet to be determined).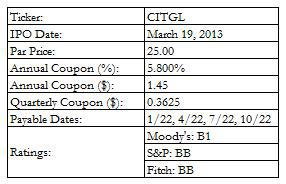 Ratings
CITGL - as well as all other Citigroup traditional preferreds - has non-investment grade ratings from Moody's, S&P, and Fitch.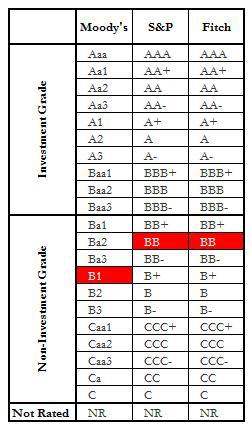 Capitalization Ratios
As can be seen below, Citi is and has been a "Well Capitalized" financial institution.

Larger First Dividend
CITGL will pay $0.3625 quarterly on the 22nd of January, April, July, and October. For the typical quarter, payments will accrue for 90 days on a 30/360 basis (30-day months creating a 360 day year). The first dividend payment will not occur until July 22, so there will be an extra month (give-or-take a few days) of accrual from mid-March through April 22. This means that on July 22, the dividend payment will be approximately $0.48 per share. This is outlined in the prospectus on page S-1.
Relative Value
This is Citi's first public traditional preferred stock that it has issued in awhile (the company issued two preferred stocks last year - 5.95% Series A in October 2012 and 5.90% Series B in December 2012 - that are not listed on an exchange). Citigroup has one other traditional preferred stock that is listed on an exchange and is not currently callable - the 8.125% Series AA (ticker: C-P) issued in January 2008. Given the high coupon, though, C-P is not a great comp for CITGL as it closed on Friday, March 22 at $29.45.
The best comps for CITGL are going to be similar perpetual fixed-rate preferreds issued by other large banks. Wells Fargo (NYSE:WFC) issued its 5.25% Series P perpetual fixed-rate preferred (ticker: WFC-P, temp ticker: WFCOL) on March 15, JPMorgan (NYSE:JPM) issued its 5.45% Series P perpetual fixed-rate preferred (ticker: JPM-A) at the end of January, and Goldman Sachs (NYSE:GS) issued its 5.95% Series I perpetual fixed-rate preferred (ticker: GS-I) in mid-October.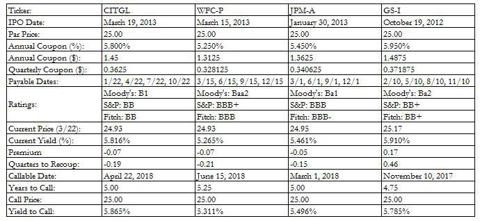 Current Yield
CITGL has a current yield at the higher-end of the range of comparable securities with 5.816%, only slightly behind GS-I's 5.910% and higher than WFC-P's and JPM-A's current yields of 5.265% and 5.461%, respectively.
Yield to Call
CITGL has the highest yield to call of the group at 5.865%, followed by GS-I with a YTC of 5.785%, JPM-A with a YTC of 5.496%, and WFC-P with a YTC of 5.311%.
Ratings
As outlined above, CITGL has non-investment grade ratings from Moody's, S&P and Fitch. GS-I is the only other security on the list that is also rated non-investment grade by all three rating agencies. JPM-A is rated investment grade by S&P and Fitch but non-investment grade by Moody's, and WFC-P has investment grade ratings from all three rating agencies.
Tax Treatment
All of the positions are eligible for the 15% tax treatment as qualified dividend income for individual investors.
Final Thoughts
CITGL offers investors a great way to gain exposure to Citigroup through a traditional preferred stock - something that the company has not offered to individual investors in quite some time. With a coupon of 5.80% and a current yield slightly above that, CITGL is competitive to similar offerings from other large banks, despite being rated non-investment grade by all three rating agencies (this is also the case for the Goldman preferred, GS-I). If you are comfortable with the risks associated with owning perpetual fixed-rate preferred stocks, as well as the risks of owning a large international bank, then CITGL is a position worth a closer look.
Prospectus: A copy of the CITGL prospectus is available on EDGAR by either searching for company filings or by following this link.
Risks of Preferreds: Prior to investing in any bank preferreds, I recommend that potential investors make sure they understand the risks and nuances associated with the asset class. An overview of these risks is available in Navigating The Risks Of Buying Bank Preferred Stocks.
Ticker Reference Table: To help find preferred stocks on your trading platform, please see the Preferred Ticker Reference Table that I have posted.
Disclosure: I am long C, JPM, WFC, GS. I wrote this article myself, and it expresses my own opinions. I am not receiving compensation for it (other than from Seeking Alpha). I have no business relationship with any company whose stock is mentioned in this article.
Additional disclosure: This article is for informational purposes only, it is not a recommendation to buy or sell any security and is strictly the opinion of the author. Investors are strongly encouraged to do their own research and discuss potential investments with an investment professional.