How do you keep a cool head about yourself in the face of a stock that seemingly is "going nowhere?" What do you do when you buy a stock and it drifts aimlessly for a couple of months? Panic? Get bored and sell and move on? Play the blame game and desperately search for a reason that you have not made 20% in a short time? I wouldn't recommend any of those approaches.
In the case of my investment in Sirius XM (NASDAQ:SIRI), if I have any questions about the share price I consider the fundamentals and the technicals of the stock. And that is exactly what I have been advocating lately.
When you consider what I wrote a last week here:
So why should investors continue to exhibit patience? Why not just sell out at $3.06 and be done with a stock which may seem stuck in the mud? Because I don't think current pricing is anything to be concerned about for the long-term investor. I actually think current pricing is buy territory, and I will be buying more in my personal account on Wednesday, March 20th, assuming no fundamental "bad" news hits the street.

It all goes back to what I wrote earlier in the year. Sirius XM, I believe, is one of 2013's best investments out there for what I feel are relatively safe gains. With Sirius XM's $2 billion buyback set, and with auto sales posting gains for the year, I feel last year's performance should be expected this year as well. Year-over-year? Sirius XM is up some 35%. And 35% from current pricing places Sirius XM at $4.13. Not particularly far from my target of $4.25.
And here comparing money flows:
Sirius XM has had relatively few days of negative flow. Actually Sirius XM has had a single distribution day on March 13th, and only 3 total distribution days this year. Compare this with significant money flow out of Apple below and you can see the drastic difference. Also notice the buying pressure for Sirius XM reaches a factor of 3.0 and higher at times. You'll be hard pressed to find many stocks out there that do this.

To me, this points to further accumulation of Sirius XM despite fluctuations in pricing which may not signal to most investors that "buying" is happening. Because of Sirius XM's $2 billion authorized buyback plan, and because I expect this to be guided appropriately to provide the most value for the company, I do not expect the buyback to go through in rapid fashion. Steady buying over the course of months should serve to support the share price, not catapult it into the stratosphere in one fell swoop.

Remember, price is a function of the most a buyer will pay "now" vs. the least a seller will sell for "now." I can buy 40 million shares now, and if there are no other buyers behind me and a seller comes in and sells 1 million shares, the price may drop considerably. That's just the way things go. Over time, though, a slow and steady buyback plan should start to eat up the sellers if done properly, and provide some lift to the share price like the water level in a tub that is filling with a slow drip. Slow, small ripples, not all at once with violent waves.

Patience is the name of the game here to realize full benefit of Sirius XM's buyback plan, and investors would do well to watch money flows, more so than price, to be sure there is not a mass exodus of cash from the stock.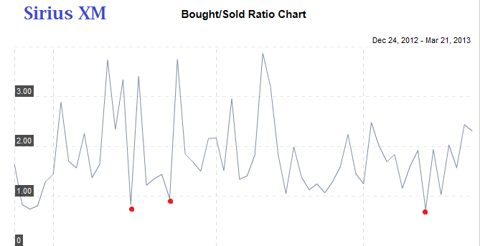 Click to enlarge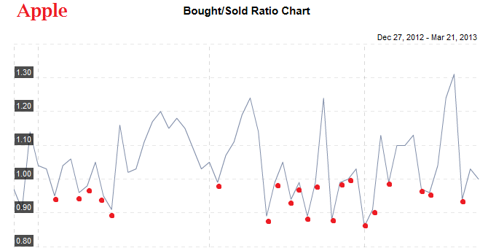 Click to enlarge
Patience, patience, patience! Unless you are a trader, a longer term investor should not be concerned with shorter term fluctuations in share price so long as their fundamental viewpoint in the stock remains intact. But as I said back on March 20th, if investors must, then keep an eye on the trend line for a bit more reassurance.
So how does that match up after the week closed out?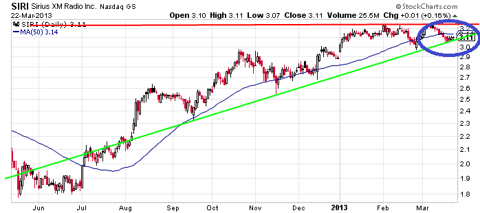 Click to enlarge
If you must sell soon, then current pricing around $3.10 may prove attractive. But Sirius XM has held the line, and with the fundamental story of Sirius XM unchanged, I would say that everything's fine.
Disclosure: I am long SIRI. I wrote this article myself, and it expresses my own opinions. I am not receiving compensation for it (other than from Seeking Alpha). I have no business relationship with any company whose stock is mentioned in this article.
Additional disclosure: I am long SIRI January 2014 $2 calls.