Western Asset Mortgage Capital Corp. (NYSE:WMC) is a mortgage REIT. It invests in, finances, and manages Agency RMBS, non-Agency RMBS, CMBS, and other asset backed securities. WMC is externally managed and advised by Western Asset Management Company. WMC's dividend alone is one instance of outperformance. It declared $2.35 per share in dividends from the close of the IPO on May 15, 2012 through December 31, 2012.
WMC outperformed in many more ways. For instance WMC had a weighted average net interest spread of 2.00% (including IO securities and swaps) in Q3 2012 with 8.5x leverage and a CPR (constant prepayment rate) of 4.1%. It had a net interest rate spread of 2.05% in Q4 2012 with 9.2x leverage as of December 31, 2012 and a CPR for Q4 of 3.6%. Like a lot of other mortgage REITs, it lost a small amount of book value in Q4 2012 ($21.76 to $21.67). However, it was still up $1.67 since its IPO close on May 15, 2012. Plus many other mortgage REITs lost book value in Q4 2012. WMC did produce a total economic return of 18.9% in Q4 2012.
WMC ended Q4 2012 with a $5.2B investment portfolio. This portfolio was accomplished from the approximately $200 million raised in the IPO and the $300 million raised in the follow on offer (and lots of borrowing through repos). Some might say that you cannot compare WMC directly to Agency only mortgage REITs. However, as of December 31, 2012, WMC had only $19.1 million in non-Agency RMBS. This represented less than 0.5% of its total portfolio. Therefore WMC's results can be reasonably compared to more prominent, mostly Agency RMBS, investment companies such as American Capital Agency Corp. (NASDAQ:AGNC) and Annaly Capital Management Inc. (NYSE:NLY).
AGNC performed less well than WMC in Q4. AGNC had a net interest spread of 140 bps without its TBA positions. It had a net interest spread of 161 bps with its TBA positions. Its true effective leverage was 8.2x with its TBA positions. AGNC's book value declined -2.6% in Q4. This was comparable to WMC's book value decline. However, AGNC's net interest spread was much lower (not as good). AGNC's CPR average was 10, which was almost triple WMC's CPR average.
NLY performed even less well than AGNC. NLY had a net interest spread of 95 bps in Q4 2012. NLY's average CPR was 19%. NLY's leverage at December 31, 2012 was 6.5x. In each case above NLY underperformed WMC, except in leverage. In leverage NLY was safer. Admittedly WMC may have gotten some advantage in net interest spread from having only new purchases. However, the overall outperformance is still pronounced even given that.
A final point is that WMC has outperformed in dividends paid. According to Yahoo Finance, WMC's dividend is 15.65%. AGNC's dividend is 15.45%; and NLY's dividend is 11.16%. By looking at the above dividend percentages, one might think that AGNC's performance in dividend payment was roughly equal to WMC's. However, this is not true. WMC generated core earnings of $1.05 per diluted share; but it declared only a $0.90 per share regular dividend (and a $0.22 per share additional dividend) in Q4. AGNC had only $0.89 per share of net spread income. Yet it paid a dividend of $1.25 per share in Q4 2012. Even if you add in the TBA dollar roll effects, the net spread income was only $1.18. WMC had considerably higher core income than its regular dividend. Therefore WMC still outperformed AGNC on this metric.
For those who like to take a more careful look at the actual portfolio, WMC's portfolio as of December 31, 2012 is below.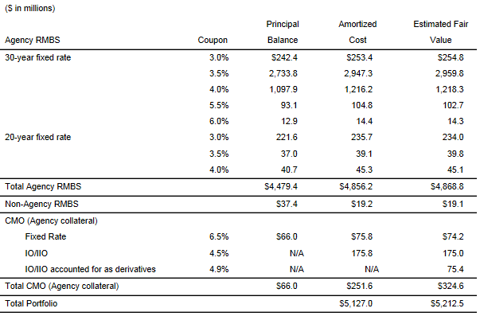 Click to enlarge
WMC hasn't bought a lot of non-Agency RMBS or CMBS yet. Still it probably intends to keep on where it started in Q4 (buying non-Agency RMBS). These it can get at a 30%-40% discount to face value as opposed to having to pay a premium for Agency RMBS.
WMC engages in the typical hedging of mortgage REITs. This will prevent or ameliorate any book value losses due to increases in mortgage rates in the near future. WMC seems sure to suffer some book value losses as mortgage rates invariably rise as the housing market recovers. However, it should also have some gains, especially if it expands into non-Agency RMBS and CMBS more substantially. When these currently highly discounted MBS go up with an improving housing market and business building market, WMC should see good gains in book value.
In sum WMC appears to be a well managed mortgage REIT. With its planned expansion into more non-Agency RMBS and CMBS, it should be able to outperform many (perhaps all) of the other mortgage REITs. Its external advisor, Western Asset Management Company, is highly experienced; and WMC is not tied into any one mode of investment behavior as many longer lived investment companies are. This should allow it to take full advantage of the best opportunities in the MBS marketplace. WMC is a buy.
The one year chart of WMC below provides some technical direction for this trade.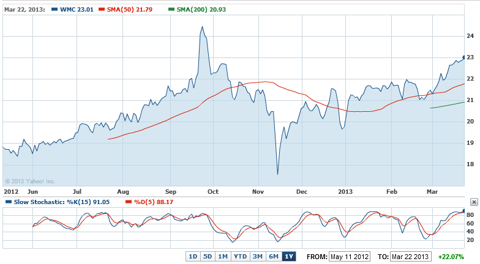 Click to enlarge
The slow stochastic sub chart shows that WMC is overbought. The main chart shows that WMC is in an uptrend. With the overall market overbought, the investor may wish to hold off buying WMC until it cycles down a bit, especially since the Q4 2012E book value was $21.67. The current stock price is $23.01. WMC is likely to move down in sympathy with the market.
Further, investors may wish to average in over 2013. The trouble in Europe is worsening. Many US economic indicators portend a recession. If one occurs, virtually all US equities will fall. Averaging into this top performer over that time will allow an investor to acquire WMC at a reasonable entry price.
The PE of 4.23 and the FPE of 6.69 say WMC is a relative bargain, even if it is overpriced a bit on book value. The mean analysts' recommendation is 1.8 (a buy). There has even been some light insider buying recently. WMC is a buy that mortgage REIT investors will want to keep on the top of their lists.
NOTE: Some of the fundamental financial data above is from Yahoo Finance.
Good Luck Trading.
Disclosure: I have no positions in any stocks mentioned, but may initiate a long position in WMC over the next 72 hours. I wrote this article myself, and it expresses my own opinions. I am not receiving compensation for it (other than from Seeking Alpha). I have no business relationship with any company whose stock is mentioned in this article.