American Capital Agency Corp. (NASDAQ:AGNC) is known for its high dividend yield in the mortgage REIT space. I am invested in the name for a different reason. I am currently invested in the name due to potential capital share appreciation. For the first time, mortgage real estate investment trusts can be added to the Standard & Poor Indices. The upside is a high yield dividend and capital share appreciation. The share appreciation is due to Standard & Poor's decision to allow mREITs into indices.
Catalyst: Standard & Poor Index Inclusion Changes
The catalyst for index buying was announced on February 27th. Previously there were limitations on mREITs' inclusions within indices. The current wording states:

Click to enlarge
On the same day, February 27th, American Capital Agency announced a 50 million secondary. The secondary was priced and began trading on February 28th. American Capital, Ltd. (NASDAQ:ACAS), a financial beneficiary of American Capital Agency shareholder equity, will receive additional income due to the secondary. American Capital, Ltd. receives a percentage of the quarter ending AGNC shareholder equity. The secondary benefits American Capital, Ltd due to the increased AGNC market capitalization.
The secondary can be noticed in the below American Capital Agency pricing and volume history: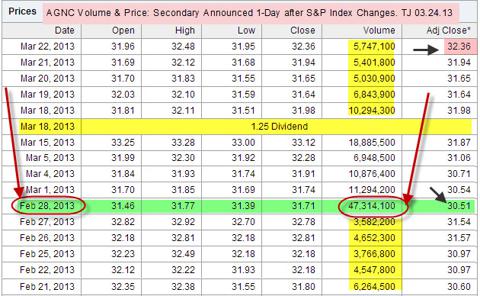 Click to enlarge
Temporary Share Appreciation
I believe Mr. Kain of American Capital Agency made a brilliant decision to issue a 50 million American Capital Agency secondary. This was announced on the exact day of Standard & Poor's' mREIT inclusion statement. The secondary decision will benefit the extent in which American Capital Agency shares can be added to an index. The higher the market capitalization - including the secondary proceeds - the higher the share count needed for respective indices.
I believe the American Capital Agency share price will continue to move up as indices are required to add the name to their respective indices. This mREIT inclusion began on March 15th, and the March 31st quarter end date will likely provide a basis for the number of AGNC shares for each individual index.
American Capital Mortgage (NASDAQ:MTGE)
American Capital Mortgage's shareholder equity also benefit American Capital, Ltd. American Capital Mortgage already completed a February 12th secondary. American Capital Mortgage can invest in agency MBS and non-agency MBS.
Company Background
American Capital Agency invests in mortgage securities backed by U.S. agencies (such as Ginnie Mae) and government sponsored entities (NYSE:GSE) such as Fannie Mae and Freddie Mac, which guarantee principal and interest payment on underlying mortgages, thereby eliminating default risk and delivering stable, predictable returns through prudent use of leverage to enhance returns. It primarily invests in residential mortgage pass-through securities and collateralized mortgage obligations (CMOs).
As of December 31, 2012, the company held $85.2 billion in agency MBS investments, with an asset mix of Fannie Mae (75%), Freddie Mac (24%) and Ginnie Mae (less than 1%). The company commenced operations as a REIT on May 20, 2008, after completion of its IPO. American Capital Agency Corp. is externally managed by American Capital AGNC Management, LLC, an affiliate of American Capital, Ltd.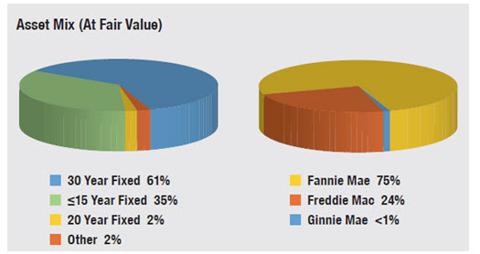 Click to enlarge
While agency securities have low average returns in the range of about 3.5% to 4%, American Capital's prudent use of low financing cost (1.48% annualized) short-term repurchase agreements, helps juice-up returns. The company, therefore, is most susceptible to interest rate risk, where higher rates would increase borrowing costs against a mostly fixed mortgage portfolio.
Distributions (15.5% Dividend Yield)
American Capital Agency Corp. paid its first dividend of $0.31 in July 2008 and has since regularly paid quarterly dividends, albeit not at the same level but scaled to match quarterly financial results, typical of REITs that are required to pay out most of their earnings.
The company's most recent quarterly dividend was $1.25 per share ($5 annualized). The Q1 2013 dividend went ex-dividend on March 18th. The company has paid $1.25 per share for the past five quarters. The Q1 2013 dividend will be paid on April 26, 2013.
With shares trading at $32.36, the company offers a very attractive dividend yield of 15.5%. The net interest margin improved in Q4 2012 versus Q3 2012: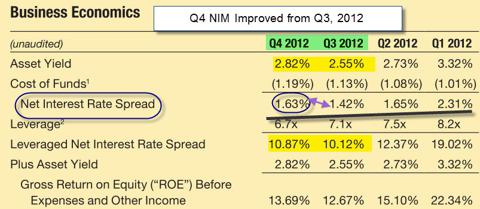 Click to enlarge
The decreased GSE MBS yields, increased GSE MBS prepayments, and slightly higher borrowing expenses all reduced the net interest margins. Many agency mREITs have decreased their dividends due to these factors. A declining net interest margin results in a lower income level available for dividends. CYS Investments (NYSE:CYS) announced a 32 cent dividend for Q1 2013. Previously the dividend was 60 cents per quarter.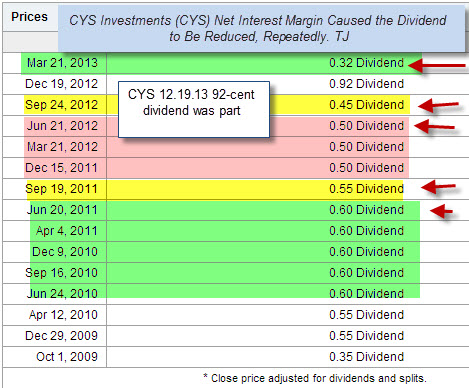 Estimated Cumulative Undistributed REIT Taxable Income per Common Share
American Capital Agency has an estimated cumulative undistributed REIT Taxable Income per Common Share of $1.93. This is as of December 31st, 2012.

Click to enlarge
This undistributed REIT income allows American Capital Agency to retain a constant dividend payout. If net interest margins do not allow for a $1.25 quarterly dividend, then management will have to decrease the quarterly dividend. This assumes the company does not use the undistributed REIT income as part of future quarters.
Management
Malon Wilkus is the founder of American Capital and has led the company and its subsidiaries as Chairman and CEO since 1986. Mr. Wilkus is also the Chairman of European Capital Limited, a European private equity fund and has served on the boards of several middle-market companies.
Gary Kain, President of American Capital AGNC Management, joined American Capital in January 2009 and is responsible for supervising all investments. He served as Senior Vice President with Freddie Mac and was responsible for all of Freddie Mac's mortgage investment activities before joining American Capital.
John R. Erickson, EVP and CFO, joined American Capital in 1998. Mr. Erickson has previously served as CFO for Storage USA, Inc., a REIT.
Other senior managers include Samuel A. Flax (Chief Compliance Officer), Jeff Winkler, Peter J. Federico and Christopher Kuehl - all with significant senior management in MBS markets.
American Capital, Ltd.
Mr. Wilkus has brought American Capital shares back to life. The company had a "rough patch," to be polite, during the 2008-2009 fiscal crisis. American Capital, Ltd. has proven through new ventures and share buybacks, the American Capital, Ltd. stock price can increase: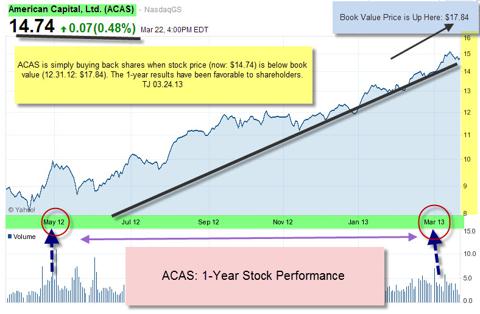 Click to enlarge
Financials
Fourth Quarter, Ending December 31, 2012
American Capital Agency Corp. reported net interest income of $423 million for its fourth quarter ended December 31, 2012, up 61% over 4Q 2011. Management fees were up 72% to $31 million and G&A expenses were up 50% to $9 million. The company reported net income of $810 million or $2.37 per share for 4Q 2012 against $209 million earned in 4Q 2011. Due to sizable unrealized losses of $684 million on Available-for-Sale securities, comprehensive income was $126 million or $0.36 per share for 4Q 2012, a decline of 74% over 4Q 2011. As a result of lower comprehensive income, dividends were down 43%.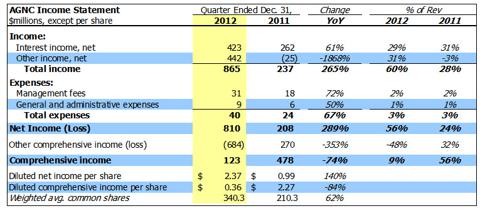 Click to enlarge
Year End December 31, 2012
In FY 2012, net interest income almost doubled to $1.6 billion from $824 million in 2011. Total income was offset by losses of $157 million on Available-For-Sale securities and at $1.4 billion, was up 69% over FY 2011. Expenses tied to management fees doubled and the company reported net income of $1.3 billion or $4.17 per share (compared to $770 million or $5.02 per share for FY 2011), a 66% jump year-on-year. Comprehensive income benefited from other income gains and was $2.5 billion or $8.26 per share, up from $1.15 billion. A sizeable increase in shares outstanding lowered earnings per share from $5.02 in FY 2011 to $4.17 per share in FY 2012.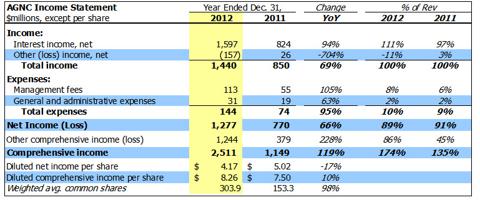 Click to enlarge
Balance Sheet
American Capital Agency Corp. ended the year with $2.43 billion in cash and cash equivalents, $83.7 billion in Agency Securities at fair value and $11.8 billion in receivables under reverse repurchase agreements. Repurchase agreement liabilities rose to $74.5 billion, up 56% from $47.7 billion. Borrowed security obligations were $11.8 billion, up from $899 million. Total stockholder's equity was $10.9 billion, up 75.4% over $6.2 billion at year-end 2011.

Click to enlarge
Cash Flows
In 2012, the company generated $2.3 billion from operating activities, spent $31.2 billion on purchases of Agency securities, US Treasury securities, reverse repurchase agreements and other financial derivatives, and generated $30 billion from financing activities.

Click to enlarge
Summary
American Capital Agency Corp. offers a compelling dividend yield of 15.5%. Shares trade at a 2% premium to the $31.64 book value per share as of December 31, 2012. The company delivered a 32% economic return on common equity in FY 2012 and has posted strong revenues and earnings. Macroeconomic trends tied to the Federal Reserve's purchase of mortgage securities, and low risk leverage, will continue to impact valuations on agency securities. Risk averse, and income hungry investors could consider adding this dividend king to their portfolio.
I believe adding Invesco Mortgage Capital Inc. (NYSE:IVR) is appropriate for the next 12-18 months. Invesco Mortgage is a hybrid mREIT and owns a significant portion of non agency MBS. Non agency MBS are not priced according to GSE MBS valuations. Invesco Mortgage, therefore, owns MBS not impacted by Fed Chairman's interest rate policy. As the housing recovery strengthens, the non agency MBS have increased in value. I expect this scenario to remain the case. I own American Capital Agency only for a trade due to the S&P index catalyst.
Disclosure: I am long AGNC, IVR, ACAS. I wrote this article myself, and it expresses my own opinions. I am not receiving compensation for it (other than from Seeking Alpha). I have no business relationship with any company whose stock is mentioned in this article.