Crude oil's 60% rally from $33.50 is encouraging and may have helped to calm the market, but oil stocks are not following suit. In the same period S&P 500 energy stocks are actually down 4.5%. For several weeks now we have been noticing a discrepancy between the "front" crude contracts and the current contract. Right now they are obviously the same, but historically there has been activity in the front contract that was not reflected in the following months' contracts.
Look below at the two charts. Notice that the current contract, for which the last trade is 4/21, has been mostly flat at $50 in 2009. Earlier this year crude prices became disconnected as expiration drew closer (probably as a result of speculation) and as a result the 50-day average is quite different depending on the historical figures used.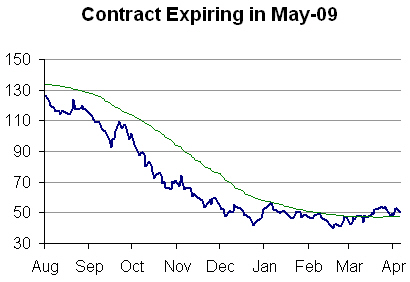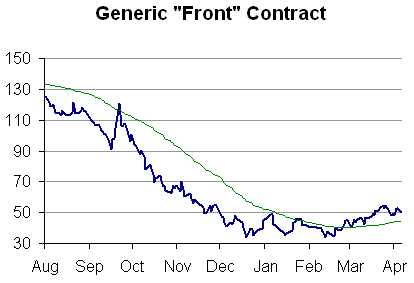 We notice that the 50-day average seems to be an important level for crude prices, and looking specifically at the May contract, that average has started to turn. We will be watching the average, currently $47.62, to help determine the price momentum for crude oil.