The gold price rose for a third straight week in March, posting its biggest weekly gain in two months, as the "Crisis in Cyprus" has revived European debt troubles in ways few would have predicted ten days ago, creating renewed fear and anxiety amongst investors as policy makers become increasingly brazen.
The crisis has played a key role in the recent gold market rebound and it may continue to do so. Though the situation remains fluid, strict capital controls and outright theft of up to 20 percent of some depositors' savings in failing Cyprus banks are expected to be part of a bailout deal with EU (European Union) officials and this could have any number of knock-on effects both in Europe and the rest of the world.
More investment banks downgraded their gold and silver forecasts and more bullion exited precious metal ETFs in the U.S. despite Federal Reserve's promises to continue printing $85 billion per month in new money. After an exceptionally strong start to the year, buying in Asia has waned as prices have climbed, but new sources of demand have emerged and gold repatriation was again in the news in one expected place - Switzerland - and one very unexpected place - Texas.
For the week, the gold price rose 1.0 percent, from $1,592.60 an ounce to $1,609.20, and silver fell three cents, from $28.79 an ounce to $28.76. Gold is now down 3.9 percent in 2013, some 16.3 percent below its high 18 months ago, and silver is 5.2 percent lower this year, down 41.9 percent from its early-2011 high.
The Cyprus banking crisis was, by far, the biggest factor behind higher gold prices in recent days and, as shown below via StockCharts, this enabled the metal to surpass the $1,600 an ounce mark on Monday morning when the news broke.
In a market where sentiment has gone from bad to worse since last fall, recapturing and holding this level for the first time in almost a month was no minor accomplishment.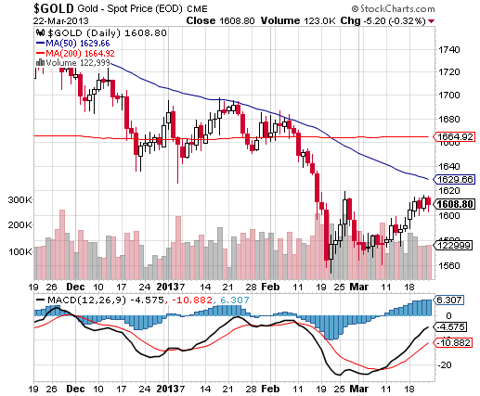 Click to enlarge
To date, this has largely been a safe-haven play as evidenced by the concurrent rise of the U.S. dollar and gold with the important question being whether the upward move will continue.
In Why The Cyprus Bailout Crisis Is Sending Gold Prices Higher last week, I offered up what I thought was the key driver for renewed gold demand stemming from the Crisis in Cyprus:
Confidence in the banking system and trust in policy makers has been shattered and, regardless of what happens in the tiny Mediterranean nation, this will drive more investors around the world to seek safety in precious metals.
It now looks as though insured depositor money will not be confiscated (i.e., under €100,000), but wealthy depositors are now expected to take an even bigger hit than in the plan that was voted down last Tuesday. As a result, this still has the potential to create all sorts of unintended consequences in other European nations, such as bank runs by wealthy depositors in other European nations where similar moves are now feared.
Perhaps more importantly, there is now a dawning realization that the European debt crisis is far from over and, after a week full of Cyprus news, it's easy to forget that Italy still doesn't have a functioning government after inconclusive elections last month in which EU policies were rejected.
Markets participants have clearly turned bullish as indicated by weekly surveys at Bloomberg (64 percent bullish) and Kitco (79 percent bullish), however, key technical resistance lies ahead for gold at about $1,620 an ounce.
To be sure, the coming days are critical for the yellow metal but, should the rally continue, higher prices could rekindle buying interest and trigger short-covering rallies.
Traders who take the advice of precious metals analysts at a growing number of big investment banks are not likely to participate in any sustained move higher for gold and silver as this group of forecasters has become increasingly bearish.
Societe Generale lowered their 2013 gold price forecast from $1,700 an ounce to $1,500 while reducing their outlook for 2014 from $1,600 an ounce to $1,400. Silver price forecasts were similarly cut from $31 an ounce to $27 this year and from $29 an ounce to $26 for next year. The bank said there simply isn't enough interest in precious metals to push price substantively higher and predicted, "this upward leg will be gold's 'last hurrah' as an upward correction before a gentle bear market develops."
Barclays cited "investor fatigue" in lowering the bank's 2013 gold price forecast from $1,778 an ounce to $1,646, noting that the biggest downside risk for the yellow metal comes from declining gold ETF holdings that reflects waning long-term, "stickier" interest from investors. At first glance, that argument might make sense, but, it certainly appears not to be the case when looking at the Merrill Lynch data in the graphic below from the Sober Look blog.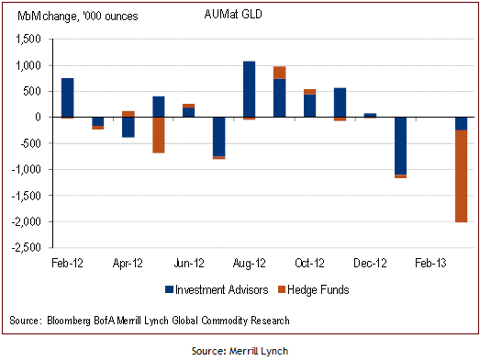 Click to enlarge
Based on this, the "fast money," hedge fund crowd has been selling the SPDR Gold Shares ETF (NYSEARCA:GLD) recently, not "stickier" investors who, recently, reversed a small portion of their 2012 additions.
This story at Barron's sheds more light on the subject via comments by Commerzbank analysts who estimate hedge funds hold only 10 percent of GLD shares with investment advisors responsible for more than three times that amount.
It's all a moot point, however, as there is virtually no relationship between GLD holdings and the gold price as detailed last month in Are Record Outflows From The SPDR Gold ETF Cause For Concern?
Commerzbank remains bullish on gold over the long-term but cited lack of demand over the near term in cutting its average gold price forecast this year, from $1,890 an ounce to $1,700. It expects the price to rise to $1,800 an ounce by year-end, surpassing the key $2,000 an ounce level in 2014.
To be sure, demand for gold ETFs remains weak with net outflows last week of 12 tonnes from GLD alone, bringing the year-to-date net outflow to 130 tonnes.
Silver is a different story, however, as the iShares Silver Trust ETF (NYSEARCA:SLV) has added over 600 tonnes since the first of the year. The popular fund saw net outflows of 45 tonnes last week, but is on a solid upward track as are silver coin sales. The U.S. Mint reported that American Silver Eagle sales reached the 13 million mark last Monday, earlier than ever before for a coin that the Mint has been selling for 27 years. This year-to-date total is particularly impressive since silver eagle sales didn't reach this level until mid-May last year and, in 2013, sales have already been suspended twice due to lack of supply.
In India, the April wedding season is expected to boost demand after January gold imports surged to 100 tonnes in advance of higher import taxes and then sales slowed. Despite the higher taxes, Indian gold demand is expected to exceed last year's 864 tonne total, rising as high as 960 tonnes this year according to Somasundaram P.R., managing director of the World Gold Council for India.
An inflation rate estimated at 26 percent in Argentina has caused gold demand there to spike as individuals seek ways to protect their savings from currency debasement after the government banned buying U.S. dollars. No one believes the government's official measure of inflation anymore (hence the reason for the inflation "estimate") as the central bank prints pesos to finance itself and consumer prices skyrocket.
The State Oil Fund of Azerbaijan said last week that it plans to double its gold holdings to 30 tonnes this year as a way to curb inflation and monetary risks.
In Switzerland, enough signatures have been gathered to force a referendum on a proposal to stop the central bank from selling any more gold. The "Save our Swiss Gold" initiative would also require the Swiss National Bank to double its current gold holdings to 20 percent of overall reserves and keep all of its gold reserves in Switzerland. The nation sold 250 tonnes of gold six years ago and currently holds 1040 tonnes of the metal, though it is not known where it is stored.
Lastly, in what was surely the most interesting gold related development last week, legislation was proposed in Texas to establish a gold bullion depository to house the $1 billion in gold bars owned by the University of Texas, currently stored in New York. Governor Rick Perry is a strong proponent of the bill and former Congressman Ron Paul noted, "If you think gold is a hedge, or a protection, you always want it as close to the individual and the entity as possible. Texas is better served if it knows exactly where the gold is rather than depending on the security of the Federal Reserve."
Disclosure: I am long GLD, SLV. I wrote this article myself, and it expresses my own opinions. I am not receiving compensation for it (other than from Seeking Alpha). I have no business relationship with any company whose stock is mentioned in this article.