Last Thursday, I attended the 2nd Annual InterFace Net Lease West Conference conducted by France Media's InterFace Conference Group. At the show, I interacted with many leading triple-net lease brokers, developers, investors, bankers, and REITs. While moderating a panel that included many leading public and private REITs, I asked the following question:
"Will the triple-net REITs grow in size in such a way that one day there will be dominating large-cap REITs the size of Ventas, Inc. (NYSE:VTR), with a market cap of around $20.7 billion?"
Most of the panelists agreed that the triple-net REIT sector is continuing to see a large degree of consolidation and the growth is largely being fueled by the historically low cost of debt and equity in the public REIT markets. What today is a highly fragmented $14.7 billion industry could soon be a dominating REIT class the size of the mall ($86.8 billion) or apartment ($75.3 billion) sectors.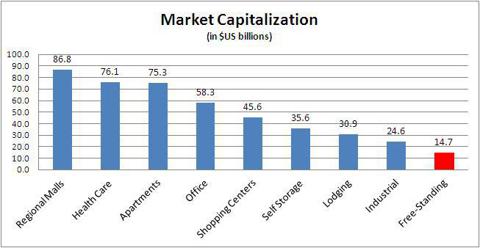 Source: NAREIT
An Interesting Twist of Events
Last week, I started early with a tour of Cole Holdings Corporation's corporate office located at 2325 E Camelback Road in Phoenix. While walking around the impressive 11-story Class A office tower (four floors occupied by Cole), I met with many senior executives including the CFO, CIO, COO, and CEO. More impressive than the one-year-old facility (in Phoenix's Biltmore area) was the hand-picked management team, many of which were groomed under the likes of Blackrock, Clarion Partners, and UBS.
As you may recall, I wrote an article a few weeks ago on Cole Credit Property Trust III's (CCPT III) proposed merger with Cole Holdings Corporation and the purpose for my visit to Cole's headquarters last week was to meet the executive management team (in person) in order to learn more about the company's combined business models. As I wrote in the previously referenced article:
Cole Credit Property Trust III announced that the company had executed a definitive merger agreement to acquire Cole Holdings Corporation. This is a massive business deal that will combine CCPT III's 1,014 properties (in 47 states) with Cole Holding's full-scale management platform - consisting of $12 billion of assets (managed) with over 160,000 individual investors.
One of the things that I wanted to find out was whether Cole could:
...position itself as a "multi-channel" REIT…that seeks to scale the conglomerated platform by expanding its reach beyond the current inflows (i.e. current 14% market share) but also by replicating the powerful institutional and sub-advisory model. That potential is enormous, especially when you consider the incremental income that exists in the market.
After my four hour visit last week, I was getting somewhat warmed up to the fact that Cole's management team was motivated by the founder's (Chris Cole) desire to be the next "BlackRock or Pimco, except with a pure real estate component."
But Wait Just a Minute
So Wednesday I awoke at 5:00 am (after landing in California) and I read the following Seeking Alpha alert:
American Realty Capital Properties Offers to Purchase Cole Credit Property Trust III for $9 Billion, Creating the Largest, Highest Quality Publicly Traded Net Lease REIT
I was floored! I had just spent the previous day at Cole's headquarters with no knowledge that a new bid would be forthcoming from American Realty Capital Properties (ARCP). I read over the announcement several times thinking that it was just an illusion. But it wasn't.
Or maybe it was. In fact, I even predicted the illusion with an article I wrote just a few weeks ago. In that article, The Incredible Houdini Of Non-Traded REIT-Dom Does It Again, I made reference to Nicholas Schorsch - the incredible "Houdini" of non-traded REIT-dom - when I explained the recent events that have unfolded in the world where full cycle liquidity events are becoming more routine. As I wrote:
Schorsch has certainly mastered the art of creating full-cycle market liquidity for non-traded REIT investors. In fact, I would go as far as saying that he has "schooled" the other non-traded REIT peers by setting the bar for both record liquidity execution and best practices.
In the same article, I went on to explain:
It's certainly a magical year for Nicholas Schorsch, Chairman and CEO of ARC Properties Advisors. The veteran non-traded REIT pro has put together a string of liquidity transactions that are certain to raise the bar for investors and peers alike.
So with the recent news, we can now see that Schorsch is waving his wand at a competing magician, Chris Cole. It's interesting to see that the two dominating sorcerers of non-traded REIT-dom are now on the same stage - both trying to pull the same rabbit off the same hat. In a previous article, I explained the rabbit, Cole Credit Property Trust III (CCPT III), in great detail and it now appears that "the battle is on" for the 43.1 million square foot portfolio.
CCPT III's portfolio is comprised of single-tenant properties (49%), multi-tenant retail properties (18%), single-tenant office properties (17%), single-tenant industrial properties (7%), debt instruments (4.8%), and joint venture/construction (2.8%).
Cole Strikes Back
On Thursday a special committee of board directors of CCPT III affirmed its commitment (in a press release) to the previously announced definitive merger agreement between CCPT III and Cole Holdings Corp. The special committee said that it had reviewed the unsolicited proposal from American Realty Capital Properties and it had determined that the proposed sale of CCPT III to ARCP at this time would not be in the best interests of CCPT III and its stockholders.
ARCP later issued a response (in a press release) to the CCPT III announcement saying it was
not only surprised, but disappointed, by today's utterly unresponsive statement.
For what started out as a "normal" week of travel for me later turned into an "all out battle" of sorts. For I was watching "first hand" - in the trenches - these two magicians (Schorsch and Cole) waging a war in which there will be just one winner and one loser.
The winner will not simply be a portfolio of 1,074 leases but a victory and vindication that the successful owner is crowned the king of non-traded REIT-dom. This potential liquidity deal has less to do with the accretive roll-up of CCPT III's assets, but instead, more to do with the battle between the two non-traded REIT warlords.
Let's face it. Cole has invested considerable time and capital into the proposed merger and now Schorsch has fired a major torpedo into the base of Cole's operations. In a recent Seeking Alpha article, Dane Bowler laid out his arguments for the proposed $9 billion acquisition for ARCP to purchase CCPT III. His bullish ARCP argument went as follows (Bowler disclosed ownership: 2nd Market Capital and its affiliated accounts are long ARCP):
The merger seems to be mildly accretive to ARCP shareholders.
The combined portfolio is of slightly lower quality than ARCP's present portfolio but the benefits of scale make up for the difference.
I believe the merger is likely to go through.
One other point that I would add is that by acquiring CCPT III, ARCP would become the largest triple-net REIT in the nation. However, I have always questioned ARCP's management capabilities and I am even more concerned that the REIT would be acquiring anything other than free-standing long-term leased properties. 51% of CCPT III's portfolio is not free-standing and given the proposed acquisition cap rate of 6.1%, I do not consider the proposed acquisition to be risk-aligned.
So What Is The Motivation for ARCP?
It's clear to see that the non-traded REITs have been extraordinary triple-net "asset aggregators." Starting with CCPT III, the company has acquired a diverse portfolio of 1,074 leases. Meanwhile Cole Capital Property Trust II (CCPT II) has acquired around $3.43 billion in assets (2% acquisition fee = $68 million) utilizing debt of around $1.77 billion. CCPT II has announced that it is merging this portfolio with Spirit Realty Capital (NYSE:SRC). See my article here.
It's important to see why Cole has acquired a diverse portfolio. Remember, it's what I call the "anchor and the buoy" strategy. In other words, Cole acquires many of its high-quality investment grade leases at cap rates ranging from 6% to 7% and it also acquires the multi-tenant and non-investment grade assets at cap rates of 7.5% and higher. By blending the anchors with the buoys, Cole has been able to achieve a blended cap rate of around 7.5% (seemingly attractive until you peel back the buoys).
As mentioned above, ARCP has made an offer to acquire CCPT III's portfolio of diversified assets. However, I see no real value in ARCP acquiring the portfolio. Clearly ARCP's institutional investors are excited to see the stock run up (closed at $14.50) but what does that mean to the dividend investor?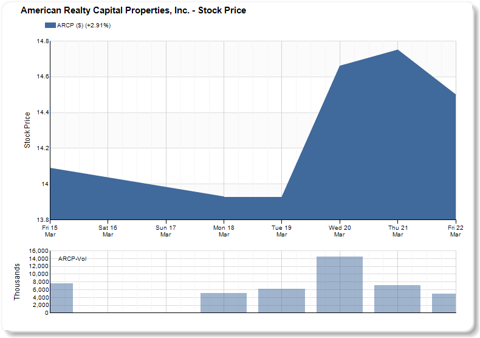 As you know, I recommended ARCP back in June 2012. Then the stock was trading at $10.65, and since that time the shares have climbed by 36.15%.
I'm concerned that ARCP is getting away from its focused free-standing model. Driven by large hedge fund positions, ARCP seems to be more focused on growing very quickly and less concerned on the most important thing. What I mean by that is what Howard Marks said in his book (The Most Important Thing):
Great investing requires both generating returns and controlling risk. And recognizing risk is an absolute prerequisite for controlling it.
Simply said, I believe that there is considerable risk in ARCP acquiring the CCPT III portfolio. ARCP has absolutely no experience in managing risk related to assets other than the free-standing type. In addition, the price that ARCP is proposing to pay is considerably expensive, especially when you consider the fact that many of the properties require extensive "hands on" management and ALL of the properties were acquired utilizing expensive load (fee) based structures.
As Howard Marks said,
Outstanding investors, in my opinion, are distinguished at least as much for their ability to control risk as they are for generating return.
Investing Consists of Exactly One Thing
I have learned that to be an effective writer, I must expose risk. After all, most companies already have advertising agencies to promote their own businesses and therefore it's not my job to provide corporate brochures and make CEOs happy. More importantly, I feel an obligation to my readers to provide research that is beneficial and aimed at just one simple thing. That is, as explained by Howard Marks:
Investing consists of exactly one thing: dealing with the future.
So after a week-long trip in which I had considerable time to reflect on triple-net REITs, I began to ponder the future. That is, where will the best triple-net REITs be in a year, two years, five years, ten years, and even twenty years?
It's clear that contractual long-term leases are the "darling child" for investors today. But what about tomorrow? What will triple-net investments look like in 10 years and what happens when interest rates start to rise?
I was reading over an excellent article this weekend by fellow Seeking Alpha writer, Tim McAleenan. In that article, he wrote:
(Benjamin) Graham built his reputation by focusing on the "margin of safety" concept, and he flushed it out when he explained his four rules that should guide the investor's selection of common stocks.
McAleenan's article was insightfully focused on Ben Graham's "Defensive Investor" strategies, an essential element of The Intelligent Investor that makes an important distinction between two categories of lay investors: the enterprising investor and the defensive investor. In McAleenan's article, he cites four Grahamian rules for defensive investing:
Each company selected should be large, prominent, and conservatively financed. Indefinite as these adjectives must be, their general sense is clear.
Each company should have a long record of continuous dividend payments.
There should be adequate though not excessive diversification. This might mean a minimum of ten different issues and a maximum of about thirty.
The investor should impose some limit on the price he will pay for an issue in relation to its average earnings over, say, the past seven years. We suggest that this limit be set at 25 times such average earnings, and not more than 20 times those of the last twelve-month period.
I Like Realty Income, Regardless of the Current Price
Ok. You all should know where I'm headed. I like Realty Income (NYSE:O) regardless of the current price. Why? you'd ask.
First off. Let's look at Graham's defensive investor rules (as referenced in the article cited above):
Realty Income has one of the most enviable balance sheets in REIT-dom. Just a few days ago, the company exercised 17,250,000 shares (in an ATM) that generated around $756 million. A record raise (overnight), Realty Income plans to use the proceeds to repay its $1.0 billion acquisition line. Also, Realty Income has a debt-to-market cap of around 32% and minimal secured (mortgage) debt (less than 6%). Realty Income is one of only two triple-net REITs that has an investment grade rating of BBB (the other REIT is National Retail Properties (NYSE:NNN)).
Realty Income recently announced it had declared an increase in the company's common stock monthly cash dividend to $0.1812292 per share from $0.1809167 per share. The dividend is payable on April 15, 2013 to shareholders of record as of April 1, 2013. This is the 71st dividend increase since Realty Income went public in 1994. The new monthly dividend amount represents an annualized dividend amount of approximately $2.175 per share as compared to the previous annualized dividend amount of $2.171 per share.

To date the company has declared 513 consecutive common stock monthly dividends throughout its 44-year operating history and increased the dividend 71 times since Realty Income's listing on the New York Stock Exchange in 1994.
Ben Graham loved dividends and he would have really loved Realty Income. As Graham explained in The Intelligent Investor:
One of the most persuasive tests of high-quality is an important record of dividend payments going back over many years. We think that a record of continuous dividend payments for the last 20 years or more is an important plus factor in the company's quality rating.
As Graham believed, diversification is the simplest and cheapest way to widen your margin of safety. In the case of Realty Income, diversification has been the secret sauce. Before I show you the latest "Top 15 Tenants" for Realty Income, I think it's important to recognize the fact that Realty Income had eight tenants who filed bankruptcy in 2008-2009 and Buffett's was the top tenant in 2008 (6.8% of revenue) and 2009 (6% of revenue). Realty Income has NEVER dropped below 96% occupancy and while the company has had decades of experience in managing tenant risk, the dividend always increased. Clearly, the secret to Realty Income's remarkable record of consistency has been "dealing with the future."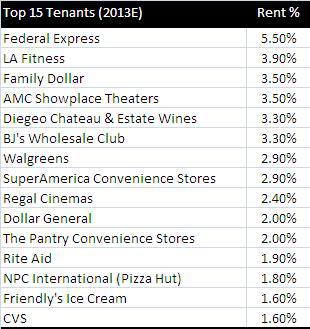 Finally, I saved the best for last. Remember that Graham defined the margin of safety as the essence of value investing simply because it is the metric by which hazardous speculations are segregated from bona fide investment opportunities. Graham believed that if you purchase a stock at a high price, it could involve considerable peril.
So by looking at the Fast Graph below we see that Realty Income is currently trading at $44.46, well above the intrinsic value line based on funds from operations (FFO - the orange line marked with an F) with a price of $34.55.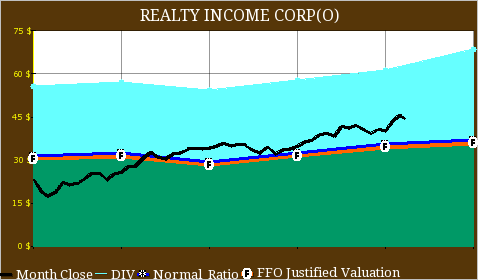 But now let's zoom out 19 years. We see below that Realty Income has steadily increased its dividend every year (the shaded blue area represents dividends paid) - 19 years of annual dividend increases in a row.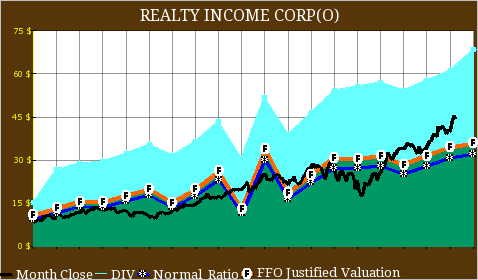 Recognizing the fact that dividends are the primary reason for investing in "The Monthly Dividend Company," you must remember that the dividend yield has two components: security of the current dividend and expected dividend growth. As I explained in a previous Seeking Alpha article:
During the credit crisis of 2008-2009, the capital markets closed to most US companies, including REITs. Without the ability to access capital amidst declining rents, many REITs had to cut their dividends to enhance financial flexibility. Remarkably, Realty Income and just a few other REITs did not cut their dividends during the period known as the great recession.
So now I ask you the question: Wouldn't you rather buy risk protection today at the expense of a few basis points of additional yield?
I consider the higher price more like buying insurance. In effect, I'm paying a higher price because I believe in the "blue chip" management team and also because the price is justified given the safety of the income and the durability of the dividend. It's clear that the institutional investors think I'm crazy but that's also why Realty Income is owned predominantly by the ones reading this article ("the average Joe").
We are seeing an incredible amount of activity in the triple-net REIT space today. This extraordinarily fragmented industry (remember Wal-Mart is $200 billion alone, while Safeway has about $12 billion, or about the same size of Realty Income) includes non-traded REIT consolidators and also non-REITs like J.C. Penney (NYSE:JCP), Penn National Gaming (NASDAQ:PENN), Sears (NASDAQ:SHLD), and a long listing of others (looking to spin-off into a stand-alone REIT structures).
Investors should embrace the competition and look long and hard at the most important thing...
For that reason, I am recommending Realty Income shares. The company is not under pressure and I'm happy if the company acquires $200 million this year or $2 billion this year. I'm not concerned about the hedge funds expecting to generate extraordinary returns and I know that management will not "step out of the box" to buy diversified assets under pressure. I can sleep well at night knowing that my principal is safe and that I will get a dividend check in the mail every single month. In short, that's the moral of the article and also reinforcement of the events that I saw unfold last week.
I look forward to watching the drama associated with the Cole and ARCP wars roll on. As Bruce Kelly concedes in an article he wrote for Investment News:
Unless Mr. Cole has an ace up his sleeve, such as another offer for Cole III of $13 or $14 a share, he will have a hard time defending his decision to reject American Realty's offer to shareholders.
Be careful ARCP investors. You have to make the bed that you lay in. That's precisely why I think it's time to sit back and play defense. ARCP has had a good run but it's time to take the chips off the table and sleep well at night! Comparatively speaking, Realty Income has the consistency of JJ Redick (according to Wikipedia, Redick set a record for the most consecutive free throws made in the ACC with 54 in a row) and that is what wins games.
Alas, O looks cheap, regardless of the price. Simply said, it's a slam dunk. O-O-O Yeah Baby!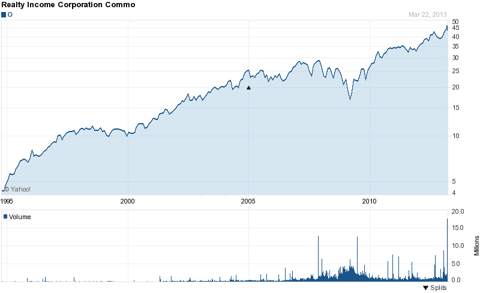 Source: SNL Financial, FAST Graphs
Disclosure: I have no positions in any stocks mentioned, and no plans to initiate any positions within the next 72 hours. I wrote this article myself, and it expresses my own opinions. I am not receiving compensation for it (other than from Seeking Alpha). I have no business relationship with any company whose stock is mentioned in this article.