Vivus (NASDAQ:VVUS) continues to lose ground as the losing streak lingers on. The stock suffered a major blow on February 26, when it abruptly fell to $10.89 from the previous day closing price of $12.42; a staggering 11.79% drop in a single day. This can be primarily attributed to the press release made by the company on its fourth quarter financial report that showed disappointing results.
Since then, Vivus continued to suffer losses to date, and it is now trading near its lowest point in 52 weeks. The stock has lost about 20% of its market cap since January.
Vivus is not the only biotech firm that experienced significant market cap losses this year. Several other pharmaceutical companies faced the same fate, as well, such as AEterna Zentaris (NASDAQ:AEZS), Takeda Pharmaceuticals (OTCPK:TKPHF), and Spectrum Pharmaceuticals (NASDAQ:SPPI). Each has its own story to tell, but for VVUS, the question remains if its double-bottom formation could perhaps be a signal to buy at this point. It is true that the majority of the investors continue to lose confidence on Vivus, but bargain hunters are now eyeing on this stock for a potential bounce back.
Stock Overview
At the start of the fiscal year 2013, VVUS opened at $13.80, but eventually settled down to close the first trading day at $12.83. The first week of the year seemed to be a good start for VVUS, since it enjoyed daily winning streaks for the first 4 days, even going for as high as $14.87 on January 7. Unfortunately, this amount is the peak point of the year so far, and since then it kept going down.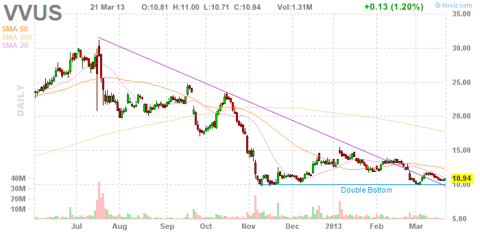 The February 26 sudden drop in share price was nothing new to Vivus. It also suffered a similar fate in the past year. In fact, on November 6, 2012 it suffered an even bigger fall from the $14.95 closing share price to $11.82.
Again, the major culprit was the company's announcement regarding its first sales report on its 'anticipated' blockbuster product Qsymia, which is the first FDA-approved anti-obesity drug in the US in 14 years. While the report showed positive net product revenues for the third quarter at $41,000, the company incurred quarter losses pegged at $40.4 million. This is a substantially higher number from the $8.6 million loss in the same period of the previous year.
Earnings Overview
Earnings per share are not appealing. The company reported negative earnings at every quarter of last year. For the fiscal year 2010, the total EPS is -$0.82.
At first, you would not mind if the company was incurring losses from 2010 up to the 2nd quarter of 2012, because it was putting so much investment on the clinical trials of Qysmia. However, in the third quarter of 2012, Qysmia was finally approved by the FDA and was launched in September. Therefore, many investors were anticipating that this will finally pull up the company and break its losing streak. But to the dismay of the investors, the third quarter earnings were still negative at -$0.40, which was even more negative than the 2nd quarter EPS of -$0.25. The last quarter saw even higher loss at -$0.57. The losses kept rolling higher and higher.
The company's management reported that the loss was due to the high expenses incurred in marketing Qsymia, and in getting the product to a much wider distribution. Aside from that, Qysmia's initial weak sales performance compelled the company to drop down the price of the product to get a wider market share. The company also aims to secure a more stable ground by the time its competitor drug, Belviq, is launched in the market later of this year.
Is the Current Plunge of VVUS a Buying Signal?
If VVUS should bounce back from its current plunge, then it would be against all odds. A bounce at this point is not supported by figures. The company's negative earnings, negative EPS growth, and lackluster sales are not quite encouraging to motivate enough investors to lift Vivus up. It is facing a lot of challenges and issues, as well.
One major challenge is the upcoming launch of Belviq, another anti-obesity drug made by Arena Pharmaceuticals (NASDAQ:ARNA). Among the challenges are the side effects of the drug, low efficacy, and REMS, among others.
On the other hand, the dip of Vivus could also be a good buying signal. After all, the historical prices showed a gradual to abrupt bounce from dips in the previous years. Aside from that, Vivus has two pipelines for Qsymia. While it is already approved for chronic obesity, it is also currently under phase II trials for two new indications - sleep apnea and diabetes.
Just like what most biotech stocks have been enjoying, whenever there is any news about an FDA approval, the stock tends to soar higher. You can probably take the ride up and cash in on profits when this becomes the case. This possibility still makes VVUS an attractive stock to watch for, especially at this point in time, where its share prices are at a bargain level. On top of that, it has a sound market capitalization of $1.1 billion.
NASDAQ's general recommendation on VVUS is buy, even if the majority of the analyst firms recommended strong buy. CNN Money shares the same advice; 9 out of 14 investment analysts recommended to buy. Yahoo Finance, on the other hand, has 7 out of 14 analysts recommending buy, as well. So, it seems that the consensus of top financial institutions take the dip of VVUS as a buying signal. My point is somewhat similar. I think the stock reached a dip, and is primed for a rebound at some point this year. FDA's possible positive commentary on ARNA's obesity drug can also act as another catalyst for the stock.
Disclosure: I have no positions in any stocks mentioned, and no plans to initiate any positions within the next 72 hours.
Business relationship disclosure: Efsinvestment is a team of analysts. This article was written by one of our equity analysts. We did not receive compensation for this article (other than from Seeking Alpha), and we have no business relationship with any company whose stock is mentioned in this article.