Fellow SA contributor Ashraf Eassa recently wrote a great article on Intel (NASDAQ:INTC) as a stock that could double in four years. Ashraf is a great SA contributor and much more knowledgeable within the tech sector than I am, as shown by his top rankings and substantive, in-depth articles. For Intel, Ashraf makes a compelling bull's case, including pros of Intel such as a) cheap valuation multiple, b) Intel market cap is now about the same as foundry Taiwan Semiconductor (NYSE:TSM) and, c) potential overblown mobile concerns. I too have looked into Intel in the past few months, and most of these pros I also agree with. However, just like all coins have two sides, all stocks have pros and cons. In this article, I would like to highlight some of the potential cons of Intel, which have caused me to be a bit "gun shy" in picking up some shares. In the end, I still may buy some Intel shares (if pros outweigh the cons), but it's always helpful to highlight as much of all the risks before taking a new position in a stock.
Competitive Industry Dynamics
The $300 billion Semiconductor industry can be broadly separated into two product categories: Integrated Circuits or IC (complex, many transistors) and Discrete or Non-IC (a few transistors). Within Integrated Circuits (which is 80% of the market), it can be further divided into: Analog, Micro-Devices, Memory and Logic.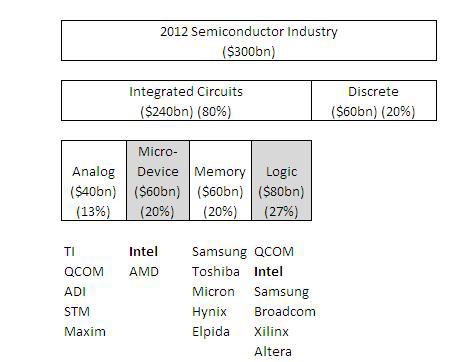 Intel competes in Micro-Devices and Logic. Micro-Devices can be further broken down into Microprocessors (MPU), Microcontroller (MCU) and Digital Signal Processor. Intel dominates within in Microprocessors, with +80% market share.
While Intel may dominate within the specific segment of Microprocessors (MPU), within the context of the entire semiconductor industry, Intel is not nearly as dominant with only 16% market share.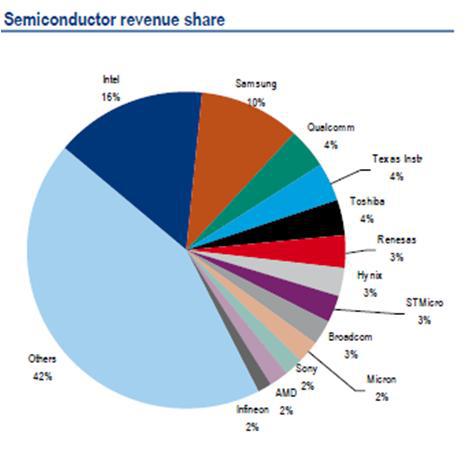 Fab versus Fabless
Prior to the 1980s, all semiconductor companies were vertically integrated or Integrated Device Manufacturers (IDMs), where they owned the fabrication facilities and manufactured in-house. Over the years, the fabless model, where say ARM Holdings (NASDAQ:ARMH) licenses its IP architecture to a foundry like Taiwan Semiconductor, has steadily taken market share. Fabless now comprise of over 40% of Integrated Circuit sales in 2012.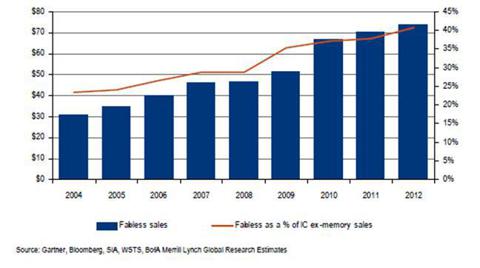 Click to enlarge
Increasing Fab Costs Due to Moore's Law
Over the years, transistor sizes have decreased in line with Moore's law (density doubles every 2 years). However, keeping up with Moore's law requires constant capex investment (by Intel and other semis) to build new facilities capable of manufacturing the latest denser chips. The latest semiconductor fab facility costs $6 billion to build (not including additional $1-2 billion R&D), compared to just $2 billion in 2000 to build a facility. This means you will need total sales of $30-40 billion over the 5-6 year sales life of the facility to recoup that investment (assuming 20% net income margins and $6-8 billion total investment costs).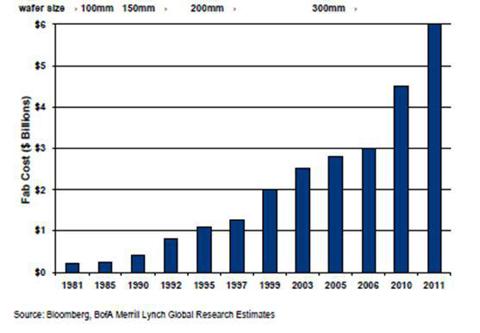 Click to enlarge
The increasing fab cost is one of the reasons the industry has shifted more toward fabless (or outsourcing the manufacturing costs and the capex investments). Unless you have the size and scale like an Intel and Samsung (OTC:SSNLF), or pool multiple client orders together like a pure-play foundry TSM, it's hard to justify the $6-8 billion investment in a new facility.
Increasing Capex and R&D Spend
As a result of rising fab costs, Intel's capex spend has also risen significantly in recent years. In both 2011 and 2012, capex was around $11 billion each year or 20% of sales. This is double the average $5 billion annual capex spend from 2004-2010. In addition, R&D expense has also increased significantly in recent years, reaching 19% of sales in 2012, compared to 15% historically.

Click to enlarge
The recent investment in capex will negatively flow into near term results, as the depreciation expense for the next few years related to these elevated capex spend will negatively affect margins (analysts' project around 300bps, or 3% points, decline in margins due to higher depreciation expense). However, the key question is will these capex investments provide good return on investments (incremental sales) in the future? Ashraf argues that they will pay off, and he may very well be right (by the way, I'm more of a numbers guy, so don't look to me for future tech trends, just look at my bad Apple trade (NASDAQ:AAPL) as evidence).
ARM (Smartphones) vs. Intel (Personal Computers)
Smartphone and PC semiconductor markets were mostly independent during 2000s, with ARM architecture ruling mobile devices and Intel architecture ruling PCs (desktop and notebooks). However, with the introduction of Apple's iPad in 2010, the two markets have begun to converge (tablets, phablets, netbooks, etc.). Below is a graph of the two "camps" (note that TSM is in the ARM camp, so TSM's stock performance more tied to bet on ARM architecture, not foundry business). Also note currently that Apple's mobile iOS is ARM, but its PC Mac OS is Intel.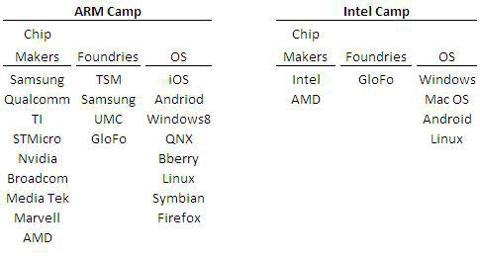 Click to enlarge
Intel has been moving down the performance/power curve towards smartphones and tablets. ARM has also been slowly moving up the curve toward higher performance chips. The key question here is who will win? The stock market seems to be betting on ARM's side for now, as evidenced by ARM and TSM's stock performance recently. But again, the market could prove to be wrong in the long run (if Intel architecture wins out eventually over ARM, Intel could easily double as Ashraf predicted).
PC Industry Problems (Cyclical or Secular)?
Given that PC (including both Desktop and Notebooks) comprise of two-thirds of Intel's sales, Intel's financial performance is highly correlated to the growth/decline of the PC industry. Unfortunately, the PC industry has struggled recently (3% decline in 2012 and estimated 1-2% decline in 2013, according to Gartner/IDC), given smartphone/tablet replacing PC concern and Windows 8's (NASDAQ:MSFT) lackluster start (new Windows version launch typically gives PC sales a bump). The key question here is whether the PC slump is cyclical (and will rebound in 2014) or secular (tablets continue to replace PCs)? If it's cyclical, then Intel's sales should rebound in 2014. If it's secular (long term), then Ashraf's estimates of no growth in PC business may not be conservative enough (declining business). Personally, I don't think it's secular either. But again, take my tech forecasts with a grain of salt.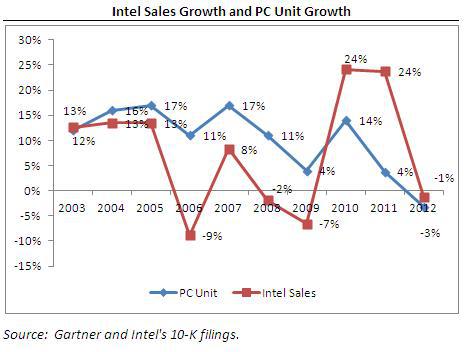 Note that over the years, Intel has tried to diversify its revenue away from PC, through ramping up its Data Center business (Server business that Ashraf talked about with 10-12% annual growth) and through acquisitions (acquired software security firm McAfee for $6.7 billion in 2011). From 2007 to 2012, Intel has lowered the PC contribution from 71% down to 64% of total sales.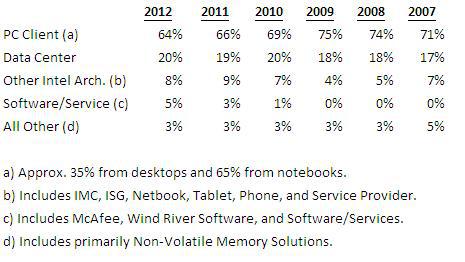 Conclusion
Intel looks very attractive from a valuation perspective. It currently trades at 10x trailing 2012A P/E, which is on the low end of the 10 year historical range.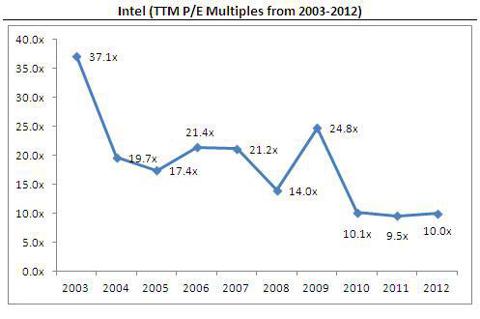 Click to enlarge
Intel also pays a 4.2% dividend, which represents a reasonable 42% payout ratio (or dividend as % of net income). Furthermore, Intel's management team has been shareholder friendly, returning a good amount of cash back to shareholders through not only dividends but also share repurchases (diluted shares decreased from 6.4 billion shares in 2004 to just 5.16 billion shares by 2012). Besides the $6.7 billion acquisition of McAfee in 2011, management has not overspent on various acquisitions in the past in order to empire build.

Click to enlarge
All of these points help check the box for a potential great stock investment. However, I'm nervous about the potential tech industry trends mentioned above and how they will ultimately affect Intel (mobile/tablets vs. PCs, fabless vs. fab, ARM architecture vs. Intel, etc.).
For me, I've had some strike-outs recently with picking tech stocks (especially anything hardware related) that may appear as value stocks (because trading at 10x P/E), but they then continue to trade lower (i.e., Apple as mentioned above, but also Hewlett-Packard (NYSE:HPQ) before). Also, I'm a bit nervous going into Q12013 results for Intel, given how bad PC industry sales could be for Q1, given seemingly lackluster Windows 8 sales.
As a result, I need a larger safety net before I step into Intel. If Intel trades down to $18-19, I would be a much more interested buyer then. Maybe it doesn't get down to those levels again though, and I miss out on an eventual double up as Ashraf predicts. I'm okay with that, given my own interpretation of the risks involved (which leads to the price entry point I'm comfortable with). Each reader needs to decide on which risk level (or price entry point) that you are most comfortable with. Good luck as always.
Disclosure: I have no positions in any stocks mentioned, but may initiate a long position in INTC over the next 72 hours. I wrote this article myself, and it expresses my own opinions. I am not receiving compensation for it (other than from Seeking Alpha). I have no business relationship with any company whose stock is mentioned in this article.