Following the Federal Reserve's meeting on Wednesday, there was a lot of speculation about how long the Fed will continue its Quantitative Easing (QE) program. Since the Fed's statements are cryptic, I prefer to look at its economic projections. In this article, I discuss how the Fed's current GDP and unemployment projections compare to the projections at previous meetings. At almost every meeting since 2011, the Fed has lowered its forecasts. Before a "Fed exit" is on the table, we probably need to see GDP projections increase from meeting to meeting. That may be far off and QE Infinity looks likely to be around for a while. Despite the Fed's efforts, US Treasury bond yields are rising and prices falling (as measured by the iShares Barclays 20+ Yr Treasury Bond ETF (NYSEARCA:TLT)), but the big move in the bond market may happen when the Fed's GDP projections begin to change directions.
The Fed's Projections For GDP Growth & Unemployment
The following charts aggregate the projections for GDP growth and unemployment (as released after Fed meetings). The Fed releases its data in the form of a broad range of projections and a narrower "central tendency." The figures below represent the midpoint of the central tendency for each period.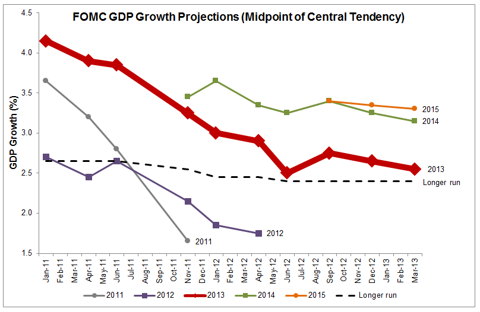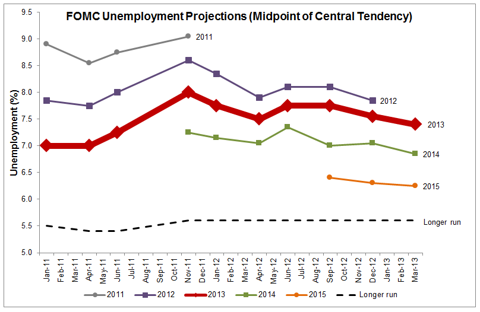 (Source: FOMC)
Please see the appendix for the data in a table format. The tables also show the actual projections released by the Federal Reserve in the low/high format, and the midpoints that are used for these charts.
Here are my observations of this information:
The Fed Has Consistently Overestimated GDP Growth
There is a consistent trend of the Fed lowering its GDP growth projections from meeting to meeting. The steepest drop in GDP projections was in 2011, but it has continued through 2012 and now in 2013.
Considering that Fed governors come to each meeting and say that their outlook for growth is worse than at the previous meeting, it is understandable that they favor extraordinary monetary policy actions, like the successive rounds of quantitative easing.
Furthermore, it is premature to speculate about a Fed exit (meaning the end of asset purchases and raising of interest rates) until we see a bottoming of the downward trend in the Fed's outlook for GDP growth. We may see the GDP projections turn up this summer or it may happen later this year, but until the Fed sees signs of incremental economic improvement, I don't think they will contemplate an end of QE Infinity or even a tapering of the bond buying. (This assumes inflation is stable, since an increase in inflation could lead to a Fed exit sooner).
The Fed Is More Cautious About The Out-Years
In September 2012, the Fed launched its projections for 2015 by projecting 2015 growth in-line with 2014. It seems that the Fed has become more cautious about the pace of the economic recovery and is less inclined to give rosy projections 2+ years out. Interestingly, the Fed used to have projections of 4% in the out-years, but the mid-point of the central tendency has not been above 3.5% for any period since January 2012.
The Fed Now Projects Lower GDP Growth Over The Long Term
Not only has the Fed consistently lowered its near-term outlook for GDP growth, it has also lowered its long-term outlook.
Back in January 2011, the Fed projected 2.5-2.8% (2.7% midpoint) long run growth, but that estimate is now down to 2.3-2.5% (2.4% midpoint). This seems to be one of the most pessimistic take-aways from the Fed's data. I wonder if it will continue to drift down to 2%.
There Is A Different Trend In The Unemployment Projections
In contrast to the GDP projections that show incremental pessimism, the unemployment projections have steadily improved since late 2011 (around the time that the Fed launched Operation Twist). The trend has been to present incrementally positive projections about unemployment at each meeting.
It isn't clear why the Fed has become incrementally more positive about unemployment while becoming incrementally negative about GDP growth. Is it possible that unemployment can go down faster if the economy is growing slower?
For instance, in January 2012, the midpoint of the central tendency projection for GDP growth in 2013 was 3.0%. Today it stands at 2.6%. Clearly, the Fed is now assuming slower growth for 2013.
But, over the same period, the projections for unemployment has gone from 7.8% to 7.4%.
It is not clear why the trends that impact unemployment would not also impact GDP growth in the same way.
Projections For Inflation Have Been Stable
Inflation is only expected to increase slightly over time. This assumption allows the Fed to continue with quantitative easing. As long as inflation is stable, I expect the Fed to throw everything it has at the unemployment problem and slow growth.
In its last statement, the Fed said:
"The Committee decided to keep the target range for the federal funds rate at 0 to 1/4 percent and currently anticipates that this exceptionally low range for the federal funds rate will be appropriate at least as long as the unemployment rate remains above 6-1/2 percent, inflation between one and two years ahead is projected to be no more than a half percentage point above the Committee's 2 percent longer-run goal, and longer-term inflation expectations continue to be well anchored." (Source: FOMC)
With the Fed projecting 1.9% PCE inflation in 2015 and core PCE inflation of 2.0% in 2015 (midpoints of central tendency), it seems like the Fed has a lot of room to continue with accommodative monetary policy if it is willing to go up to 2.5% on a temporary basis.
Implications For The Bond Market
The latest round of quantitative easing was launched in December and includes $45 billion of monthly purchases of longer-term Treasury bonds (in addition to $40 billion of mortgage bonds). Despite this "bid" for Treasury bonds, yields have continued to march higher since last July.
The following charts show the yields on 10 and 30-year Treasury bonds.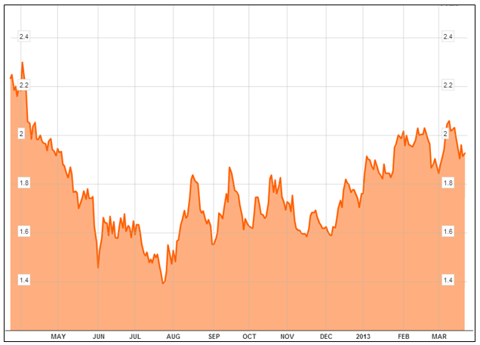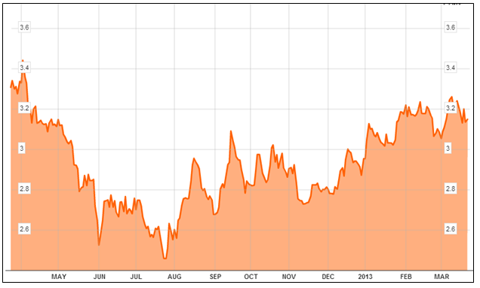 (Source: Bloomberg)
As bond yields creep up, the iShares Barclays 20+ Yr Treasury Bond ETF has fallen in price. The TLT tracks the price levels of long end of the Treasury curve.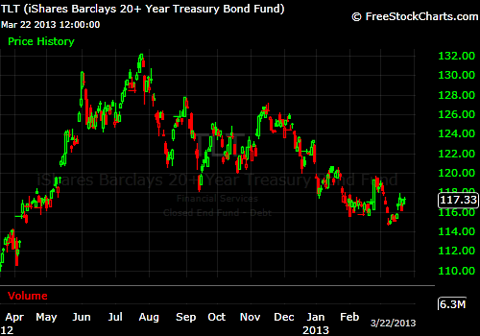 (Source: FreeStockCharts.com)
The Fed only recently started expanding its balance sheet at a rate of $85 billion per month and Ben Bernanke acknowledged that there may be a tapering off of asset purchases before the program comes to an end. However, I do not expect much change until January 2014, when Bernanke's term as Fed chairman ends. Bernanke has made quantitative easing the hallmark of his tenure at the Fed. I don't think that he would reverse course so close to the end of his term, assuming he is planning to leave.
Although the Fed is very aggressive with quantitative easing, it has not been able to bring down yields on long-term treasuries. Even if QE continues for a while, I doubt that we will revisit the low yields of last summer.
The Fed's projections may be one of the clues about the length of QE. Until the Fed governors show up at meetings with higher GDP projections than they had at the previous meetings, it seems like talk of tapering down QE is premature. The Fed made the mistake of over-estimating GDP growth for years, so I don't expect them to pull back until they are clearly convinced that economic growth is accelerating and we will likely see this when their GDP projections turn up. At that time, I will likely be even more bearish on the bond market.
Note About The Fed's Projections
The Fed's projections are just projections. They have been wrong before and will likely be wrong again. The Fed's projections are only useful in indicating what they think about the economy and should not necessarily be used for any other purpose. The Federal Reserve and the bond market are very complex and this article cannot cover every angle, so please feel free to add additional comments on these topics below.
Appendix: Projections of the FOMC




(Source: FOMC)
Disclaimer
The opinions expressed above should not be construed as investment advice. This article is not tailored to specific investment objectives. Reliance on this information for the purpose of buying the securities to which this information relates may expose a person to significant risk. The information contained in this article is not intended to make any offer, inducement, invitation or commitment to purchase, subscribe to, provide or sell any securities, service or product or to provide any recommendations on which one should rely for financial, securities, investment or other advice or to take any decision. Readers are encouraged to seek individual advice from their personal, financial, legal and other advisers before making any investment or financial decisions or purchasing any financial, securities or investment related service or product.
Information provided, whether charts or any other statements regarding market, real estate or other financial information, is obtained from sources which we and our suppliers believe reliable, but we do not warrant or guarantee the timeliness or accuracy of this information. Nothing in this article should be interpreted to state or imply that past results are an indication of future performance.
THERE ARE NO WARRANTIES EXPRESSED OR IMPLIED AS TO ACCURACY, TIMELINESS, COMPLETENESS, OR RESULTS OBTAINED FROM ANY INFORMATION IN THIS ARTICLE OR ANY LINKED WEBSITE.
Disclosure: I have no positions in any stocks mentioned, and no plans to initiate any positions within the next 72 hours. I wrote this article myself, and it expresses my own opinions. I am not receiving compensation for it (other than from Seeking Alpha). I have no business relationship with any company whose stock is mentioned in this article.
Additional disclosure: I may trade any of the securities mentioned in this article at any time, including in the next 72 hours.