Today investors will have to hear a lot about the deal reached in Europe for the bailout of Cyprus and endless updates on sales of BlackBerry devices. We would not watch the daily tally of BlackBerry sales, but rather the weekly and monthly figures. Lines and anxious fans are not what we would expect here, but rather a protracted and steady stream of sales if this updated BlackBerry is the real deal. Europe is rallying strongly and with the news and that price action look for North American markets to be strong as well.
Chart of the Day:
Is it now time to buy JP Morgan Chase (NYSE:JPM) shares? They have lagged the banking index but with future acquisitions limited and profits beginning to pile up, cash will have to be redistributed to shareholders via dividends or stock buybacks and either one should be able to push shares higher from these levels (which they have been stuck in for too long).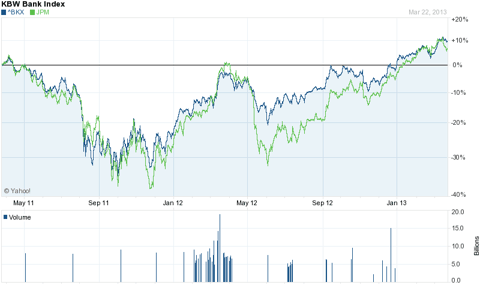 We have no economic news due out today, but tomorrow will have a good bit on housing.
Asian markets finished higher today:
All Ordinaries - up 0.42%
Shanghai Composite - down 0.07%
Nikkei 225 - up 1.69%
NZSE 50 - down 0.05%
Seoul Composite - up 1.49%
In Europe markets are trading higher this morning:
CAC 40 - up 1.65%
DAX - up 1.32%
FTSE 100 - up 0.87%
OSE - up 0.40%
Technology
There is what we would call a stealth rally taking place in shares of Yahoo (NASDAQ:YHOO) as the stock continues to march higher at a nice steady pace. It is not an exciting run, but it is a measured one and due to that it seems to not get the respect it deserves. A Rodney Dangerfield stock if we ever saw one! To add insult to injury, some of the moves by Marissa Mayer overshadow all the good she has done in her short tenure at the company. We have been talking about this one for some time now and readers who bought in have done quite well. Look for the move higher to continue as the company is just beginning to learn how to monetize their assets and most importantly their generated content along with partner generated content. It is a premier media property and as such we expect to see a proper multiple assigned to it in the future along with what we will dub the 'Mayer Premium'.
Someone please tell us why this is not a bigger story! With this kind of price action at a company with the problems that Yahoo had, Mayer should be the toast of Silicon Valley.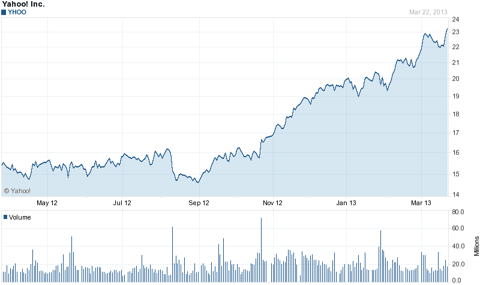 Chart courtesy of Yahoo Finance.
One company which has seen a premium placed upon its shares on the hopes that it too can achieve levels of its past success is BlackBerry (NASDAQ:BBRY). The stock has been a rollercoaster over the past few months as anticipation of the BlackBerry 10 has led investors to bid up shares hoping that the new operating system and latest generation turn the tide in the smartphone wars. Our view is that their technology is probably a generation ahead of the other phones in areas where it does not matter to the consumer and lacking in areas where it does. When homes become wired and you can have one remote for everything, this will be a great phone, but to us it seems to be a power tool in a market where a simple screw driver would suffice. That may be a bit oversimplistic for a metaphor, but from the reports and tech letters we have read it seems that this operating system could blow others out of the water if fully functional, thus our concern about whether it is "too advanced".
Retailers/Housing Plays
Readers well know that we have been bulls of retailers and housing plays for some time now, and even more bullish of those names which are able to capitalize on both sectors - think the home improvement stores we talk about a lot. This morning we want to revisit Bed, Bath & Beyond (NASDAQ:BBBY) which has seen a nice rebound in share price since their disappointing quarterly results last year. This company is focused on the housing business with their namesake stores as well as the other stores they have purchased such as World Market. The market has gotten more competitive in recent years but a rising tide lifts all boats and that shall be the story here. Look for the company to officially turn the corner in 2013 as we see a rebound in housing continue and consumer spending strengthens on the back of a better economy and rising asset prices.
Recovery underway for BBBY shareholders?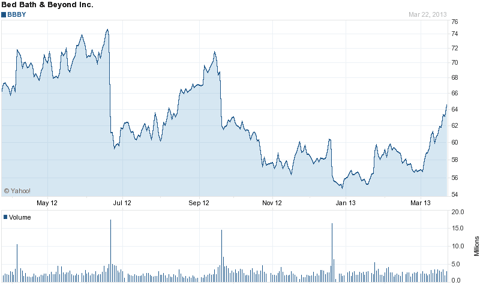 Chart courtesy of Yahoo Finance.
One of the names which will also benefit, as well as compete head-to-head with Bed, Bath & Beyond is TJX Companies (NYSE:TJX), the parent company of such names as TJ Maxx, Marshall's and HomeGoods. The company continues to expand the HomeGoods brand across the country and they have recently (last year or two) opened stores in our area. They are located in areas where World Market is and seem to do a good job attracting shoppers - more than World Market but no where near what Bed, Bath & Beyond gets. It fills a void between the two for the consumer and we see how all three can do well while not having to compete directly with each other on a broad range of their product offerings. We are bullish both companies at this point recognizing that BBBY has more exposure to the housing recovery while TJX has more exposure to the consumer and a rebound in spending while also having the expansion of HomeGoods create a sort of wind behind their backs in this environment.
Biotechnology
Arena (NASDAQ:ARNA) shares closed at their highs for the day on Friday. We were growing worried as the shares were trading lower and lower and falling through many levels where they had previously found support. Friday's session provided a nice pop back above the $8/share level which calms many of our worries on a technical basis right now but we are still watching this one ahead of the final approval. The roll out will be key and one would hope that with all the time they have had to prepare for this that it will go on without a problem. We saw how Vivus (NASDAQ:VVUS) stumbled out of the gate, and one has to believe that Arena saw this and has their sales force already lining up sales channels and educating doctors on this. The stock will get a nice shot in the arm upon approval and another stronger one should their sales figures surprise when they start releasing initial figures. We see reason to be bullish, but we would wait to buy until after the DEA approval.
Disclosure: I have no positions in any stocks mentioned, and no plans to initiate any positions within the next 72 hours. I wrote this article myself, and it expresses my own opinions. I am not receiving compensation for it (other than from Seeking Alpha). I have no business relationship with any company whose stock is mentioned in this article.