Wal-Mart (NYSE:WMT) has over 10,000 stores in 27 countries and serves over 200 million customers each week. It has been a great stock for dividend growth investors, having continuously increased its dividend since the first $0.05 payment in March 1974.
The FY2014 dividend that was recently announced will be $1.88, which is 18% higher than the $1.59 investors were paid in FY2013.
I will be using financial data found on WMT s investor relations website. The price to earnings ratios are from Morningstar.com. Please note the years in this article all refer to the fiscal years, except for the valuation, were I've used calendar years.
Let's start by looking at the revenues WMT has had over the last few years.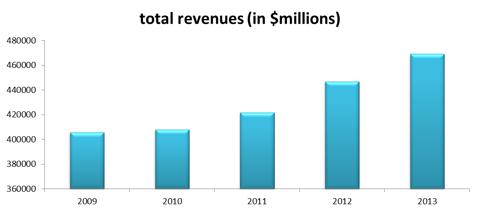 WMT's revenue has increased from $405.6 billion in 2009 to $469.2 billion in 2013, giving it an annual growth rate of 3.7%. While this is not a very high rate of growth, it does show me WMT is still growing.
The profit margin has been very stable over the last five years, as can be seen in the graph below. The average profit margin in this period was 3.59%, with a high of 3.89% in 2011 and a low of 3.39% in 2009.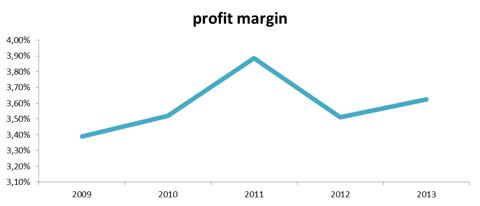 The stable profit margin means the graph for net income will look a lot like the one for revenue, slowly but surely going up. The net income has only dropped once, in FY2012, but has since recovered to close to $17 billion. The 5-year net income growth rate is 5.44%.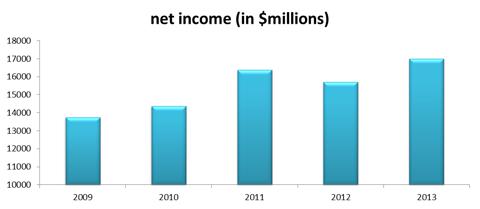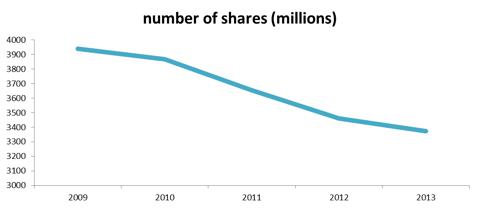 The yearly increases in EPS are a lot higher than the increase in net income. This is because the number of shares has been reduced from 3.94 billion in 2009 to only 3.37 billion in 2013. The next graph shows the year on year changes in net income and EPS. The large difference between these is due to the decrease in the number of shares.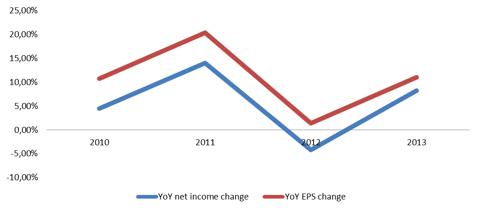 Earnings per share have gone up from $3.36 in 2009 to $5.04 in 2013, giving it an annual growth rate of 10.7%. EPS for 2014 is expected to be between $5.20 and $5.40. The payout ratio has been pretty much the same over the last 5 years, staying between 28 and 32 percent. The dividend has increased by an average of 13.7% over the last 5 years, going from $0.95 in 2009 to $1.59 in 2013.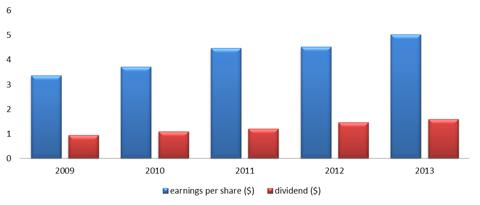 As we have seen so far, WMT has increased its revenue, net income, EPS and dividend substantially over the last few years. The $1.88 dividend for FY2014 will yield a decent 2.5%, and the long history of dividend increases makes me think WMT is a great stock for dividend growth investors. However, to decide if it is a good idea to buy WMT at its current price ($74.28), let's take a look at its valuation.
At a price of 14.5 times the FY2013 earnings, WMT is trading at a discount to the industry average of 17.6. The 10 year average P/E ratio is 17.2, and the 5 year average is 14.5.
WMT is currently trading quite close to its 52-week high of $77.60. There have been several times in the last couple of months were WMT was under $70 a share, which I believe would be a good moment to stock up on this reliable dividend payer.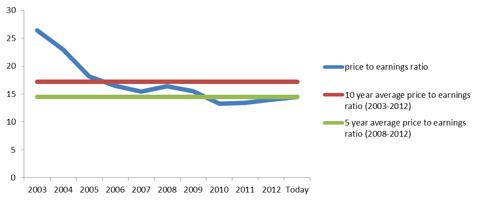 Disclosure: I have no positions in any stocks mentioned, but may initiate a long position in WMT over the next 72 hours. I wrote this article myself, and it expresses my own opinions. I am not receiving compensation for it (other than from Seeking Alpha). I have no business relationship with any company whose stock is mentioned in this article.