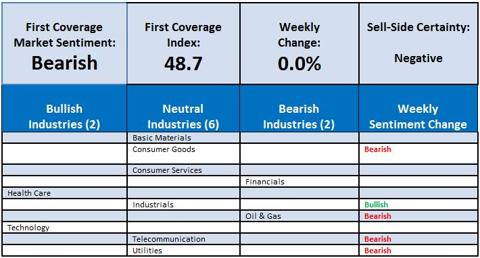 Darth Vader vs. Luke Skywalker. Batman vs. the Joker. And now..the Bulls vs. the Bears.
Epic battles don't get any better, bigger or more meaningful. And, like most epic battles, this one is destined to go down in three acts.
A quick refresher:
Act 1: Market devastation, bears win.
Act 2: March rally and a bottom 'potentially' called, bulls win.
And now, instead of in Act 3, we seem to be in the intermission.
Two months ago we saw the sell-side get increasingly bullish. Then over the last few weeks, we've seen them lose their enthusiasm for the rally. And over the last week...nothing. The bulls on the sell-side seem to finally be balanced against the bears on the sell-side, and both appear to be placing their stake in the ground and refusing to budge until this market ultimately declares one side the winner.
Bears are comforted by fundamentals, including another 663,000 lost jobs and unemployment that is heading towards 10.0%. Bulls continue to believe that sound decisions by global leaders, lots of liquidity, and faith that better days are always predicted by the market before they are seen by the economy lead to the right path to follow. Either way, nature abhors a vacuum and the market abhors indecision, so a victor should emerge sooner than later.
Since the sell-side hasn't moved at the macro level since last week, as we head into earnings season, it would be worthwhile to see the stocks that are the most bullish and bearish, and also those seeing the greatest change in sentiment, bullish or bearish.
Bullish

Rank

Symbol

Name

1st

MICROSOFT CP

2nd

SYNAPTICS INC

3rd

BUCKLE INC

4th

CVS CAREMARK CP

5th

AMERICAN PUB. EDU.
Bearish

Rank

Symbol

Name

1st

GARMIN LTD

2nd

WEYERHAEUSER CO

3rd

BB&T CP

4th

SRA INTERNATIONAL

5th

DENDREON CORP
Greatest Bullish Shifts Week / Week

Symbol

Name

Industry

SYNA

SYNAPTICS INC

Technology

CANADIAN IMP BANK

Financials

HNZ

HEINZ H J CO

Consumer

ARENA RESOURCES

Oil & Gas
Greatest Bearish Shifts Week / Week Symbol

Name

MONSANTO

Industry

Consumer

CDN NAT RES

Oil & Gas

TANGER

Financials

WELLS FARGO

Financials

VMWARE, INC.

Technology