Tech investors can be very tough on a stock when a company reports disappointing earnings results. The pattern happens all the time whereby a company misses on earnings, investors dump the stock for at least a couple of days and then frequently (but not always), the stock rebounds as the selling pressure fades. Since stock prices are based on supply and demand, investors can take advantage of this pattern and buy a beaten down stock during the sell-off, which is usually the peak supply period for the stock. The bulk of the selling pressure usually takes place within the first 2 or 3 days after an earnings miss, so that would be the time to start building a position.
It also makes sense to buy when a stock is pushed down to a major support level. That could mean that additional downside pressure might be limited. The stock below appears too cheap to ignore after a recent sell-off for an earnings miss and it is also trading at a key support level as shown in the chart below.
On Wednesday, March 20th, Jabil Circuit (NYSE:JBL) announced earnings of $88.5 million, or 43 cents per share, for the second (fiscal) quarter. That was below income of $97.7 million, or 46 cents per share, in the same quarter last year. However, on an adjusted basis, the company earned 53 cents per share which was not far below analyst estimates of 54 cents per share and revenues of $4.39 billion. In fact, Jabil Circuit slightly beat analyst estimates on revenues which grew by 4% and totaled $4.42 billion. However, the company gave guidance of adjusted net income for next quarter to come in between a range of 50 to 58 cents, and this too was slightly below analyst forecasts of 61 cents. However, that level of earnings power makes the stock look undervalued when considering it trades for just over $18.
Jabil Circuit provides design and manufacturing services to some of the world's largest tech firms, including companies like Apple (NASDAQ:AAPL). It is also diversified and provides manufacturing services to a range of industries outside of the PC industry such as aerospace, healthcare, automotive, industrial and others. Analysts expect the company to earn $2.29 per share for 2013, and that puts the price to earnings ratio at just about 8 times. This is significantly below the PE ratio of about 15 times earnings for the S&P 500 Index (NYSEARCA:SPY).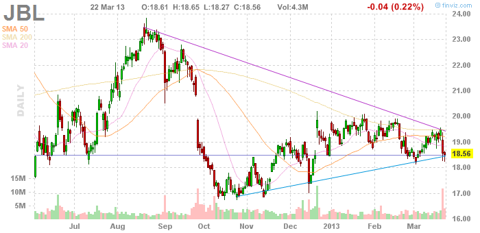 As the chart above shows, Jabil shares have been trending higher since it bottomed out at around $17 in October last year. After the recent plunge from nearly $20 to about $18.50, the stock is trading at the low end of the recent trading range and it is now at a support level which is indicated by the light blue trend line. That is why the shares might have limited downside from current levels. Furthermore, the company pays a dividend which yields 1.7%. Analysts at Needham reiterated a buy rating for this company on March 21, 2013 and set a $24 price target. That would give investors who buy now, potential upside of about 30%.
Here are some key points for JBL:
Current share price: $18.56
The 52 week range is $16.82 to $25.88
Earnings estimates for 2013: $2.29
Earnings estimates for 2014: $2.64
Annual dividend: 32 cents per share which yields 1.7%
Data is sourced from Yahoo Finance. No guarantees or representations are made. Hawkinvest is not a registered investment advisor and does not provide specific investment advice. The information is for informational purposes only. You should always consult a financial advisor.
Disclosure: I have no positions in any stocks mentioned, and no plans to initiate any positions within the next 72 hours. I wrote this article myself, and it expresses my own opinions. I am not receiving compensation for it (other than from Seeking Alpha). I have no business relationship with any company whose stock is mentioned in this article.