We expect PharmAthene (NYSEMKT:PIP) and Emergent Biosolutions (NYSE:EBS) to sign nearly identical sized $500M+ U.S. government contracts to provide 25 million doses of anthrax vaccine each any day now
This is a game changing contract for PIP as PIP moves it into the league of vaccine producers like EBS.
EBS serves as an excellent comparable for PIP valuation. EBS' primary source of revenue is from the production of its current vaccine BioThrax, the only FDA approved anthrax vaccine. EBS has several other vaccines in early stages of development. EBS revenue and valuation model is primarily driven by BioThrax and in a few years its next generation anthrax vaccine. Thus, the majority of EBS valuation is derived from its anthrax business and as such EBS serves as an excellent proxy for how the market should value PIP as PIP is on the verge of becoming the next anthrax vaccine producer.
The strategic national stockpile target is to have 75 million doses of anthrax vaccine and the award of two 25 million contracts will push the inventory to the 75M range. The government wants to have two suppliers to ensure safety of supply in case one of the suppliers is not able to deliver the next generation anthrax vaccine. PIP has a more stable and easier to produce compound for its vaccine called SparVax while EBS has a less developed and potentially more difficult compound to manufacture for its next generation vaccine.
Two equal contracts but two very different enterprise values:
PIP trades at just a $54M enterprise value while EBS trades at $338M enterprise value. EBS commands a higher value since it is generating positive cash flow and good EPS from its current BioThrax business, however, we believe PIP is too cheap given a contract award will validate PIP as a vaccine producer.
We believe that if awarded, a $500M contract will be a game changer for PIP and should justify an enterprise value of 1/3 of EBS, which implies a value of $5.00 per share or an enterprise value of $117M. We reach this conclusion by looking at PIP's share of the anthrax vaccines doses expected to be under contract which is estimated at 34%.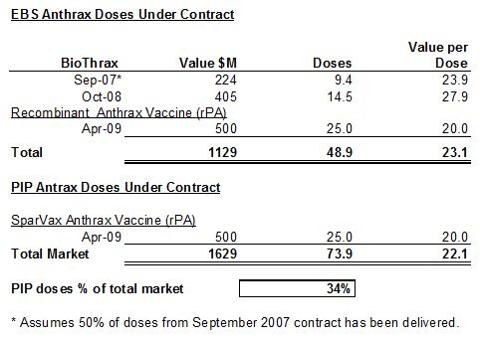 Bottom line:
These contracts have been telegraphed to the market and expected to be received by the end of December and again by the end of March and delays have occurred. Thus, we believe that once the news of the contracts finally occurs there will be a strong positive reaction given the continuous delays in getting them.
EBS trades 700,000+ shares on average per day for about $10.5M of stock value per day. PIP trades 46,000 shares on average per day for $126k of stock value per day. We expect that if PIP wins an equivalent size contract as EBS that the market will wake up and notice there is viable contender to EBS. We expect PIP to move it up strongly to close the valuation gap and if a good chunk of EBS volume moves to PIP then PIP could run higher than we expect given that is shares are more closely held.
Also note that DNDN traded 22.6M shares on Friday April 3, 2009 which is good signal the stock market is in a good trading mood for good biotech news.
click to enlarge
Full Disclosure: We do have a holding in PIP. This is neither a recommendation to buy or sell any securities. All information provided believed to be reliable and presented for information purposes only. Do your own research before investing in any security.