We are looking at a risk-on trade begin to take place as news that Cyprus has reached a deal with the EU on a 10 billion Euro bailout. Russia has been left out as they were unable to reach a deal of their own for a bailout and one has to question their actions as of late. We have seen some reports that they wanted to get assets for pennies on the dollar, and will look to do that should Cyprus have problems in the future, but if Europe is going to be on the hook for this now, they might as well throw more money at the problem in the future. This further cements Cyprus as an EU member and solidifies the Union. It is but $10 billion Euros, but this might very well be looked upon one day as one of those pivotal moments when the union took charge and was not "broken up" by their rival to the east, Russia.
Commodity prices this morning are as follows:
Gold: $1601.80/ounce, down by $4.30/ounce
Silver: $28.74/ounce, up by $0.042/ounce
Oil: $94.14/barrel, up by $0.43/barrel
RBOB Gas: $3.0703/gallon, up by $0.0078/gallon
Natural Gas: $3.951/MMbtu, up by $0.024/MMbtu
Chart of the Day
Oil is rising on the back of the Cyprus deal, is it justified? One might look into taking some profits if an oil ETF had been purchased in the $92/barrel level.

Chart courtesy of CNBC.com
Oil & Natural Gas
As readers know, we have been looking for somewhere to put the 20% cash position we had built up in our retirement portfolio for a few weeks now and we were looking for something which would provide the potential for capital gains as well as a nice yield. Well we think we found it and we have to say sometimes one need not look too far from what you already have in order to see what you need more of, and that was most certainly the case.
A very nice entry point in our opinion as the shares have traded down to support levels and the yield is now protecting further downside until a deal in the Utica is announced. The sooner the better though as it pertains to a deal announcement.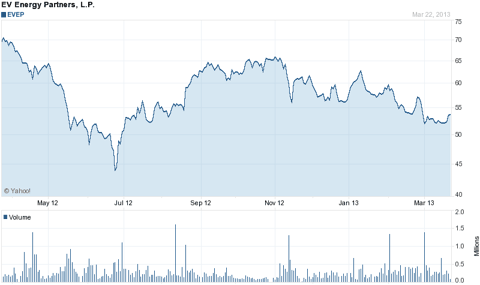 Chart courtesy of Yahoo Finance.
We have been looking for value and Friday we found it in EV Energy Partners, LP (NASDAQ:EVEP) which we decided to buy even though we had the big rise earlier in the week. The timing may have been off by a bit, but at these prices it is hard to argue with the proposition of a nearly 6% yield with maybe $2/unit being added to the yearly distribution in the next 18-36 months on noncore assets and the potential to add even more with the wrap up of a deal in the Utica. We could even find ourselves as buyers again in the coming weeks should we not see any more pullbacks in stocks we are keeping an eye on.
Magnum Hunter Resources (MHR) had a decent day on Friday, rising about 3.7% on the session with volume of 4.2 million shares. They were included in an article focusing on the Utica and the upcoming data release from the Ohio Department of Natural Resources which is going to give investors a look into the details of each and every well that has been in production for over a year. Decline rates, locations and much more will be available and this will greatly increase what we know about the play over last year - which saw very little released based on the "newness" of the play and such few wells actually meeting the requirements of needing to be reported. For those not too familiar with the Utica and Ohio, it is a good read (the article from Reuters can be found here).
'The Indicator'
Cheniere Energy (NYSEMKT:LNG), which has led many of our investment moves over the past year, continues to trend higher. The shares hit another 52-week high on Friday before selling off the rest of the session and actually ending down on the session, which is not at all bullish, but the fact that we broke through $26 was positive in our view. The strength here early was part of our reasoning for purchasing the position in EV Energy Partners for the retirement fund, as this has led the way higher for the oil and natural gas names at every turn it seems. Bottom line is the indicator says we are still bullish and thus we remain bullish.
Rare Earths
Last week we discussed interest in possibly going long Molycorp (MCP) once again, but only on the condition that our timing be perfect, the price action be right and the entry level be correct. Well during Friday's session we came within $0.05 of the 52-week low and that does not give us the feeling that we have necessarily bottomed here or even created a base to move off of. The stock should move higher today, but we want to watch this over the next few sessions, especially ones in which the market is down, to get a feel of whether shares have been accumulated by speculators or investors (in other words, weak or strong hands). No action has been taken here yet.
We want to see a flattening out of the slope at the end of the chart, once that happens we can start to plan our move into the shares, but certainly not until then.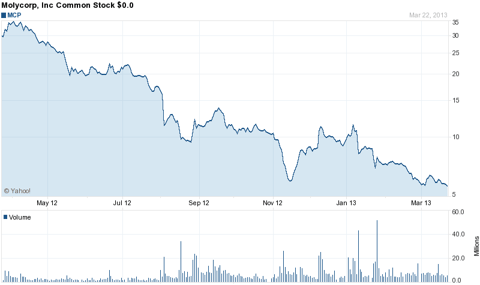 Chart courtesy of Yahoo Finance.
Steel
Sometimes the best moves are those which we refrain from our keep readers out of. That can be said for AK Steel (NYSE:AKS) which many of you wrote in to ask about as the shares fell prior to the announcement of the secondary and then after the secondary. There are far better names in this industry if one finds it necessary to be involved here, and those would be where we put our capital. We still think that the stock is broken and with the fresh 52-week low and many discussing the fact that iron-ore prices shall fall on lower demand, it is probably time investors look up the supply chain a bit and figure out who uses all of that iron-ore. This is tradeable, but as far as investable right now, no. We would wait for a confirmed turnaround or uptrend to begin before moving in. It is conservative, and not at all risky but why make such a bet here when there are so many more trades out there with plenty of reward with less assumption of risk needed?
The shares are sub-$4, and getting above $5 will be a task...not because of the resistance, but because of the state of the business and company. All is not well here.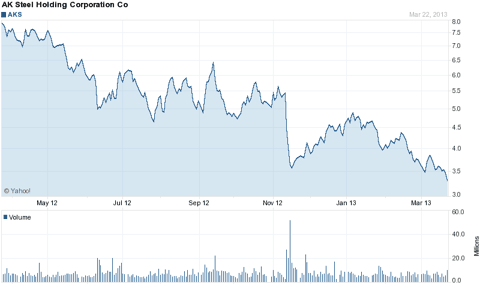 Chart courtesy of Yahoo Finance.
Disclosure: I am long EVEP. I wrote this article myself, and it expresses my own opinions. I am not receiving compensation for it (other than from Seeking Alpha). I have no business relationship with any company whose stock is mentioned in this article.