Over the past six months, despite a stock market rally and massive bond buying by the Fed, ECB, BOE and BOJ, as shown by the chart below, silver prices have moved sharply lower. Shares of Pan American Silver Corp (NASDAQ:PAAS), one of the world's largest silver mining companies, have also moved sharply lower. There are three reasons to consider buying PAAS.
Dividend
A little more than a month ago, in late February, PAAS announced a massive 150% increase in its dividend. Right now, PAAS pays an annual dividend of $0.50 giving the stock a 3.03% yield. This is a significant dividend which makes PAAS a viable stock for income investors. It is impressive that PAAS was able to announce the recent dividend increase despite downward pressure on silver prices.
Correlation Breakdown With Silver
As shown by the chart below, PAAS shares are trading at the same level as they were when silver was trading well below $20 per ounce. The failure for PAAS shares to move at least somewhat higher given the surge higher in silver is surprising. The real value in PAAS is its underground reserves. In my opinion, investors have not focused enough on the increase in value of underground reserves.
Valuation
As shown by the chart below, PAAS is trading at historically low valuations. It should be noted that the company has a strict policy of not hedging. Of course, this has proved a good decision as silver prices have moved sharply higher since 2007. However, I am of the opinion that it may be time for PAAS to evaluate some strategic alternatives given the company's depressed valuations.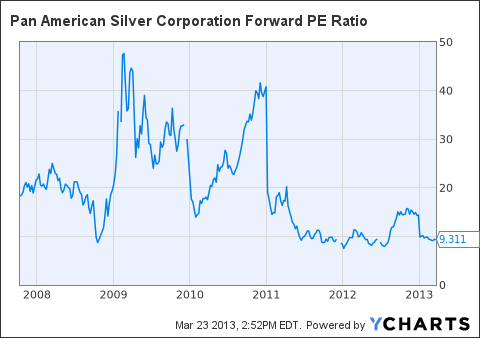 PAAS Forward PE Ratio data by YCharts
Strategic Alternatives
To bring out shareholder value, I believe there are a variety of possible strategies.
1. Start hedging. Perhaps it makes sense for PAAS to start a hedging program as silver prices have surged while, at the same time, PAAS shares have moved lower. As shown by the chart below, over the past five years, silver prices are up 65% while PAAS shares are down 54%.
2. Sell non-core assets. PAAS could look to sell non-core assets in an effort to bring out shareholder value. The proceeds from any sale should be used to buy back stock given the current valuation of shares.
3. Put the company up for sale. Given PAAS's size, it is not unreasonable to assume that other, more diverse, mining companies would be interested in PAAS. In addition to other mining companies, I would not be surprised to see private equity investors show interest in PAAS at these valuations. In my recent piece, Barrick Gold Corp: A Possible Private Equity Target, I outlined the case for a private equity deal. The same logic applies to a potential PAAS deal.
Conclusion
Due to its dividend yield, lack of consideration for the increase in silver prices over the past five years, and current valuation I believe PAAS is a stock to consider buying.
Disclosure: I have no positions in any stocks mentioned, and no plans to initiate any positions within the next 72 hours. I wrote this article myself, and it expresses my own opinions. I am not receiving compensation for it (other than from Seeking Alpha). I have no business relationship with any company whose stock is mentioned in this article.