Election season is behind us, the holiday retail season is in the books, and as March comes to a close, it is time to look towards Spring. I like to check several items in my portfolio around this time. Enough information is out to make some better informed decisions, especially on retail stocks and those investment instruments tied to interest rates. For this article, I want to concentrate on retail, focusing on The Buckle (NYSE:BKE), which I think offers some powerful investing opportunities for conservative and aggressive investors alike.
The company: The Buckle

Here is a quick description of the company:
The Buckle, Inc. is a retailer of casual apparel, footwear, and accessories for men and women. As of January 28, 2012, the Company operated 431 retail stores in 43 states throughout the United States under the names Buckle and The Buckle. The Company markets a selection of brand name casual apparel, including denims, other casual bottoms, tops, sportswear, outerwear, accessories, and footwear. As of January 28, 2012, the Company offered denims from brands, such as Big Star, Big Star Vintage, Miss Me, Rock Revival, Silver Jeans, and Buffalo Jeans. Other key brands include Hurley, Billabong, Affliction, Sinful, Archaic, Obey, Roar, RVCA, Fox, and Fossil.
Seeking Alpha contributor Stephen Rosenman made an excellent bullish case for the company in his recent article:
The Buckle: Upside on Special Dividends, Margins and Upgrades
I am extremely bullish on The Buckle and similar retailers long term. I love the niche it has carved out in the sector inhabited by trendy mall fashion stores. Management is strong, producing large margins which, in turn, produce a fount of cash flow, while maintaining an extremely investor friendly policy of annual special dividends.
By the way, since special dividends are not used in determining a stock's yield, The Buckle's anemic yield of 1.66% listed on most services is misleading in the extreme. Much closer to a real yield with special dividends this company stands around a yield near 7%. Better, from my calculations of share price and special dividends for the past five years, the total yield, again including the special dividends, stays around that 6%-7%. This makes it a hidden gem for income investors.
Back to Rosenman, he lays out a compelling argument that the large (approximately 30% of float) short positions on The Buckle are wrong and that share price of the company is going up. I think he has missed one key element, though. Let's look at the share price history for BKE: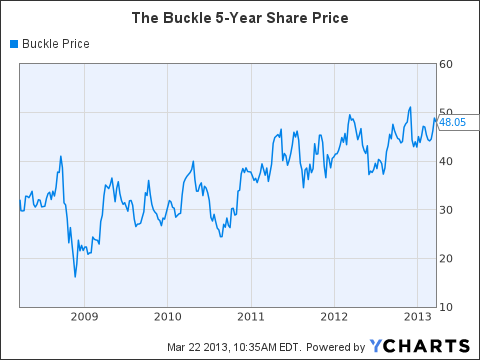 At first glance, this is a stock that is enjoying a good solid run, following along quite nicely with the five-year-old bull market investors have enjoyed. But looking closer at the details of the stock movements, some interesting patterns begin to form. Here are my quick calculations off of the price chart for The Buckle from my Scottrade account chart page:
| | | | | |
| --- | --- | --- | --- | --- |
| Year | High | Date | Low | Date |
| 2009 | $38.66 | May 4 | $27.60 | Aug 26 |
| 2010 | $39.88 | Apr 22 | $23.77 | Aug 23 |
| 2011 | $47.97 | May 18 | $36.61 | Aug 17 |
| 2012 | $51.74 | Nov 29 | $36.33 | Jun 13 |
There is a definite pattern here, with an annual high for share price in late April to mid-May, and an annual low in August, in 2009, 2010, 2011 and... whoops, not in 2012. What happened there?
Looking at the share price action for 2012 we can see: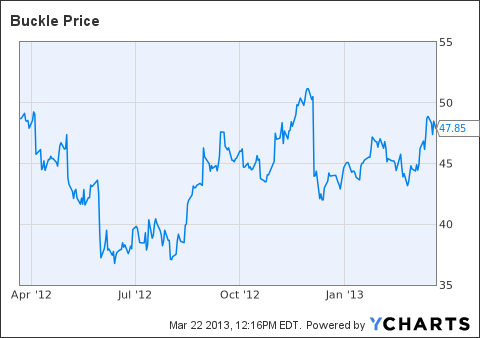 The share price for The Buckle did top out again around 49 in April, before correcting into the $37 range in July and August. However the share price advanced stronger than usual in November and December as analysts and pundits, including myself, drummed up the large special dividends paid by the company. This was in advance of the widely expected tax increase on dividends expected to kick in on January 1.
So The Buckle has a regular pattern to its share price: it tops out in March-May, then corrects down and bottoms in August, before turning around again and climbing as the months head to the holiday season.
As a check, Rosenman compared The Buckle to Aeropostale (NYSE:ARO), which shows the following historical share price action: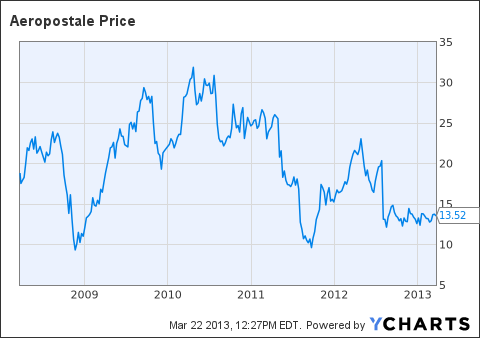 The chart looks completely different from The Buckle's, with Aeropostale's price now leveling off from a multi-year downward slope. But is it? Quick question... where are the annual highs coming for the share price? Take a careful look at the chart above. I'll wait.
Their highs are coming generally in April here, too, followed by sharp drops into August or so.
Just for fun, let's look at Chico's FAS (NYSE:CHS) and see their share price action: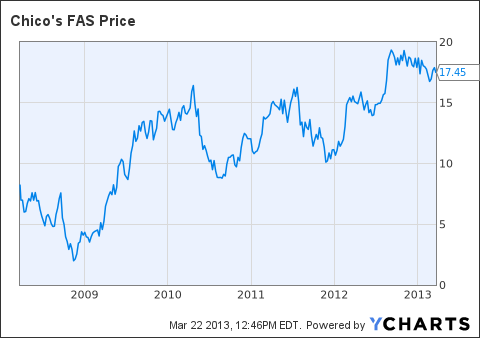 The same general pattern as the others, although definitely not as reliable, with 2011 and 2012 falling outside what we are looking for. We can tell that this price action is a typical pattern in share price for some retailers, but definitely not all.
Just considering the market that retailers like The Buckle and Aeropostale operate in, most of their sales come during the holiday season. Like most retailers, they merely hang on the rest of the year. Look at their quarterly revenue for the last five years: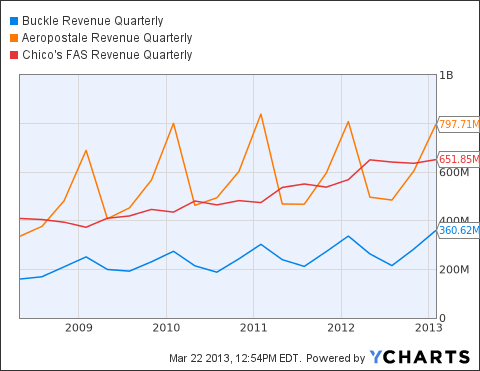 BKE Revenue Quarterly data by YCharts
Aha! Chico's FAS is definitely in a solid growth stage, with steadily mounting revenues. Aeropostale shows a solid pattern of Summer downturns and Winter/Holiday up swells. The Buckle's revenue variations are incredibly deep and regular. It looks clear that the regular action of The Buckle's share price looks linked to the revenue results. That makes sense to me. Since Aeropostale follows generally the same revenue pattern and share price movement.
But will this share price action continue?
Macro Considerations

Spring is time for fresh growth, new fashions and a poor economic quarter. Go ahead, visit a few retail stores and walk around the malls. You should notice the foot traffic is sharply down from other times of the year. In the summer people get bored during their vacation time and take in a movie or go window shopping. Come Autumn and Winter there are holidays to shop for. But in Spring people want to get outdoors. Revenues fall and that is why numbers for a lot of retail chains like The Buckle and Aeropostale drag during this time.
True, despite all the woe and gloom from some quarters, the economy is reviving. The unemployment rate is slowly improving, having lowered from a 2011 high of 9.1% to a February 2013 rate of 7.7%. Meanwhile the economy is sluggishly growing at a rate of around 2%, albeit that being an average over the past 18 months. Again, Spring months traditionally are the weakest months.
Meanwhile there is the effect of Sequestration. The round of automatic tax raises and spending cuts that warped into effect on March 1st no doubt will have a dampening effect on the economy. The question will be that if (or when) numbers are weak in the coming months, how much of it will be from the normally weak Spring economy and how much from Sequestration? No doubt we will feel a delayed impact. However in my mind, the important fact for investors is that it will likely drag on any upside and tend to help push down on any downside.
This doesn't sound like a great time to be taking new, bullish positions.
Another concern is that we are currently sitting on a five year bull market. While it has been fun while it lasts, it will not last forever. My experience is that old bull markets get cranky, with big swings up and down until a correction finally takes hold and the bears come out of their den. The great majority of bull markets end in about four years. The longest on record lasted about 7.6 years. I am not seeing the type of exuberance that might keep this bull going much longer.
Conclusion
I see little that convinces me that there is any large upside to BKE in the very near future. I think there is even a chance we are at the top now as it churns in a range of $47-$48.50. However I still think we have another few weeks for another upward swell and that the stock should clear about $50-$51 by early April. I plan on waiting for it to show a definite downward turn before opening any position. At the moment that would be if it breaks through a floor of $47.
I expect share price to slide to around $37-$39 by August, but I probably will be looking to close out my positions around the $40 range. Then in late August I will be looking on buying more Buckle stock, assuming nothing changes between then an now. That way I should catch it near a low, and possess it when it pays out its enticing special dividend at the end of the year.
Options for Action
Here are suggestions on how to take advantage of a potential drop in The Buckle share price between April and August 2013. These are meant as starting points for additional research. While each have the potential for profit all have risks, especially if the share price of the company's publicly traded shares do not follow the expectations of this report.
Covered Call
This is undoubtedly the most conservative action you can take if you are already a BKE owner like I am. If you are a long term investor, sell a covered call off your stock holdings. I would advise selling a September Call Option on a just-in-the-money call, like a SEP $45 Call which would give you about $500 income from each contract. In August you should be able to close out the contract for a profit of $450 each or better.
Sell Now, Buy Later
This is the traditional and conservative approach. Sell BKE shares now and repurchase in August. While this could mean a profit of $800-$1200 profit per 100 share block, depending on exactly the selling and purchasing point. There will be higher transaction fees and potential tax liabilities.
Sell Short
This is the basis of the large short position mentioned by Rosenman. Sell shares of The Buckle Short, with a plan to close your position in August. You are using margin to leverage your position. There can be much greater profits, but there is a chance of a large loss if the stock price moves higher.
Option Options
Perhaps the best way to take advantage of this is through an option strategy of using some combination of Call and Put options. This is beyond my expertise where I would feel comfortable advising any particular positions.
Disclosure: I have no positions in any stocks mentioned, but may initiate a short position in BKE over the next 72 hours. I recently sold my holdings in The Buckle. I wrote this article myself, and it expresses my own opinions. I am not receiving compensation for it (other than from Seeking Alpha). I have no business relationship with any company whose stock is mentioned in this article.