With the S&P 500 hitting an all-time high of 1,565 at the time of this writing, many investors who have been on the sidelines are wondering which sectors are relatively cheap nowadays, and whether it is too late to hop on the ride of a bull market. Below I would talk about one of the cheaper sectors and a pick that has been widely perceived as "undervalued." The question is whether it would stay undervalued or finally take off, like the rest of the market.
Disappointing to Disastrous Stock Performance in Recent Past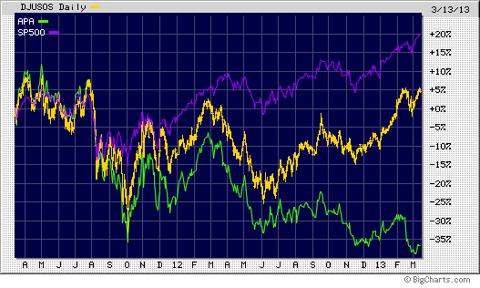 Click to enlarge
As the above chart from MarketWatch's BigCharts website shows, Apache's (NYSE:APA) performance in the past two years against the Dow Jones U.S. Exploration and Production Index (DJUSOS) has been downright dismal, while the index's performance against the S&P mirrored the same disappointment. Aside from the question of whether now is the time to buy in this subsector, this article would address whether Apache is a good pick at the current price if one wants exposure to independent oil and gas. If we prepares the same chart going back five years, it would show that historically Apache has closely tracked the performance of the DJUSOS, even slightly outperforming in 2010 and part of 2011. So, what happened?
APA started a steep dive in August 2011 along with the DJUSOS as WTI slumped to $86/barrel (Brent at $110/barrel), and by September it was trading below the index. Investor concern with the political turmoil in Egypt, where Apache derived almost a third of its oil production, didn't help. Production from two of the company's most profitable regions, Egypt and the North Sea, where crude was priced at the much higher Brent, were also disappointing because of operational and maintenance issues. The stock never recovered from this dive, and by June 2012 at the company's annual Investor's Day in Houston, analysts were openly grilling the CEO over coping strategies for the slumped stock price. Management's answers at the conference and subsequent actions apparently did nothing to appease the market as the stock's underperformance vs. the index just grew wider and wider. On March 15, the company received a notice for an unsolicited "mini-tender" offer by TRC Capital to purchase up to 0.38% of its outstanding common stocks at $72/share, so the stock is now "in play."
How undervalued is the stock?
At $75/share the stock is trading at about 8 times my forecasted 2013 EPS of $9.43. My forecast is slightly higher than the average ($9.16) of the 30 analysts included in Yahoo Finance. While there is no particular reason my forecast would turn out more right than others, it is also not far from street expectations. In comparing this earning multiple of 8 to the stock's history in the past five years, I would focus on 2009 since this was the worst year for the industry's earnings during that period. In 2009 Apache had a net loss of $292 million, and one major driver was an non-cash write-down in the carrying value of the company's US and Canadian proved reserves totaling $1.98 billion net of tax. Excluding this one-time item the company had an EPS of $5.02, and given the stock's average price of $80 in 2009 this equates to an earnings multiple of approximately 16.
Next I would compare APA to its closest compatible in the industry, Anadarko Petroleum (NYSE:APC). At $84/share and given the average EPS estimate of $4.02 from the 29 analysts in Yahoo Finance, the stock is trading at a multiple of almost 21.
Lastly, I performed a valuation of Apache based on its proved reserves at the end of 2012. Plugging in the company's 2012 production volume the proved reserves would last approximately 10 years. Using a simple discounted cash flows model, given the assumptions of the current average realized price for all of its products (i.e. oil, natural gas, NGL) of $60/barrel of oil equivalent, slight tweaks to current production volumes for the next 10 years, and a discount rate of 10%, I derived a common share valuation of $81 after subtracting the book value of debts in the balance sheet. This valuation methodology is meant to be conservative and provide some sort of floor for the share price since it doesn't take into account any future additions to the proved reserves.
Scenario Analysis
My analysis thus confirmed the street perception that APA is one of the cheapest stocks in the sector. The question is where it goes from here. My feeling is that its downside risk is low, barring major disasters to the company's productions or oil prices, and the relevant question is how much is the upside. Given the fact how much the stock has fallen, the worst likely thing that could happen is nothing at all, and market just forgot about the stock. This is unlikely, judging from the number of analysts covering it, and the fact that the company still boasts one of the highest replacement ratios and production growths in the industry in this era of scarce global oil reserves. If prices fall low enough, somebody would want to grab those juicy US oil reserves with the region's relative political tranquility, whether it being some hedge fund, Exxon Mobil (NYSE:XOM), the Chinese.
On January 3, 2012, Sinopec, China's second-largest oil company by market capitalization, entered into a $2.5 billion deal with Devon Energy (NYSE:DVN) for five oil projects from Ohio to Alabama, in which Sinopec would take one-third of Devon's stake in the projects and contribute 80% of development costs.
For another valuation exercise, we would look at the Norwegian oil and natural gas conglomerate - Statoil's acquisition of Brigham Exploration on October 17, 2012. Brigham was another one of those Texas-based oil explorers with attractive acres of tight-oil formations in the U.S., in this case, in the Bakken shale region of North Dakota. Statoil paid $4.4 billion for Brigham, putting its enterprise value at about $4.7 billion, for a potential production of about 60,000 boe (barrel of oil equivalent) per day for the next five years. Without looking into the detail geology of Apache's proved reserves versus Brigham's, if we just do a quick back-of-the-envelope calculation, Apache's annual production of 285 million boe in 2012 is about 13 times that of Brigham. Multiplying its enterprise value 13 times would give Apache an equity value of $48.7 billion, or about $125 per share.
Other scenarios could play out: the CEO, sixty-five year-old Steven Farris, who has been running Apache for ten years, may be fed up with street pressure and decide to retire, or there is a change of management through other routes, and then the company's strategic direction might change. There might be a shift from exploration to more financial engineering (i.e. special dividends come to mind). The company's cash flows with the current oil price levels and Mr. Farris' ambitious exploration budget wouldn't leave leeway to entice equity holders, but he might get help with partners who are interested in his oil reserves. In any event, the outcome should be a plus for the equity holders.
The stock is trading at close to its 52-week low of $72. I would watch for changes in the macro variables in the next few weeks and gradually buy into APA.
1 Financial Times, January 3, 2012 issue
2 Financial Times, October 17, 2011 issue
Disclosure: I have no positions in any stocks mentioned, and no plans to initiate any positions within the next 72 hours. I wrote this article myself, and it expresses my own opinions. I am not receiving compensation for it (other than from Seeking Alpha). I have no business relationship with any company whose stock is mentioned in this article.