In a series of recent articles, we investigated the country risk of various mining jurisdictions with activities of US-listed precious metal miners and collated country risk ratings for these countries from various sources. Subsequently, we used these results to evaluate country risk exposure for selected gold and silver mining companies. In the present article, we would like to attempt an evaluation of country risk exposure for Silver Wheaton (NYSE:SLW).
Established in 2004, Silver Wheaton has quickly positioned itself as the largest precious metals streaming company in the world. The company has a number of agreements where, in exchange for an upfront payment, it has the right to purchase, at a low fixed cost, all or a portion of the silver and/or gold production from 19 high-quality operating mines and four development stage projects around the globe. Silver Wheaton has a market capitalisation of $11.1B, a forward P/E of 13.41 and a median analyst target of $48.50 comparing favourably to a present share price of $31.29 at the time of writing. Silver Wheaton has weathered the ongoing silver price correction in exemplary fashion and has outperformed most silver mining companies at most times of the company's existence.
Most definitions of country risk include factors such as political risk, exchange rate risk, economic risk, sovereign risk, transfer risk, socioeconomic risk and others. Silver Wheaton does not actually operate mines in foreign jurisdictions and therefore carries minimal direct country risk considering the location of their headquarters in Vancouver, Canada. However, disruptions at mines operated by its partners also impact on Silver Wheaton's business and therefore an indirect country risk is certainly part of the streaming business.
Country risk for Silver Wheaton is illustrated by the situation at the Navidad project in the province of Chubut in Argentina. Navidad is one of the largest undeveloped silver deposits in the world controlled by Pan American Silver (NASDAQ:PAAS). Silver Wheaton has a streaming agreement with PAAS with regards to 12.5% of the silver produced in the Lomo de la Plata zone of this project. However, currently all development activities at Navidad have been put on hold by PAAS due to actions taken by the local government of Chubut. Silver Wheaton's investment in this project is subject to the receipt of permits to resume construction. Therefore no loss of money has occurred for Silver Wheaton so far. However, judging from previous actions by the local Chubut government, permits to proceed with the Navidad project should be taken with a grain of salt, especially in a climate of economic melt-down that may well be on the agenda for Argentina in coming years.
Silver Wheaton reported production numbers in their news release on March 21 and attributable resources and reserves on March 19. The reported numbers for all assets are summarized in the table below. All output derived from Barrick Gold's operations are summarized under one entry in the production table; and another entry summarizes production of 5.2 Moz stemming from nine mines. For the purpose of this article, we simply distributed the summarized values equally among the mines lumped together in this table entries. For the computation of silver equivalent ounces we used a silver-to-gold ratio of 50.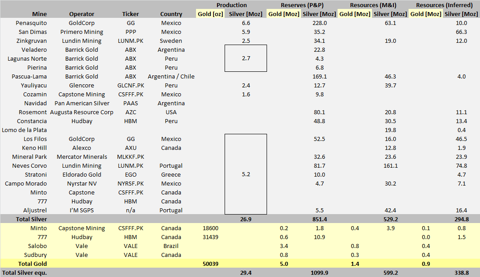 Consolidating the production and reserve data into a table showing data for each country of exposure results in the table below which is already calculated in percentages of silver equivalent ounces. Country risk ratings as documented in this article are also shown in the middle column of the table. The right side of the table shows the table entries for production, reserves and resources reduced by the country risk factor. The bottom line shows the summation of the entries for each category. The deductions in the bottom lines can be interpreted as country risk ratings for Silver Wheaton on a scale from 0 (minimum risk) to 100 (maximum risk). The risk ratings can be interpreted as ratings going from present risk (production) into the future (inferred resource).

Discussion
Barrick Gold (NYSE:ABX) is an important partner for Silver Wheaton going into the future and the arrangements with regards to Barrick's Pascua-Lama mine warrant closer inspection with regards to the evaluation of the associated country risk. The Pascua-Lama Mine hosts 676 million ounces of contained silver within the proven and probable gold reserves, with an additional 185 million ounces of contained silver within the reported measured and indicated gold resources. The mine straddles the border between Chile and Argentina. Chile is regarded as a very safe jurisdiction, but Argentina is associated with extremely high country risk. Future country risk exposure of Silver Wheaton is driven by income from the Pascua-Lama mine to a high degree.
In 2009 Silver Wheaton entered into a silver purchase agreement with Barrick to acquire 25% of the life of mine silver production, as well as 100% of the silver production from their Lagunas Norte, Pierina (Peru) and Veladero (Argentina) mines until the end of 2013. Barrick has provided Silver Wheaton with a completion guarantee, requiring them to complete Pascua-Lama to at least 75% of design capacity by December 31, 2015. During 2014 and 2015, Silver Wheaton will be entitled to the silver production from the Lagunas Norte, Pierina and Veladero mines to the extent of any production shortfall at Pascua-Lama, until Barrick satisfies the completion guarantee. This arrangement exposes Silver Wheaton to country risk associated with Argentina, at present through income from the Veladero mine and in the future through the stream from the Pascua Lama mine.
Other risk factors within the portfolio of Silver Wheaton include exposure to Greece through the stream from the Stratoni mine and the Navidad project mentioned at the beginning of this article.
Overall, the country risk rating for Silver Wheaton is comparable to the country risk associated with the largest gold mining companies such as Barrick , GoldCorp (NYSE:GG) and Newmont (NYSE:NEM). In the silver space, Silver Wheaton's rating is comparable to Fortuna Silver (NYSE:FSM), First Majestic Silver (NYSE:AG), Endeavour Silver (NYSE:EXK) or Great Panther Silver (NYSEMKT:GPL). Precious metal companies with significant less country risk include Hecla Mining (NYSE:HL) and Agnico Eagle (NYSE:AEM). However, it should be noted that the geographical diversification of Silver Wheaton provides a certain insurance against problems in any individual country.
Disclosure: I am long SLW. I wrote this article myself, and it expresses my own opinions. I am not receiving compensation for it (other than from Seeking Alpha). I have no business relationship with any company whose stock is mentioned in this article.