Despite the Dow continuing to set all-time highs, investors are nervous. Just last week the euroZone was on the brink of collapse (again) and there are signs that the United States employment recovery is not as robust as the numbers make it seem. With this in mind, I continue to pursue high-quality, high-yield American equities because they simultaneously generate income and provide capital gain opportunities. Companies that have high-dividend payouts generally have strong financial positions and are able to generate robust cash flows from operations - two of the most important criteria in a potential investment.
This week there are 13 candidates, four of which have been analyzed below based upon SA readership criteria. Note that the eight real estate investment trusts ("REITs") focused on securities are going ex-dividend this week and have been analyzed in a separate article to better address the intricacies in those companies. This week there is a diverse set of financial service firms with yields ranging from 4 percent to 12 percent. Aside from the REITs there are Canadian banks and private equity firms in this week's screen. Market capitalizations are once again concentrated in the small-cap bracket but there are a few larger firms. I prefer that my ex-dividend candidates have market caps greater than five billion dollars but that is not a requirement. The majority of the companies go ex-dividend on Tuesday and this is a short trading week with the Easter holiday and Passover this week.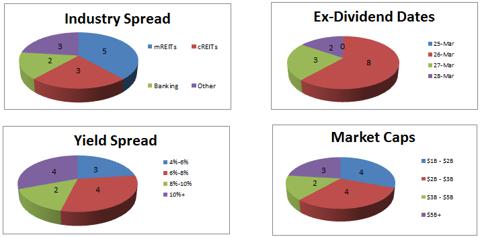 For details of the strategy and my screener details, please consult my methodology on the topic (last modified 1/21/2013). In brief, the screen focuses on relative stable equities with a concentration on liquid companies at affordable valuations. This is summarized below:
Dividend Yield ≥ 4.0%
Ex-Dividend Date = Next Week
Market Capitalization ≥ $1B
P/E Ratio: 0-20
Institutional Ownership ≥ 15%
Ideally Modest YTD S&P 500 Underperformance
Minimal European Exposure
After applying this screen I arrived at the equities discussed below. Depending on your belief in the investment hypothesis, you may decide to hold long enough for the dividend or to hold long term. The information presented below should simply be a starting point for further equity research in consultation with your professional financial advisor before making an investment decision. My goal is to present new companies to you and provide a brief overview of their recent developments; this should not be considered a substitute for your own due diligence.
Prospect Capital Corporation (PSEC): 11.89% Yield; Ex-Dividend 3/26
Prospect Capital is a specialty finance company that operates primarily in the private equity and specialized investment categories with a focus on secured lending. The firm prefers to make small investments ($5-$50M) in small- to mid-size North American companies. Private equity companies are attractive dividend producers because they frequently revitalize or capitalize existing businesses and are able to return excess cash quickly. These can be volatile firms because their ventures often do fail but once they have successful investments, they can pay above-average dividends.
Prospect reported another strong quarter of earnings in February and net investment income increased 172% year-over-year as the company continues to experience phenomenal growth. The current portfolio yield appreciated from 13.3% last quarter to 14.7%, highlighting how profitable these investments are for Prospect. This indicates that not only is the high dividend payment safe but that an increase is possible. In early December, Prospect increased the dividend payments by 8.2%. In June 2010, Prospect began distributing dividends monthly rather than quarterly, which accounts for the large perceived dividend decrease from $0.40 to $0.11. Private equity investments are complex due to the scale and diversity of their operations, so I strongly recommend that you read the earnings release for further details of investment activities. The company has been very active recently and raised $250M of debt capital to facilitate additional long-term investments. One potential negative for Prospect is that it will need to replace the income generated by its Energy Solutions Holdings, Inc. investment, which generated "significant dividend and interest income" in 2012. This risk is mitigated by the $400M investment pipeline that includes "secured investments with double-digit coupons, sometimes coupled with equity upside through additional investments, diversified across multiple sectors."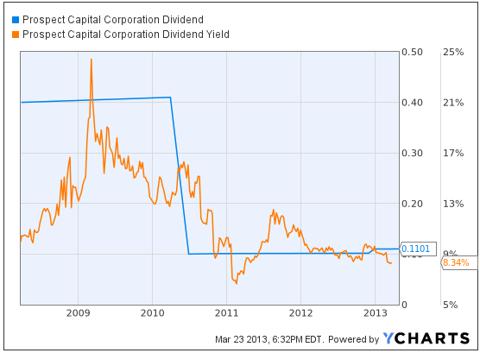 (Source: YCharts)
The stock has lagged the market recently due to dilution concerns relating to the company's $384M net stock issuance ($11.10 per share before fees). Dilution is never positive for a company, but Prospect has a history of raising capital to meet investing requirements. I am confident that the $300M in capital will be deployed profitably and investors would be wise to take advantage of the drop in the share price. The P/E is around eight and the yield is approaching 12; therefore, I am bullish on Prospect Capital's future. I continue to reiterate that I would be comfortable buying Prospect under $11.50 and I believe there is still value here despite the 5 percent gain so far in 2012.
In January, Prospect announced that it would be diversifying its investments into the real estate market with three investments totaling $50M. President Grier Eliasek stated that "while our initial real estate investments have been in industrial and multi-family residential properties, Prospect is interested in all types of direct and indirect real estate investments, including properties owned by private equity-owned companies." Prospect might be late to the game, but I believe this diversification will ultimately improve the quality of the company.
Starwood Property Trust, Inc. (STWD): 6.24% Yield; Ex-Dividend 3/26
Starwood is $3.2B commercial real estate firm that specializes in originating, investing, financing and managing mortgage loans. The company primary profits from the spread on interest earned on loans and the cost of capital. In the fourth quarter of 2012, approximately 83% of interest income was derived from traditional financing activity with the balance originating from mortgage backed securities ("MBS"). Starwood has been active in raising capital and recently had a $525M offering of convertible notes to purchase additional commercial mortgage loans.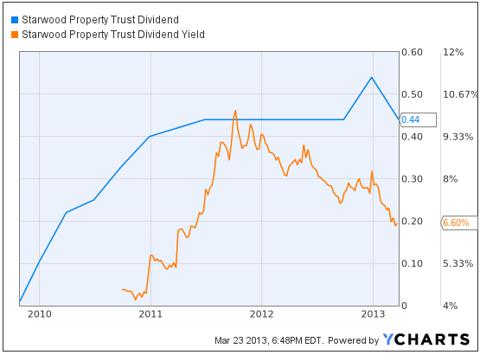 (Source: YCharts)
Core earnings increased 17% per diluted share in the past year and 2013 began on a robust note as Starwood announced that it would be acquiring LNR Property LLC, the former investment group belonging to Lennar, for $1.05B in cash. LNR specializes in distributed securities and this deal should not only add diversity to Starwood's operations but is anticipated to be accretive to earnings and cash flows in 2013. The stock has climbed nearly 23% in the past month due to this beneficial acquisition and Starwood sits less than 3 percent from its 52-week high. The stock is somewhat expensive compared to other REITs I follow but Starwood is unique in that it actually makes direct loans and MBS are only a secondary income source. I believe the upside is somewhat limited after the early 2013 run but Starwood may still be a suitable dividend capturing opportunity.
Canadian Imperial Bank of Commerce (CM): 4.63% Yield; Ex-Dividend 3/26
The Canadian Imperial Bank of Commerce is one of the largest banks in Canada and offers retail banking, wholesale banking, and global wealth management services. One of the most important statistics for banks now is Tier 1 capital and CM's ratio is a respectable 13.8% (down 1.1% over the past year). For comparison, Bank of America (NYSE:BAC) had a ratio of 12.9% as of 12/31/12 (up fifty basis points from 2011).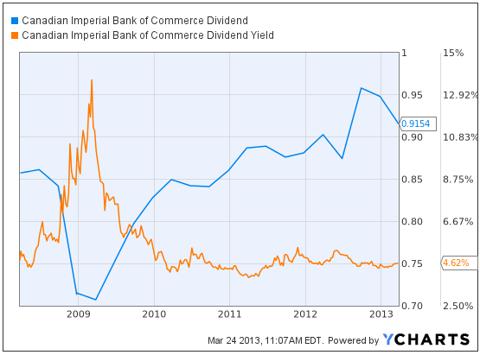 (Source: YCharts)
Earnings have been in a downtrend for the past five years but grew over 17% in the past year. After this surprising rebound, the stock looks competitively priced compared to American large-cap banks on a forward P/E basis at 8.9x forward earnings. Despite lagging earnings, the dividend payment has increased approximately 25% since 2009 although it has dipped from its high set in mid-2012. Unlike those American banks, Canadian Imperial does not have to undergo rigorous Federal Reserve stress testing in order to increase its dividend payment. Furthermore, CM trades at a discount to the other major Canadian Banks: Royal Bank of Canada (NYSE:RY) Toronto-Dominion (NYSE:TD), the Bank of Montreal (NYSE:BMO), and the Bank of Nova Scotia (discussed below). Personally I tend to avoid large-cap banks due to the complexity of operations, and in my opinion low risk-adjusted returns; however, Canadian Imperial Bank appears to be attractively valued and has missed out on the 2013 bull market. Robert Weinstein wrote a detailed article in late 2011 on how you can execute a dividend capture on Canadian Imperial. The numbers have obviously changed but it serves as evidence that the stock has a history of being a profitable ex-dividend candidate. Please note that there may be unique tax issues involved in investing in this Canadian company.
The Bank of Nova Scotia (BNS): 4.06% Yield; Ex-Dividend 3/28
The Bank of Nova Scotia offers commercial banking, wealth management, and investment banking related services to customers primarily in Canada but also with an international reach. Across all of their business lines the bank has nearly 20 million customers, eleven million of which are outside of Canada. The bank reported strong earnings earlier this month that pushed the stock to a new all-time high. Earnings were boosted by the acquisition of online bank ING Direct for $3B and Colombian Banco Colpatria for $1B. These prudent management directives have been a large reason why the stock continues to be an analyst favorite.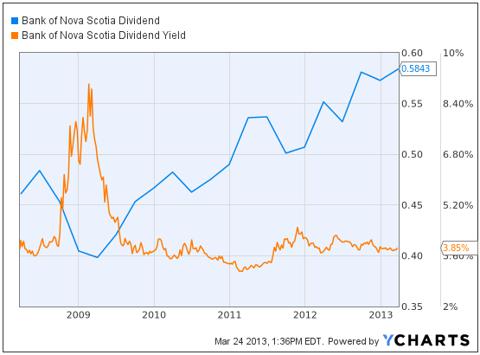 (Source: YCharts)
As for dividend safety, the bank has a storied history of dividends dating back to the 1800s although the dividend rate has been more volatile than you would expect from a large financial institution. As you can see from the chart above the dividend payment has been steadily increasing since the financial crisis lows, although the rate of increases has diminished. Both Canadian Imperial and the Bank of Nova Scotia are solid choices if you are looking for exposure to large banks while sidestepping the elevated risk of American banks. FinancialStorm recently performed a yearly checkup on the bank that is worth reading if you are considering a dividend capture on BNS.

(Source: Finviz.com)
The information presented has been summarized below. I make no guarantees regarding the information in the chart as industry classifications are frequently imperfect. Orange and green represent "avoid" and "consider" classifications, respectively. All utilities in blue have been analyzed in a separate article.

.
Disclosure: I am long PSEC. I wrote this article myself, and it expresses my own opinions. I am not receiving compensation for it (other than from Seeking Alpha). I have no business relationship with any company whose stock is mentioned in this article.
Additional disclosure: Please refer to profile page for disclaimers.