Nordic American Tankers (NYSE:NAT) has had two significant events occur in the last couple of weeks.
First, the management announced the acquisition of their 21st Suezmax Vessel with the expectation for delivery in May. The price of the Vessel is in the $50 million range, which is historically a low price for this type of vessel.
The second milestone is that the stock, in terms of chart technicals, saw the topside of the 200 day moving average for essentially the first time in three years. This is notable in the sense there have been 5 spikes which look like short squeezes in that time, and none of them have closed above the 200 MA.
I hold NAT for a long term dividend play, and have been accumulating shares at ever lower prices on each major drop. My cost basis is about $21 at the time of the article. The last shares I bought were in the $11 range and the highest are at $29.
I would like to bring to light some correlations that still give me pause in regard to adding shares at this time. Though I believe a bottom is at hand, I am waiting for more technical confirmation before adding my next lot of shares. I'd like these to go up, not down!
The Baltic Dry index is an indication of the rates that vessels may be receiving when chartered for cargo. The BDI used to be fairly well correlated to both the S&P 500 and the price of Crude Oil.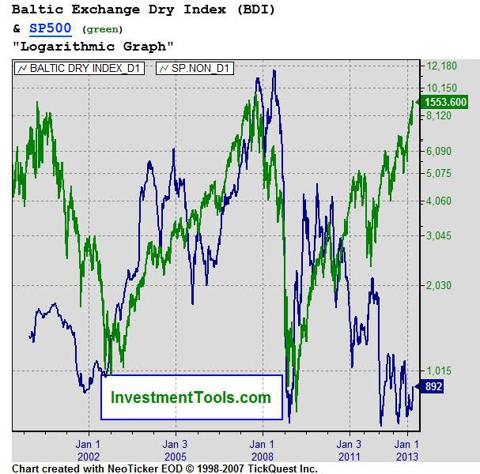 Recently, the BDI has been correlated more closely to the FXI, the iShares FTSE China 25 Index ETF, than the other two aforementioned charts.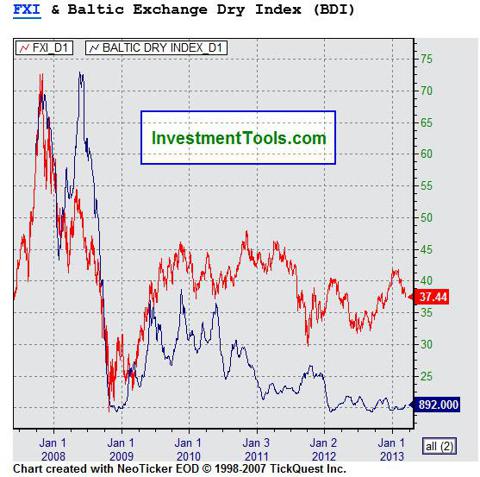 Furthermore, the price action of Nordic American since Jan 2011 correlates closely to the price of the BDI divided by 10.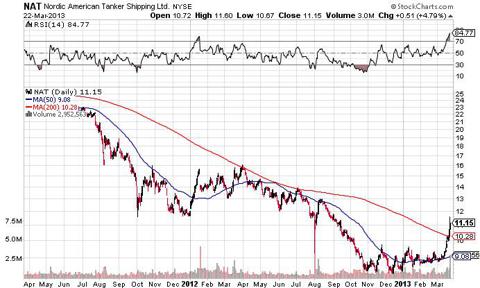 As it relates to NAT, I don't believe that the most recent short squeeze over the last 5 trading sessions means that this is a good time to enter. I believe that shorts are getting blown out, and that there are many people that are going to taking advantage of the price spike to exit NAT.
There are a number of cues for me that will confirm a turnaround is at hand:
1. I am looking for sustained spot rates for NAT above $20,000 per day for more than one quarter. Nordic American has one of the lowest breakeven levels in the entire industry at $12,000 a day, but the rates have averaged below that for the last 4 quarters in row.
Both of the following quotes are from Nordic American's 4Q 2012 earnings release:
NAT achieved an average daily rate of $10,700 during 4Q2012. Rates achieved in the same period last year were around $12,000 per day. ...

NAT has a cash break-even level of about $12,000 per day per vessel, which we consider low in the industry. The cash break-even rate is the amount of average daily revenue our vessels would need to earn in the spot tanker market in order to cover our vessel operating expenses, cash general and administrative expenses, interest expense and all other cash charges.
2. A significant portion of earnings for NAT come from voyages to China. I believe that FXI will be a good indicator of when demand is increasing enough in China to drive a sustained increase in spot rates, and that it will show on the Baltic Dry Index.
3. There has been an excess of ships available for the transportation of goods that has been depressing spot rates. It will take an increase in the amount of ships scrapped, versus new builds put to sea to alleviate this excess.
"The Suezmax fleet (excl. shuttle tankers) counts 434 vessels at the end of 4Q2012, an increase of 25 since the beginning of the year.
"The current orderbook stands as of today at 54 vessels which represent 13% of the Suezmax fleet. At the time of this report, the orderbook for 2014 counts only 5 Suezmax vessels. With current scrapping activity and a lack of new orders there is a good probability that the Suezmax fleet will shrink in 2014,which is to our favour.
Scrapping activity has increased recently. In 2012, 21 Suezmaxes were scrapped compared to 8 during the year 2011. Given the current market conditions we expect to see a further increase in the scrapping activity."
From NAT's Q4 2012 report, with a link to a report by Hellenic Shipping News that substantiates this view.
If there is a turnaround, I believe that Nordic American can generate high returns in dividends and capital appreciation over time. Nordic American's dividend model is ripe for increases in time if earnings return. I also caution everybody to go over NAT's current risks as outlined in their most recent annual report to see if NAT is right for your portfolio if you are looking to play a shipping renaissance in the years ahead.
My low risk strategy to enter NAT is to sell an at the money $10p/$8p put spread to expire 3 months out when the price returns to $10, and to use this sale to by an $11 call as far out as I can.
This levers me to the upside for minimum financial outlay and risk. If the turnaround is real, the put spread will expire, I will exercise my call prior to the record date for ex-dividend, and continue to participate in Nordic American's historically outsized dividends.
Comments, feedback and discussion are much appreciated. Profitable wishes to all.
Disclosure: I am long NAT. I fully intend to increase my share holdings in NAT by executing the options strategy as outlined in the article. I wrote this article myself, and it expresses my own opinions. I am not receiving compensation for it. I have no business relationship with any company whose stock is mentioned in this article.