Arena Pharmaceuticals (NASDAQ:ARNA) is a well covered up and coming pharmaceutical company that currently has the FDA green light for its new drug, BELVIQ (lorcaserin HCI), approved for treatment of chronic weight management. The company's new drug has made headlines since its approval in June 2012 and is due to go on sale as soon as the DEA (Drug Enforcement Agency) finishes classifying the drug as ordered by the FDA. The potential to turn this development stage company into a commercially viable, profitable drug maker is almost certain at this point. Arena calls the new product "the first breakthrough in weight loss in 13 years." It's projected that BELVIQ could add upwards of $1 billion in annual revenue for Arena.
While I am bullish on Arena and recommend the stock a buy, especially under the $9 price level, the potential gains for this company go way beyond weight loss. This company has a very promising product pipeline and the stars seem to be aligning as the sale of BELVIQ will not only push the company to profitable territory, but also gives them the resources needed to get their pipeline moving. The monster in the closet is actually not BELVIQ, but rather the yet to be named, APD371 CB2 Agonist for the potential treatment of pain. So let's look at how this plays out.
Current Fundamentals Although Arena has yet to turn a profit, let's remember that it's in the development stage and this is considered normal. For the fiscal year ending 2012, Arena reported net losses of ($0.45) per share on revenues of $28 million. They have $156 million in cash and total assets of $261 million. The current cash burn rate is a little over $7 million/month giving them about 24 months of cash which is considered good for this type of company.
Fundamentals Factoring BELVIQ The company is expecting the DEA schedule to be completed for the new drug sometime in 2013. That process usually takes about 4-6 months according to various sources and we passed the 6 month mark back in January so the company is expecting to move forward any day now. Using some minimal projections from Arena, let's look at how that could affect their financials. Using 2012 numbers, we will add in hypothetical sales of BELVIQ to see how the company may be positioned at the end of this year.
Arena is using Eisai as its primary product distribution partner for BELVIQ and the payment schedule is fairly simple to understand. Arena will receive roughly 31.5% of net US sales of BELVIQ from Eisai up to $750 million in annual sales and 36.5% of net US Sales above $750 million. Arena expects revenues of $65 million in milestone payments from Eisai following the DEA's final scheduling of BELVIQ, approximately $6 million from amortization of upfront payments from existing collaborations, approximately $3 million from manufacturing services from Siegfried, and $1.5 million from additional regulatory milestone payments from Eisai. Arena expects full year 2013 research and development expenses of approximately $70 million to $78 million, including non-cash expenses of approximately $7 million, and general and administrative expenses of approximately $28 million to $34 million, including non-cash expenses of approximately $6 million.
The company's projections for BELVIQ have a wide gap as it stands right now ranging anywhere from $250M - $1B. For this scenario were going to use the low number, 250M and since we're already coming into Q2, we'll assume about six months of sales in 2013 cutting that number in half to $125M in projected sales for the year. At 31.5% the company would receive $39.75 million in additional revenue from US sales of BELVIQ in 2013. Putting it all together, we'll look at projected results.
Total revenue would come in at an estimated $115.25 million and total operating expenses at $78 million. Operating income comes in at $37.25 million. Interest income and expenses can vary, so I am going to say another $10 million in additional expenses. Finally, we subtract the $3 million preferred share dividend and try to account for possible taxes. The company is left with around $15.76 million or roughly $0.07 per share. As we move into 2014, the numbers continue to increase as the potential revenue from BELVIQ could surpass $1 billion.
Taking Profits from Cutting The Fat
As new legislation surrounding healthcare comes into effect, Insurance providers are already seeking new ways to combat bad health and reduce general coverage costs. Obesity and the use of prescription drugs to fight it are at the top of the list making BELVIQ an even more potent candidate to generate serious profits. See the charts below.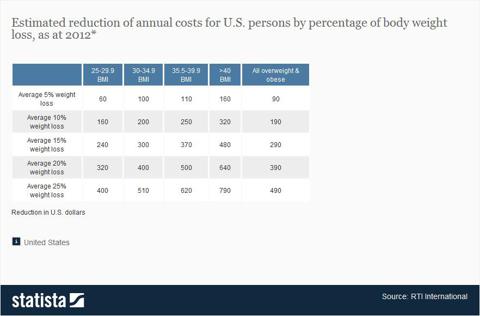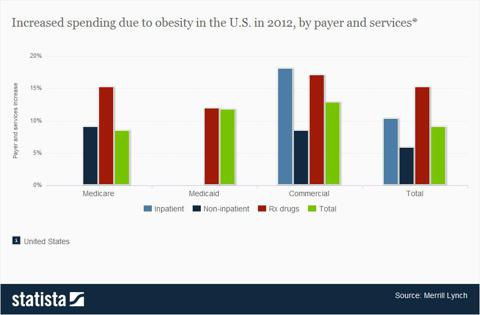 The statistics above show the potential for BELVIQ to be a very successful new drug, however, as previously stated, it's my opinion this is only the beginning for Arena.
Competition
In my opinion, the successful launch of BELVIQ is just the first in several catalysts that could put this company in contention with some of the biggest names in pharmaceuticals. But competition for market share in fighting obesity is fierce and they will be going up against many other companies that currently have more resources. Big names such as Novo Nordisk (NYSE:NVO), Medtronic (NYSE:MDT), Allergan (NYSE:AGN), and Orexigen Therapeutics (NASDAQ:OREX) are all involved at some level in the fight against obesity.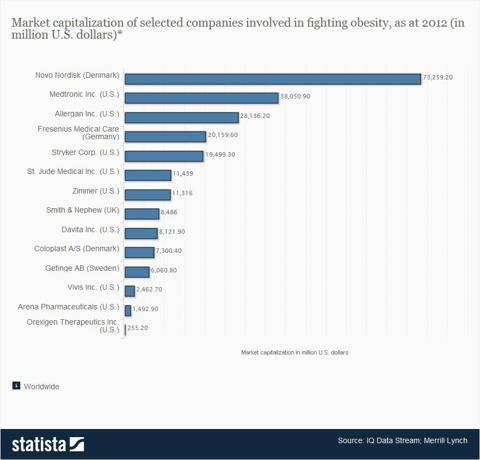 However, Arena has a very promising pipeline beyond fighting obesity and a very successful strategy for bringing products to market. What BELVIQ will do for the company is create the appropriate amount of resources to not only add shareholder value, but help them realize their potential in developing other areas of treatment. Arena has found success in using GCPR Technology as a path to discovery. According to Arena: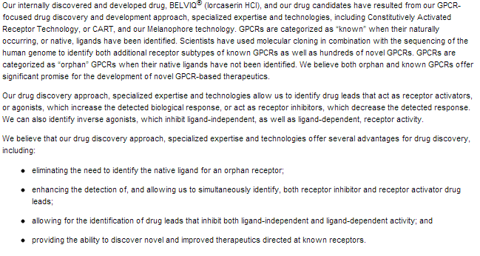 Using this method, the company sits on a very promising candidate pipeline that could spell serious profits for the company and investors.
(click to enlarge) Snapshot of Arena Pipeline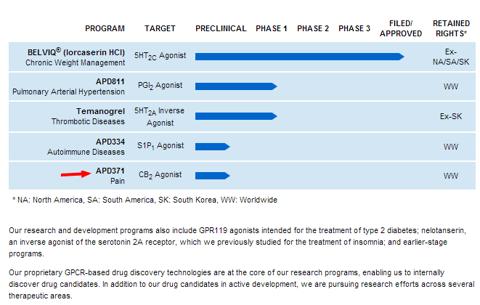 No Pain No Gain (well maybe some)
In looking at the product pipeline Arena is developing, any of these becoming commercially viable could add significant value to the company beyond the already approved BELVIQ. But while BELVIQ and the others could double the valuations of Arena many times over, there is one that stands outs from the crowd. I'm talking of course about APD371, a preclinical stage candidate for the use of pain management. The hint of success in APD371 alone makes Arena attractive in my opinion. Here is why.
Whether medical or recreational, Pain Killers are the number one prescribed and number one selling drug in the United States and possibly the world. Despite the controversy surrounding pain treatment drugs such as the very common hydrocodone, it's in our nature to avoid pain and it's in the nature of the provider to help ease the pain. Therefore, regardless of the controversy, pain management treatment is a beast that cannot be fed.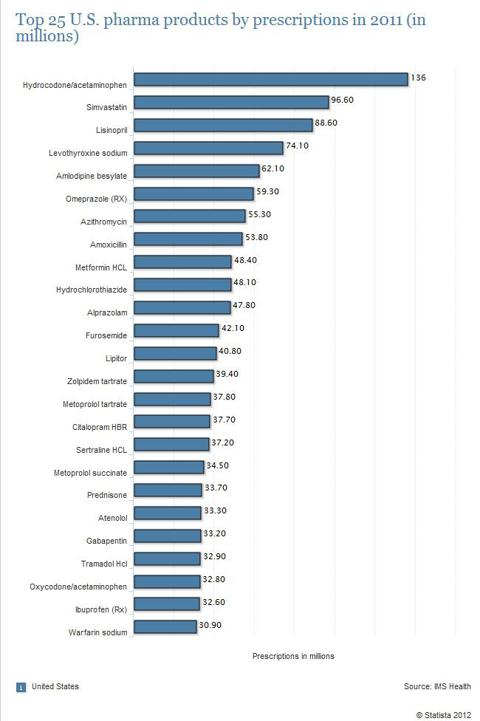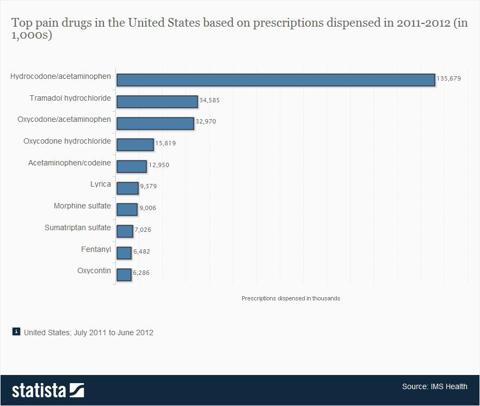 The above statistics clearly support this case. While most of the controversy surrounding pain management drugs stems from non medical use, a lot of these drugs do help millions of people. The problem is, most have adverse side effects when used medically or for recreation. Problems with liver damage, dependency, and psychotropic side effects can create a whole slew of issues in the health sector. Doctors, now more than ever, have to be extremely cautious in prescribing these drugs due to the adverse effects and abuse by patients. How many celebrities do we hear about overdosing or disclosing addictions to pain medication each year?
But Arena could be challenging the status quo with ADP371. According to the company's disclosure:
We are researching and developing APD371 for the potential treatment of pain. The analgesic effects of CB receptor agonists are well established in the scientific literature. However, they have been limited in utility by the psychotropic effects associated with activation of the CB1, but not CB2, receptor subtype. We have identified several novel, potent, CB2-selective, orally available lead compounds that are intended to retain the analgesic activity of CB receptor agonists while avoiding the limiting psychotropic side effects. Preclinical efficacy with these CB2 receptor agonists has been established in animal models of pain. Our current lead candidate, APD371, is in preclinical development.
Many available pain medications today derive their adverse side effects from opioids used in the formula. These opioids are effective in decreasing a person's perception of pain by activating CB1 receptors in the brain giving that person a feeling of relief. Unfortunately this is what creates the psychotropic side effects of many pain killers, and opioids are extremely addictive and habit forming, not to mention stressful on the body which can have adverse effects on overall health of the user. Since the discovery of the CB2 receptor, researchers have been working to develop synthetic compounds that work to activate the receptor as preliminary tests show that it can produce the same functions as CB1 activation without needing an opioid or other substances that cause the excessive dopamine release triggered by CB1 activation. Studies also show that CB2 activation does not have the same psychotropic side effects as CB1 activation. Some researches would make a comparison that CB2 activation is similar to the effects of marijuana or THC (tetrahydrocannabinol) but without the psychotropic dopamine release that is caused when marijuana activates CB1.
Obviously, any discovery that could become a commercially available pain treatment with little to no adverse side effects has enormous potential that I'm not sure can be properly quantified at this point. While the opioid based pain treatments won't go away, I believe the adoption of prescribing a drug such as APD371 in general pain management by the medical community apposed to the current opioid based treatments would happen overnight (relatively speaking). Now that Arena is close to having the appropriate resources to bring new drugs to market, APD371 may be closer than we think and I feel the risk/reward factor speaks for itself.
Risks
My opinion is any investment in a bio company with unproven results is always considered speculative. The major risks of course are FDA approval, cash burn, extreme competition, product recalls, and adoption of the consumer. Another risk, especially for Arena , is falling into a single product moat. I believe BELVIQ will be successful, but in the competitive landscape, it's only a matter of time before bigger and better comes along, patents expire, etc...If they were unable to allocate capital towards successful projects and can't get through regulatory approvals, eventually revenue declines and cash burn increases.
Conclusion
As I stated above, I consider any bio play speculative due to the constraints of the industry, however in weighing that risk, I am convinced that Arena is the best play in the bio space right now. I recommend the company as a buy and attribute that to several factors. First, management appears to do a good job controlling costs and cash burn which is the foundation for any development company. They have a spectacular research platform and one FDA approval under their belt already. The successful launch of BELVIQ will send the company's financials into positive territory and give them the resources needed for future development. Not only could BELVIQ make Arena profitable, but it could nearly double the valuation of the company currently at $1.8 billion.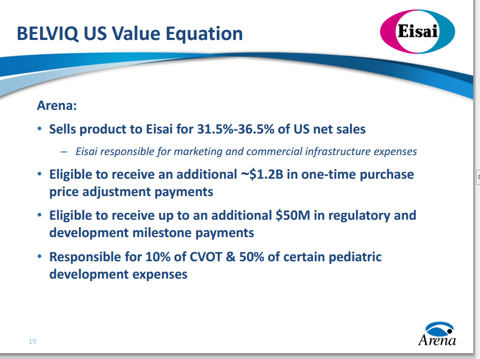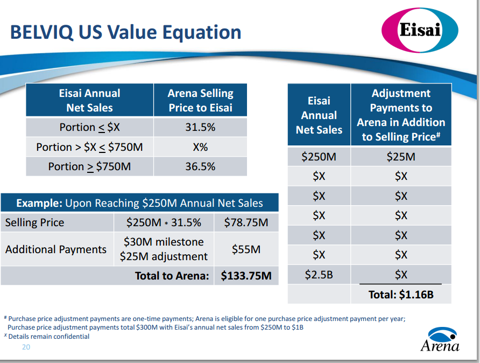 Beyond the advantages of BELVIQ, the company has an excellent product pipeline under development including research in pulmonary hypertension, thrombotic disease, autoimmune disease, and the sleeping giant, ADP371 for the treatment of pain. I believe investors will find success and a healthy ROI from Arena based on BELVIQ alone; however, the company's future prospects are where the real money lies. Being a smaller operation compared to its peers, the prospect of a potential buyout could certainly be in the future as well. Looking at the trade, this seems to be a good price to enter Arena as recent technical indicators suggest a continued rise in price.
On March 22, confirmed a breakout from a continuation wedge which is bullish suggesting the stock will resume its prior uptrend after a briefly pausing under accumulation.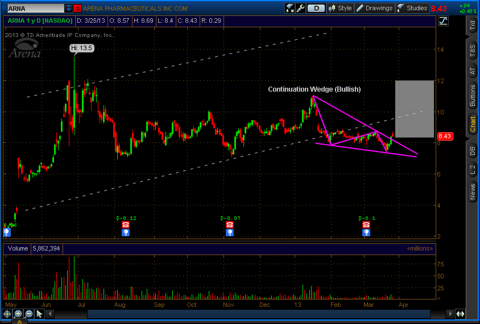 Also, the stock recently broke above its 20-day and 50-day moving averages. It's currently on approach towards its 200-day moving average which is a major long-term bullish indicator.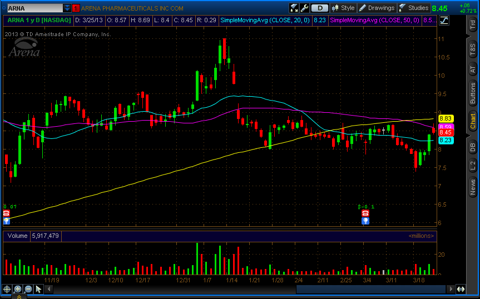 With the BELVIQ launch on the horizon, phenomenal potential in future projects, and good technical trends, I recommend Arena a buy at current levels. I would look to accumulate the stock under $9.00 with a stop at $6.90. The continuation wedge indicates a shorter-term target price of around $12.00, however I would raise that target if the stock closes above its 200 day moving average anytime soon. Longer term, I would look to hold this stock moving the stop up proportionately as we await results from BELVIQ and future announcements. If the stock moves past a $12-$15 range, evaluate your risk reward in looking for a good exit point. For less active investors, I recommend a good trailing stop 2 - 2.5 points behind your entry price to help lock in gains. Pay close attention to announcements and guidance surrounding the new launch and the company as a whole. Any could be a catalyst one way or the other. Overall, I'm bullish short and long term on Arena and believe it could produce serious returns for any portfolio that has an appetite for this sort of risk.
Disclosure: I have no positions in any stocks mentioned, but may initiate a long position in ARNA over the next 72 hours. I wrote this article myself, and it expresses my own opinions. I am not receiving compensation for it (other than from Seeking Alpha). I have no business relationship with any company whose stock is mentioned in this article.