All eyes were on Nike (NYSE:NKE), the leading designer and distributor of athletic footwear and apparel, as it reported its 3Q13 results. Investor woes regarding its weakening China sales were eased, as the company reported positive futures from the region.

In 2Q13 the company reported positive futures growth (excluding currency charges) in all geographies except China (10% of 3Q13 sales), which reported a whopping 7% decline in future orders. However, in 3Q13 China reported futures growth of 3% but revenues declined 10% on a constant currency basis and EBIT decreased 20%. During its 3Q13 call, the company mentioned that it is taking the necessary decisive actions to re-establish a pull market in China. It has been clearing old items from the region through discounts. Further, the company also mentioned that it would reduce the shipments to the region. However, Nike mentioned that the sales growth in the region will not be reflective of the growth in orders and it will be slower than the futures growth.
Another problem region for Nike is Japan. Results from this region were mixed as 3Q13 revenues declined 6% but futures increased 5%. However, this region is not much of a concern given that it contributes to only 2% of total 3Q12 revenues.
Western Europe, which is experiencing a decelerating trend in its sales and future orders due to weak economic environment, posted 8% revenue growth in 3Q13. However, it continues to face weak sales in Italy and Iberia where sales declined 17% and 29%, respectively.
While China and Japan reported declining sales, the company experienced strong momentum in its largest market, North America, in which revenues grew by 18%. Nike continues to be the market leader in the region, experiencing strong growth in Basketball, Men's Training, Running and Sportswear. EBIT grew 24% due to revenue increase, gross margin expansion and expense leverage.
Nike is focused on driving growth from its key brands NIKE, Jordan, Converse and Hurley. As a result, last year it decided to sell its brands Cole Haan and Umbro. It sold Cole Haan to Apax Partners for $570 million and Umbro to Iconix Brand for $225 million.
The footwear industry is competitive and customers are constantly on the lookout for variations and new products. Nike understands this concept and considers innovation as one of its key pillars of growth. In FY12, it spent $2.4 billion on advertising and promotions alone. It has a range of new products, especially the recently launched Nike Flyknit and recently, introduced latest iterations in its Mercurial Vapor 9 football boot franchise and added five new styles to the Air Force 1 product.
Although Nike is the no. 1 athletic footwear seller in the U.S., it faces head-to-head competition with Adidas AG (OTCQX:ADDYY) outside U.S. Adidas is trying hard to capture market share in the $15 billion industry but has failed to grab the attention of its US consumers as its brands account for only 4.4% of running shoes in US. It has recently introduced its $150 Energy Boost shoe that will compete against Nike's Flyknit. It has pledged to sell 1 million pairs of the shoe this year and recently, Adidas CEO Herbert Hainer has vowed to outrun Nike in its U.S. market.
On the other hand, Nike is trying to gain a foothold in the soccer segment. Adidas rules this segment and is the world's largest soccer brand with sponsorships of Germany's national team and the Bayern Munich professional club.
Nike also faces strong competition from Adidas in China. Adidas has more than 7,000 outlets in China and plans to expand further.
The underdog in the U.S. Market is Under Armour (NYSE:UA). Recently Under Armour filed a trademark infringement suit against Nike, claiming that it has used variations of Under Armour's catchphrase in its marketing. Under Armour 's tagline is "I Will" and Nike has recently launched an advertising campaign with phrases like "I will protect my home court," and "I will finish what I started." I am not sure if the company will really gain by suing Nike, which is almost 10 times its size. And besides, Nike's $2.5 billion cash is almost 50% of Under Armour's market capitalization. This gives Nike enough strength to defend itself.
Nike has been closely watching Under Armour as it faces increasing competition from the 17-year old company. In the latest quarter, Under Armour reported strong results with increasing sales from its overseas market. Its 4Q12 footwear revenues increased 43% y-o-y. It also recently announced expansion of its $90 Spine line of running shoes and $130 high top cleats. It also introduced digital training monitor, Armour39, which will monitor the workout and send information via the cloud to a mobile device or Under Armour watch (similar on the lines of Nike+Ipod?).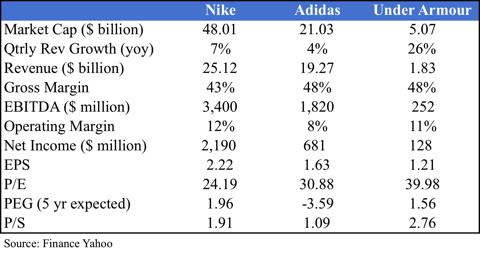 Conclusion:
There is no doubt that Nike is the market leader in this space, with strong potential, strong balance sheet and steady revenues and margins.
However, one has to decide if they would like to invest in a market leader with limited growth opportunities or a relatively new company that will deliver high returns in the long run but comes with the added package of high risks if it doesn't perform as planned.
Disclosure: I have no positions in any stocks mentioned, and no plans to initiate any positions within the next 72 hours. I wrote this article myself, and it expresses my own opinions. I am not receiving compensation for it (other than from Seeking Alpha). I have no business relationship with any company whose stock is mentioned in this article.