It should not be any surprise that interest in shares of NVIDA (NASDAQ:NVDA) is waning. Since peaking at $13 at the beginning of this year, heightened by exposure from the Computer Electronics Show, NVIDIA shares are stuck in a tight trading range between $12 and $13. At a recent price of $12.48, the market is valuing the NVIDIA business at just 1.6 times its book value: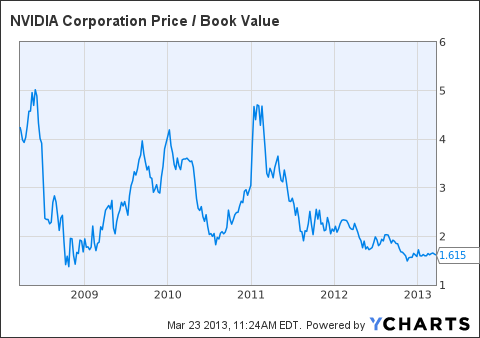 NVDA Price / Book Value data by YCharts
The book value is also rising steadily: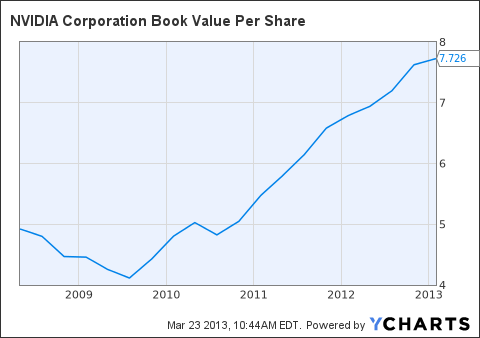 NVDA Book Value Per Share data by YCharts
There are 3 things that could spur interest in NVIDIA.
1) Tegra 4
Semiaccurate, which chose to take a negative slant for Nvidia, said that the company over-promised the merits of Tegra in the past. When Tegra 4 was announced, it led to fewer design wins as compared to Tegra 2 and Tegra 3. Recent benchmark tests demonstrate a different story on the advances for Tegra. Not only does Tegra 4 run 1080p video and games very well, but the chip performs far better than the previous-generation Tegra 3. The performance improvement is demonstrated in the table below. For example, with the SunSpider benchmark, performance is more than improved by a three-fold:
| | | | |
| --- | --- | --- | --- |
| | Tegra 4 reference tablet | Sony Xperia Tablet S (Tegra 3) | ASUS Transformer Pad Infinity (Tegra 3) |
| Quadrant (v2) | 16,436 | 4,349 | 4,685 |
| AnTuTu | 36,305 | 11,301 | 12,027 |
| SunSpider 0.9.1 ("MS") | 499 | 1,608 | 2,012 |
| CF-Bench | 41,325 | 12,625 | 7,874 |
SunSpider: lower scores are better
Source: Engadget
2) Mobile Roadmap Updated
The next two mobile platforms for NVIDA will use a Keplar GPU (Graphics Processor Unit) and CUDA technology. "Logan," the code-name for its next generation mobile platform, will arrive in early-2014. The "Parker" platform will run a 64-bit ARM CPU. The next-generation Maxwell GPU will be available in 2015.
The development of a 64-bit CPU will be spur interest in Android tablets, a segment that has yet to compete effectively against Apple's (NASDAQ:AAPL) iPad. There is currently no tablet running on 64-bit instructions, although ARM Holdings (NASDAQ:ARMH) introduced a 64-bit processor in October 2012 for tablets, phones and servers.
3) GPU Platform Roadmap Updated
At NVIDA's GPU Technology Conference in mid-March 2013, the company unveiled "Volta." The next-generation Volta will be the successor to "Maxwell." Maxwell's architecture is thought to unify GPU and CPU memory. This means that the memory between GPU and CPU would be a shared resource, simplifying the writing of applications for developers. The allure of "Volta" would be the enhanced energy efficiency and the amount of memory bandwidth. Volta will give GPUs access to as much as 1TB/second of bandwidth. This is accomplished by physically stacking the DRAM atop the GPU. Jen Hsun-Huang said that this would allow "all of the data from a full Blu-Ray disc through the chip in 1/50th of a second."
Related Companies
NVIDIA is small relative to Qualcomm (NASDAQ:QCOM) and ARM by market cap, but is nearly 4 times bigger than GPU competitor Advanced Micro Devices (NYSE:AMD). Investors favor both Qualcomm and ARM, since both companies still trade above their 200-day moving average. By contrast, NVIDIA shares traded flat, barely trading away from the 50-day and 200-day moving averages.
PC-maker Hewlett-Packard (NYSE:HPQ) is up sharply, due partly to the privatization of Dell (NASDAQ:DELL).
| | | | |
| --- | --- | --- | --- |
| NAME | % CHG FROM 50-DAY MA | % CHG FROM 200-DAY MA | MKT CAP |
| NVIDIA | -0.52% | -0.74% | 7.69B |
| QUALCOMM Inc. | -0.16% | 4.19% | 113.26B |
| Advanced Micro Devices. | -2.24% | -3.89% | 1.81B |
| Hewlett-Packard Company | 19.42% | 41.99% | 44.79B |
| ARM Holdings | -6.02% | 10.97% | 18.67B |
Data Source: Yahoo Finance
Conclusion
Competition in the mobile market is fierce for chip-makers. NVIDIA needs to compete with Qualcomm, whose Snapdragon S600 chip is already very impressive. In the PC space, incessant news covering the decline in demand does not help support an argument for upside in Nvidia shares. PC supplier Hewlett-Packard is facing declining profits from this segment, but its shares are on the rise. HP shares are up 61% in the quarter, while Nvidia shares are flat. If investors recognize that Nvidia is continuing to hold its market position in the PC market, while continuing developments in mobile, shares could break out of its tight trading-range very soon.
Disclosure: I have no positions in any stocks mentioned, and no plans to initiate any positions within the next 72 hours. I wrote this article myself, and it expresses my own opinions. I am not receiving compensation for it (other than from Seeking Alpha). I have no business relationship with any company whose stock is mentioned in this article.