Exchange-traded funds have become a very popular investment and can be a good, simple way to invest in the market. Since I also like dividend stocks and think it's a good idea to have international exposure, let's have a look at Powershares International Dividend Achievers Portfolio (NASDAQ:PID). It closed on March 22, at $16.82 after briefly touching its 52-week high at $16.85. It currently has a yield of around 2.44%. Its net asset value is $16.79.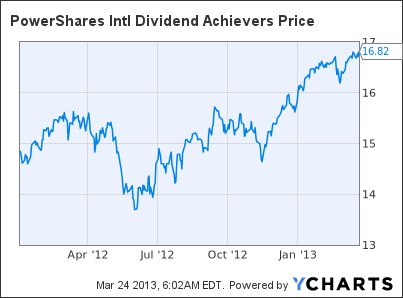 I wouldn't buy a used car without getting a mechanic to inspect it. Neither would I buy an ETF without checking it out and examining it in further detail. So let's pop the hood on this and see what's inside.
Powershares Int. Dividend Achievers invests in 10 different sectors:
Energy -20.5%
Telecommunication Services - 15.7%
Health Care -14%
Consumer Staples - 12.7%
Financials - 12.4%
Consumer Discretionary - 9.4%
Industrials - 7.1%
Materials - 4.2%
Information Technology 2.4%
Utilities - 1.5%
The breakdown of the sectors seems ok. Perhaps If I were looking for yield I'd probably prefer a little higher weighting on the utilities. The yield of around 2.4% doesn't exactly give me goose bumps. Let's take a look at some of the companies within. Some of them look ok but some of them…. well perhaps if they were individual stocks I wouldn't buy them. Let's look at some examples in each sector and I will choose my favorites.
In the energy sector they have Statoil (NYSE:STO) - an integrated Norwegian oil company. It has a P/E of 6.58 and a 4.3% yield. I'll also choose TransCanada Corporation (NYSE:TRP). This pipeline company has a P/E of 26.98 and a yield of 3.7%. But they also have Canadian Natural Resources (NYSE:CNQ) P/E 19.13; yield 1.5%. In the energy sector I'd expect a better yield then that. I'll pass on that one. Canadian energy stocks in general are having a hard time right now. The glut of natural gas is depressing prices, and also due to pipeline constraints, Canadian oil is trading at a discount to US crude. This is negatively affecting earnings.
In telecommunications I'll choose two stocks. Rogers Communications (NYSE:RCI) and China Mobile (NYSE:CHL). P/E's of 15.1 and 10.3; Yields of 3.5% and 4.1%. I 'll take a pass on America Movil (NYSE:AMX) due to its 2.1% yield.
In health care my choice is GlaxoSmithKline (NYSE:GSK). P/E 16.82; Yield 5.05%. Since I own this stock it's hard for me not to choose it. It has a great yield, cheaper P/E than its peers and it's starting to focus more on its international operations including India. They also have a holding of Unilever (NYSE:UN), which is a great company but I see more value in GlaxoSmithKline.
In consumer staples my choice would be British American Tobacco (NYSEMKT:BTI). I love tobacco stocks in general. They have great yield and are a nice defensive industry. This one yields 3.93% with a P/E of 17.7. Also in the consumer staples is an agricultural commodities company called Bunge Limited (NYSE:BG) with a P/E of 29.8 and a yield of 1.4%. Thanks but no thanks.
Financials - this is the part that really gets ugly for me. When I see a bank stock such as HDFC bank (NYSE:HDB) with a 24.6 P/E and a 0.6 % yield I'm not really interested. I'll choose a bank stock that isn't even in this portfolio - Bank of Nova Scotia (NYSE:BNS). Canadian banks are among the safest in the world. Bank of Nova Scotia is the most international of Canada's banks with branches and offices in more than 50 countries. It has a P/E of 10.84 and a 4.1% yield.
For consumer discretion I 'll choose Shaw Communications (NYSE:SJR). The P/E is 14.7 and the yield is 4.2%. They are fairly diversified in the communications business and provide cable, Internet, and phone services in Canada and the US. Actually I see a lot of Canadian stocks here. I think Tim Hortons (THI) is an interesting choice - P/E 20.76 and yield 1.9%. But personally I think their coffee is horrible, and I don't think they deserve to trade at a higher multiple than McDonalds (NYSE:MCD).
My choice for industrials is Textainer Group Holdings (NYSE:TGH). This is a shipping company that deals with cargo containers. Seems like a nice boring business. Its P/E is 10.17 and yield is 4.5%.
The utilities sector only has one stock. Empesa (NYSE:EOC). This is a South American company, but I'm not sure why anyone would buy a utility with a P/E of 29.2 and a yield of 2.8%. There is better value in the utility sector elsewhere. Since the materials, information technology, and utilities together account for 7% of the holdings of this ETF, I will just choose 1 stock among them. BHP Billiton (NYSE:BBL), which has a P/E of 16.46 and a 3.9% yield. I like this stock here. This mining stock has been hit hard lately and it could be a nice time to get in.
Now let's put together a portfolio of my 10 choices and let's assume we have $10,000 to invest. It would break down as follows:
$1100 - Statoil
$1100 -TransCanada
$800 - Rogers Communications
$800 - China Mobile
$1400 - GlaxoSmithKline
$1300 -British American Tobacco
$1200 - Bank of Nova Scotia
$900 - Shaw Communications
$700 - Textainer
$700 -BHP Billiton
To purchase these stocks separately would cost $99.90 assuming a cost of $9.99 per trade, which is what I pay. To buy the ETF would cost $9.90, however it also has a management fee of .4% and an expense ratio of .56%. After 1 year the ETF would cost $65.99 and counting. But here is the icing on the cake. This new portfolio has a yield of 4.17% vs. 2.44%. It still has a lot of diversification across industries. I also didn't always choose the highest yielding stock from the exchange traded fund; I chose what I thought was the best. This now appears to be a well diversified international dividend portfolio and might be something worth considering.
Disclosure: I am long GSK. I wrote this article myself, and it expresses my own opinions. I am not receiving compensation for it (other than from Seeking Alpha). I have no business relationship with any company whose stock is mentioned in this article.