Coffee has been one of the worst performing commodities YTD -- good news for bears, bad for bulls! May futures are lower by 16%, challenging the lowest level traded since the summer of 2010. We all know that past performance is NOT indicative of future results, but coffee appreciated 125% in one year's time after falling to this support level in 2010.
The fundamental picture has certainly changed since then -- the 2013/14 coffee crop will be an "off year" for Brazilian production. "As goes Brazil… so goes the price of coffee," as the country produces approximately 40% of the world's supply. So with a sizable reduction in supplies moving forward… I see a real potential of putting in a base here. As for the demand side, I don't see demand weakening a great deal from current levels. Few people have eliminated their morning Joe, so demand remains inelastic. On the upside, an economic recovery in North America or Europe could make demand, and prices, perk up. Let's shine a light on the technical picture below…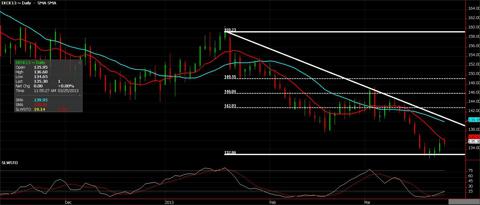 Coffee prices have started to bounce from oversold levels, gaining for the last three sessions. May futures are now probing the 9-day MA (red line) overhead. I'll need to see a settlement above this pivot point to call an interim low. A trade above the down sloping trend line, just under $1.40 in May, will be further confirmation that we've turned a corner. I think aggressive traders can scale into bullish positions, looking to capitalize on a 50% retracement, which would lift May futures back above $1.46. If we see new lows (below 132.05), cut losses and move to the sidelines.
May futures have just over three weeks before expiration, so when establishing positions, I would use July contracts -- use the chart above just as a reference. As for July futures, prices are currently carrying less than a 2% premium. A 50% Fibonacci retracement in July contracts lifts prices just better than 7%.
Two suggested plays:
1.) Get long July futures while simultaneously selling just out-of-the-money calls 1:1.
2.) Back ratio spreads -- sell one (1) July call, slightly out-of-the-money, and buy multiple (three or four) out-of-the-money calls (at higher strike prices). For example, sell one (1) $1.40 call and buy four (4) $1.50 calls.
As always, I'm here to discuss specifics and give guidance. Give me a call.
Risk Disclaimer: The opinions contained herein are for general information only and not tailored to any specific investor's needs or investment goals. Any opinions expressed in this article are as of the date indicated. Trading futures, options, and Forex involves substantial risk of loss and is not suitable for all investors. Past performance is not necessarily indicative of future results.
Disclosure: I have no positions in any stocks mentioned, and no plans to initiate any positions within the next 72 hours. I wrote this article myself, and it expresses my own opinions. I am not receiving compensation for it. I have no business relationship with any company whose stock is mentioned in this article.