On Sunday I wrote a piece on why income investors should look outside of the traditional S&P sectors (utilities and consumer staples) in their quest for yield. Yesterday's article focused on the income opportunities in energy master limited partnerships (MLPs). Today we will look at good yield opportunities within the technology sector. High yield from the sector is a relatively new development, but the sector has been one of biggest dividend payout raisers over the past five years. In fact, the sector now accounts for over 14% of all dividends within the S&P vs. under 6% in 2007.
Over the next couple of weeks all eyes will be on Apple (NASDAQ:AAPL). The tech juggernaut is widely expected to raise its dividend significantly before its earnings report on April 23. A Bloomberg poll of analysts showed an increase of 56% in Apple's dividend as the consensus. I think a substantial dividend hike is in the bag, as otherwise the company could end 2013 with almost $170 billion in cash on hand if it does nothing. The company first started to pay a dividend last year, and the projected dividend hike will take Apple's yield to over 3.5%. This is above the yield of traditional dividend payer Procter & Gamble (NYSE:PG) and on par with utility NextEra Energy (NYSE:NEE). In addition, Apple's shares are selling at lower valuations than either of these traditional dividend payers in addition to having much better growth prospects.
Apple's decision will have ripple effects throughout the tech sector, especially for mature tech companies with substantial cash on their balance sheets. These include Cisco Systems (NASDAQ:CSCO) and Microsoft (NASDAQ:MSFT). CSCO has over $45 billion in cash and marketable securities on the books. The shares already yield 2.7% and the company has lifted its dividend payouts by approximately 120% over the past two years. However, the company still has a relatively low payout ratio (around 30%) given its mature businesses and steady cash flow, as well as its huge cash hoard. I would look for at least a 10% hike by summer taking the yield close to 3% at the current stock price. The shares are cheap at under 10x forward earnings. It is also growing revenue at better than a 5% pace.
Microsoft already pays a more generous yield of 3.3%. It also has more than doubled dividend payouts over the past five years. It has more than $60 billion in cash and marketable securities on the books. The company traditionally announces dividend hikes over the summer, but Apple's action might move up its next announced dividend hike. Analysts expect approximately 8% sales growth for both FY 2013 and FY 2014, and the stock sells for less than 10x forward earnings. I would look for the next dividend hike to be at least the rate of revenue growth (8%), which would take the yield to over 3.5%. Finally, the stock is trading at just over solid technical support. The stock broke through its 50-day moving average (DMA) early in 2013 and just crossed its 100-DMA recently. Its 200-DMA is about 50 cents away as well (see chart below).
Click to enlarge image.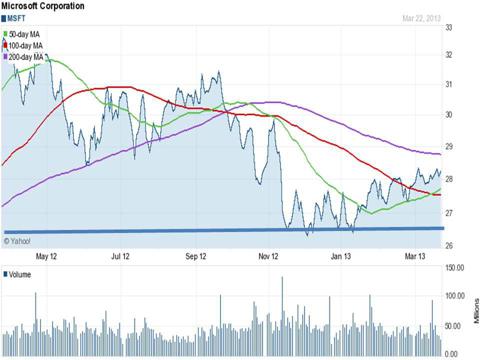 In conclusion, I would be underweight consumer staples and utilities right now. Both are trading with multiples that are higher than the overall market with lesser growth prospects. Neither sector is providing enough yield to make up for these discrepancies, in my opinion. The tech sector offers a compelling combination of solid and growing yields, low valuation, and better growth prospects.
Disclosure: I am long AAPL, CSCO, MSFT. I wrote this article myself, and it expresses my own opinions. I am not receiving compensation for it (other than from Seeking Alpha). I have no business relationship with any company whose stock is mentioned in this article.