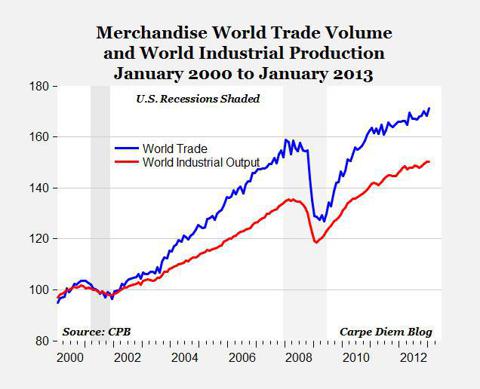 Click to enlarge
The CPB Netherlands Bureau for Economic Policy Analysis released its monthly report today on world trade and world industrial production for the month of January 2013. Here are some of the highlights:
1. World merchandise trade volume (adjusted for price changes) increased by 1.9% in January from December, and by 3.3% from a year ago to reach a new all-time high (see blue line in chart above). On a month-over-month basis, both import growth and export growth for January were higher in advanced economies than they were in emerging economies. While import and export growth in the whole of emerging economies changed from negative to positive, there were even more substantial turnarounds in Japan and the euro area. Monthly import growth in the euro area was the highest since March 2010; export growth was the highest since May 2011.
2. Annual growth in trade last year was led by the emerging economies with a 5.8% increase in exports and an 8.5% increase in imports, while advanced economies experienced a slight decrease in exports (-0.8%) and flat imports (0.0%).
3. At a new record high of 171.4 in January, the volume of world trade is now almost 8% above its previous cyclical peak of 158.89 in early 2008, and almost 35% above the recessionary cyclical low of 127.38 in March 2009.
4. World industrial production (adjusted for price changes) increased just slightly in January on a monthly basis by 0.1% to a new record high, following a 0.7% increase in December (see red line in chart). On an annual basis, world output increased 2.4% in January, with especially strong annual output growth in Emerging Asia (8.1%) and the US (2.3%). Output in January declined in the euro area (-1.7%) and Japan (-6.7%) from a year earlier.
5. At an all-time high index level of 150.4 in January, world industrial output is now 11.4% above its previous recession-era peak in February 2008 of 135.0, and 27.3% above the recessionary low of 118.1 in February 2009.
Bottom Line: World industrial output and trade both reached new record monthly highs in January, reflecting the global economic recovery. The volumes of world trade and world output are now above their previous peaks (by almost 8% and 11.4%, respectively) during the early months of the global slowdown, providing evidence that the global economy has now made a complete recovery from the 2008-2009 recession. At the forefront of the global recovery are the world's emerging economies, which experienced especially strong growth over the last year in both trade and output.
In a post last Friday titled "The Case for Optimism," Scott Grannis featured 18 charts that support the case for a recovery, mostly for the U.S. economy. This post and chart above suggest that the economic recovery is clearly a global phenomenon.