It's been reported that Apple (NASDAQ:AAPL) has bought startup company WiFiSlam. WiFiSlam is a company that focuses on indoor tracking and mapping, based on certain strengths of nearby Wi-fi signals. The buyout has largely been written off, as Apple commented that it purchases smaller companies from time to time through the normal course of business. Aside from the mandatory blog posts and articles, there hasn't been much analysis on the purchase.
I, on the other hand, see this as a buy sign for Apple. Here's why.
Introduction
Apple stock has been up over 10% since it found a bottom weeks ago around the $420 mark. The company has fallen nearly 40% since its all-time highs around the $700 area just less than a year ago. I've contested in my previous articles that this is a hand-over-fist buying opportunity, citing a coming technical correction, hedge funds piling back in, a coming cash distribution to shareholders, the coming of the iWatch/iTV, and the company being the most fundamentally sound company in the world.
This purchase marks the beginning of a climb up for Apple, again. Even though major hedge fund selling and several missed earnings reports also helped catalyze the downfall of Apple's stock, one can't help but notice that the unceremonious launch of Maps seems to have contributed. This buyout is a sign that Apple has exorcised the demons that took over on the heels of the Apple Maps disaster.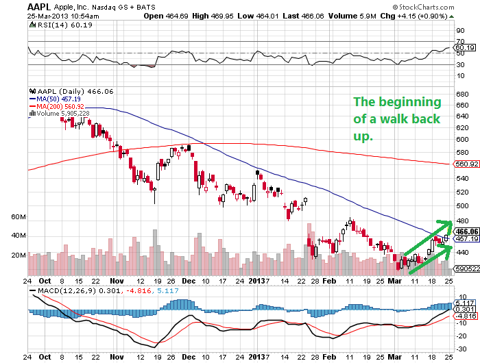 Apple's Purchase of WiFiSlam
The Guardian reported on Apple's purchase:
Apple has bought WifiSLAM, a company providing indoor mobile location services, which lets people figure out their location inside a building using the strength of its Wi-Fi signals.

Indoor mobile location is a burgeoning field as more and more people use their smartphones inside buildings - with at least two Finnish companies, Walkbase and IndoorAtlas, offering their own systems for zeroing in on where they are, and a map of their surroundings.

Apple confirmed to the Wall Street Journal that it had bought the company, though it didn't comment on the estimated $20m price tag. It said that it "buys smaller technology companies from time to time."

WifiSLAM uses the variation in different networks' Wi-Fi signal strengths to triangulate the user's location. The company co-founders include a former Google staffer, and has backing from Don Dodge, who worked at both Google and Microsoft.
While Apple seems to write this off as "just another acquisition," I think that it's anything but.
Everybody, including Apple, knows that Apple botched the Map application when they ditched Google Maps. CEO Tim Cook was the first to take ownership of this problem when he addressed shareholders and customers directly. Cook's letter said:
At Apple, we strive to make world-class products that deliver the best experience possible to our customers. With the launch of our new Maps last week, we fell short on this commitment. We are extremely sorry for the frustration this has caused our customers and we are doing everything we can to make Maps better.

We launched Maps initially with the first version of iOS. As time progressed, we wanted to provide our customers with even better Maps including features such as turn-by-turn directions, voice integration, Flyover and vector-based maps. In order to do this, we had to create a new version of Maps from the ground up.
In a SWOT analysis of Apple's business plan and software development, you'd be hard pressed to not find "Apple Maps" as both a weakness, and now an opportunity for the company going forward.
The Maps fiasco was one of the contributing factors that marked the beginning of Apple's nearly 40% decline in stock price. The "new" version of Maps was released September 19th, 2013, and seemed to be the catalyst to the start the downward fall, as denoted by one of my patented archaic looking diagrams, graciously brought to you by the fine folks in the Microsoft Paint development team: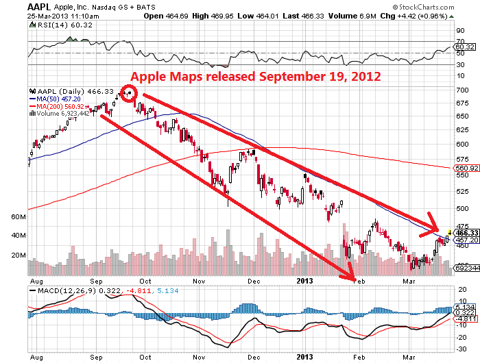 In the vein of Apple's attitude towards all new products it makes, the company has tried in the past to not just make products that we use, but to make them substantially better, with more features and more useful than already existing products.
What am I getting at? It means that Apple is likely angry and motivated about Maps, and channeling that anger into productivity. Like a caged fighter turning the momentum in a UFC fight, this purchase signals to this investor that Apple is going to come back over the top of Google and "re-raise" with their next Map product. It'll likely offer superlative services that current maps do not offer.
What It Could Mean for Investors in Apple
Let's venture into the realm of indoor GPS. It seems like a relatively simple concept that, at first, you might even wonder what it could be used for. I'll postulate this question to you: When was the last time you...
Used a skyscraper building directory?
Used a mall directory to find stores you need to go to?
Used a directory in a zoo/amusement park/airport?
Needed directions to find something in a Wal-Mart, Target, or other stores that are built in buildings the size of Airport Hangars?
Now, could you imagine that technology being put into something that you're wearing around your wrist? That sounds awfully convenient. As I said in my last Apple article:
Apple has a knack for tapping into new markets. It did it first when it started into the mp3 business and they carried that over and morphed it into the iPhone. From there, it was the tablets. Every single new product it makes is sexier to look at than what's currently out there and offers superlative new function. Apple only seems to enter into a market if it can be the best. There hasn't been anything that has made major media in the world of wristwatches for as long as I can remember. Like a leopard stalking its prey, this could be the best possible time for Apple to enter into this market.
Catching my drift here? There is no doubt that when Apple comes back and "corrects" its Maps problem, it's going to do so with the fire of a thousand suns. Make no doubts about it, this purchase is a serious indicator of things going on behind the scenes and a massive signal to me of Apple's coming plans.
Conclusion And Why I'm Still Long Apple
Not to be ignored, this is a sign - it's a sign of Apple's continued development of map technology that is probably running hand in hand with their new product launch.
Don't get me wrong, there is also potential for failure here. The absolute last thing that Apple needs is to launch another Maps program that isn't going to perform to the standards that Apple holds. It would lower confidence in Apple's development standards and render a dark cloud over the service for Apple for years to follow. These could be serious risks for catastrophe, but one this investor feels confident that Apple can avoid.
Incidentally, this investor feels that this could also be a sign that foreshadows the walk back up in Apple's stock price. With the technical indicators looking somewhat healthy, a sustained bounce off the $420 mark and increased buying interest this is a great time to purchase Apple. Buyers now have all of the following going for them:
They're still buying into the most fundamentally sound company in the world
Anticipation of cash distribution to shareholders one way or another
The rumored coming of the iWatch and other new devices this year
Continued proof that Apple is hard at work doing what they do best; developing
Extremely untapped market share still in computers and potentially an entire new revenue stream with the coming iWatch
This investor remains very long Apple, and as always, wishes all traders and investors good luck.
Disclosure: I have no positions in any stocks mentioned, and no plans to initiate any positions within the next 72 hours. I wrote this article myself, and it expresses my own opinions. I am not receiving compensation for it (other than from Seeking Alpha). I have no business relationship with any company whose stock is mentioned in this article.