Over the weekend, I had the pleasure of catching up with one of the best analysts in the biotechnology industry, Dr. Reni Benjamin, Managing Director and Senior Biotechnology analyst at Burrill & Company. Dr. Benjamin joined Burrill from Rodman & Renshaw, where he served as a Managing Director and Senior Biotechnology analyst since 2003. He has expertise in small and mid-cap companies in the oncology and stem cell sectors and has previously been ranked among the top analyst by StarMine for recommendation performance and earnings estimate accuracy. He earned a Ph.D. in biochemistry and molecular genetics at the University of Alabama at Birmingham and a B.S. in biology from Allegheny College. I have asked Dr. Benjamin to bring us his four biotech picks for 2013-2014, which are worth considering as investments, and I have asked him a few questions about each one of them.
First Pick: Navidea Biopharmaceuticals
Navidea Biopharmaceuticals (NYSE:NAVB) is a biopharmaceutical company focused on the development and commercialization of precision diagnostics and radiopharmaceutical agents. Navidea is actively developing four radiopharmaceutical agent platforms - Lymphoseek®, NAV4694, NAV5001 and RIGScanTM - to help identify the sites and pathways of undetected disease and enable better diagnostic accuracy, clinical decision-making and, ultimately, patient care.
Ben Yoffe: Dr. Benjamin, Navidea has recently received FDA approval for Lymphoseek injection. It seems there are plenty of good arguments for both bulls and bears regarding the market size of Lymphoseek in the U.S. and Europe. What is your forecast?
Dr. Benjamin: We project Lymphoseek to garner 46% of the intralymphatic mapping market worldwide by 2016. Using a price of $300 per procedure, we believe revenues in the U.S. could reach $61.5 MM. Now remember that these revenues are split with their North American partner Cardinal Health. Given the 50:50 revenue split, revenues to Navidea in the U.S. alone should be approximately $31 MM. Europe on the other hand is a whole other issue. The company recently filed a MAA and could receive approval by late 2013. Given a similar price point, we believe sales of Lymphoseek could reach $77 MM by 2016. These sales assumptions involve a European partner who could acquire rights to the drug by providing Navidea with a 35% royalty rate, in addition to an upfront payment and sales milestones. If Navidea is successful in securing a marketing partner in Europe (expected in 2Q13), we believe EU revenues to Navidea could reach $27 MM in 2016.
Now, if Lymphoseek is all the company had, I think the bears would win the argument, hands down - at least according to our estimates. However, the reason we believe the bulls will win in the end is because the market for Lymphoseek could extend beyond breast, melanoma, and head and neck indications. More importantly, our models focus on the remaining pipeline products, which could be on the market by 2016 and contribute significant revenues to the company. These products include NAV4694, a beta amyloid imaging agent, which would compete with Eli Lilly's (NYSE:LLY) Amyvid, and NAV5001, an imaging agent for aiding in the diagnosis of Parkinson's disease and other movement disorders. According to our estimates, both products could be in pivotal studies by the end of 2013 and potentially on the market in 2016.
Yoffe: What are the next catalysts for the company?
Dr. Benjamin: In our opinion, the main upcoming catalysts that could drive shareholder value include the quarterly earnings reports from the company, as it will provide investors with a gauge of Cardinal's selling prowess and Lymphoseek's ability to displace the current standard of care, sulphur colloid. Additionally, the company is conducting NEO3-06, and head and neck study evaluating Lymphoseek as compared to a pathology standard. An interim analysis will be conducted before mid-2013, and if positive, could result in a supplemental NDA submission by the end of the year. This sNDA could lead to expanded potential applications for Lymphoseek. Finally, we believe the company could secure one or multiple ex-US partners, which would not only provide the company with global sales, but also contribute non-dilutive capital in terms of upfronts and milestone payments, which will help fund the company's advanced stage clinical pipeline.
Yoffe: How far can Navidea go with the current funding?
Dr. Benjamin: According to our estimates, the company has $8 MM pro forma. This figure takes into account the cash ending 4Q12, the infusion of capital from an existing equity line, and the investment by JPMorgan Asset Management ($4.5 MM) minus our assumption for how much cash they burned in the first quarter of 2013. The cash on hand could fund operations into 3Q13. However, investors should remember that an equity line provided by Platinum Montaur can make available an additional $50 MM. Furthermore, we remain confident that the company will be able to secure a European partner(s) for Lymphoseek, which could bring in an additional $10 MM in non-dilutive capital. According to our models, we believe they have enough cash to last until 2016, if the entire equity line is drawn down and a partnership is secured.
Yoffe: What are your impressions of the management team as leaders?
Dr. Benjamin: We like the management a lot. We believe they are not prone to hype. In fact, in our opinion, they tenaciously work hard to move their products through the pipeline and seek to build shareholder value.
Yoffe: What is your rating and price target for NAVB?
Dr. Benjamin: We currently have a Market Outperform (Speculative Risk) rating for Navidea, and our 12-month target price is $5, based on a revenue/EPS multiples analysis. Utilizing our 2016 revenues of $112 MM and EPS of $0.25, and applying a revenue multiple of 8X and EPS multiple of 26X, we further apply a discount rate of 12% to drive a target price of $5 in twelve months.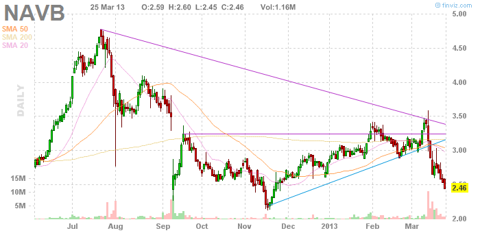 Second Pick: Keryx Biopharmaceuticals
Keryx Biopharmaceuticals (NASDAQ:KERX) is focused on the acquisition, development and commercialization of medically important pharmaceutical products for the treatment of renal disease. Keryx is developing Zerenex (ferric citrate), an oral, ferric iron-based compound that has the capacity to bind to phosphate and form non-absorbable complexes.
Yoffe: Keryx plans to submit an NDA for Zerenex in the second quarter of 2013, at the same time it files an application in the EU. Can you assign the probability of approvals?
Dr. Benjamin: We are very confident in the potential for a Zerenex approval both in the U.S. and in Europe. In fact, our models assume a 90% chance of success in terms of a regulatory filing. Based on a typical short-term pharmaceutical cycle to peak revenues, and a conservative peak penetration rate of 23%, we estimate peak sales to reach $325 MM, which corresponds to approximately 23% of the U.S. phosphate binder market.
Yoffe: What can you tell us about the recent concern over the validity of a Zerenex patent and what could be the impact?
Dr. Benjamin: In our view, a significant amount of noise has been generated regarding the potential for a NCE designation for Zerenex. Both the bulls and bears seem to agree that Keryx's '706 patent is solid and covers the method of use of ferric citrate to control phosphate levels in patients with hyperphosphatemia. This patent will expire in 2017. The issue appears to be whether Zerenex can obtain a patent extension of 5 years based on a new chemical entity designation. Regardless of the NCE status, we do believe the company will qualify for a new clinical investigations extension, which could provide a protection until 2020. Of important, we believe the recent patents filed regarding the non-obvious findings surrounding Zerenex's benefit in iron storage parameters and anemia benefit could prove more beneficial during potential partnering discussions.
In addition, investors shouldn't forget that Keryx's '235 and '851 patents are set to expire in 2023 and 2024. The '235 patent covers the manufacturing process of ferric citrate, while the '851 patent covers the preparation of a drug with a specified intrinsic dissolution rate. The importance of the manufacturing process should not be brushed aside. Our discussions with management suggest that replicating an equivalent pharmacodynamic profile will prove to be extremely tough for any generic challenger.
Moreover, Keryx also has an additional patent currently undergoing review at the USPTO. If issued within the coming months, this patent which covers a novel way of formulating a highly concentrated ferric citrate tablet would expire in 2029.
In short, if Zerenex is approved in 2014 as we expect, the debate over whether patent extensions will likely subside as investors focus on sales. In addition, if the company is successful in obtaining European approval, an automatic 10 year data exclusivity would be granted protecting Zerenex from generic competition until 2024.
Yoffe: Is there any other significant products in Keryx's clinical-stage pipeline?
Dr. Benjamin: The company is evaluating the potential for Zerenex in patients with chronic kidney disease who are not on dialysis, but that's it. While we would very much like all of our biotechnology companies to have more than one product in the pipeline to diversify clinical, regulatory and commercial risks, we believe Keryx is unique in that both the clinical and regulatory risks have been significantly diminished. If I had to make a bet, Keryx will likely not be a standalone company within the next 12-24 months.
Yoffe: What is the financial picture for Keryx?
Dr. Benjamin: According to our projections, taking into account the 4Q12 cash position, the recent financial raise of $80 MM and the 1Q13 burn rate, we believe the company currently has approximately $91 MM in the bank. These cash reserves are more than enough to take the company through profitability, if a larger suitor has not come and acquired the company before hand.
Yoffe: What is your rating and price target for KERX?
Dr. Benjamin: We currently have a Market Outperform (Speculative Risk) rating for Keryx, and our 12-month target price is $11, based on a revenue/EPS multiples analysis. Utilizing our 2018 revenues of $287.5 MM and EPS of $1.15, and applying a revenue multiple of 8X and EPS multiple of 26X, we further apply a discount rate of 20% (takes into account regulatory approval risk) to derive a target price of $11 in twelve months.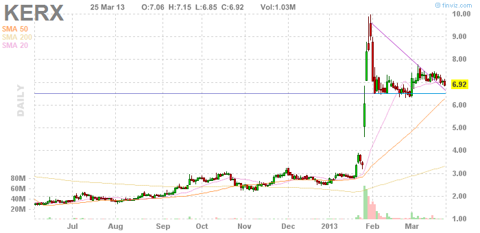 Third Pick: ArQule Inc.
ArQule (NASDAQ:ARQL) is a biotechnology company engaged in the research and development of next-generation, small-molecule cancer therapeutics. The Company's targeted, broad-spectrum products and research programs are focused on key biological processes that are central to human cancers.
Yoffe: In January, just months after the company's lead product Tivantinib failed a Phase III trial in non-small cell lung cancer, ArQule announced that Tivantinib also failed in a Phase II trial against colorectal cancer. However, in Jan 31, the company announced the initiation of dosing in the company's Phase III trial of Tivantinib, in second-line hepatocellular carcinoma (HCC). Do you still have faith in this product?
Dr. Benjamin: I do. Biotech investors know very well that not every drug in development will work and those that do will not work in every indication evaluated. We believe Tivantinib is one of those drugs that is quite active, but just has not found a home yet. However, we believe that is about to change. While we have completely discounted any chance of the drug working in NSCLC or colorectal cancer, we have high conviction regarding the recently initiated Phase III trial evaluating Tivantinib in HCC. This current study is based on a 107 patient randomized Phase II trial which evaluated single agent Tivantinib in patients with second-line unresectable HCC versus placebo. In that trial, Tivantinib demonstrated statistically significant results in overall survival (OS), progression-free survival (PFS) and time to tumor progression (TTP) in high c-MET expressing patients. Since this trial was placebo controlled and involved a fairly robust sample size for a Phase II, we believe the chances of succeeding in Phase III are higher. The main problem in our opinion is the time it will take to complete the trial, which we estimate could take 2 years to complete enrollment in addition to 8 months of follow up. Taken together, we could be waiting until 2015 for final results. That said, for the patient investor, we believe ArQule has a somewhat de-risked asset which could drive shareholder value in the coming years.
Yoffe: Is there any other development that ArQule is currently working on?
Dr. Benjamin: Yes, the company does have a pipeline of products besides Tivantinib. ArQule is currently in Phase I clinical studies evaluating 3 distinct compounds: 1) ARQ 621, an Eg5 inhibitor; 2) ARQ 736, a b-RAF inhibitor; and 3) ARQ 087, an FGFR inhibitor. We believe the company could make a decision regarding which program to develop on their own and which one to partner by early 2014. In addition, the company is collaborating with Daiichi Sankyo and using ArQule's kinase inhibitor platform to generate novel PI3K inhibitors, a space that has generated significant buzz among investors.
Yoffe: Does ArQule have sufficient liquidity to get through the upcoming steps?
Dr. Benjamin: The company ended the year with approximately $131 MM in cash. If we take into account the revenues expected from their collaborations with Daiichi Sankyo and Kyowa Hakko Kirin as well as the quarterly burn rate given the multiple studies on going, we expect the company to burn approximately $40 MM in 2013. Our models take into account several of the compounds in Phase I advancing to Phase II clinical trials and the burn rate increasing over time. Taken together, we believe the current cash position can fund operations into 2016, well past the reporting of the Phase III results from METIV, the ongoing Phase III trial in HCC.
Yoffe: Can you talk a little bit about the management team, as these guys haven't had such great success so far?
Dr. Benjamin: The management team is experienced with many coming with pharma backgrounds. We believe this type of background helps to devise strategies that spread and mitigate risk. In addition, management has shown significant prowess in establishing deals with partners that offset significant expenses for the company, bring in drug development expertise, and increase shareholder value with non-dilutive capital.
Yoffe: What is your rating and price target for ARQL?
Dr. Benjamin: We currently have a Market Outperform (Speculative Risk) rating for ArQule, and our 12-month target price is $5, based on a discounted cash flow analysis. We believe Tivantinib could reach global peak sales of $278 million for HCC. Our discount cash flow model suggests that Tivantinib alone could be worth $102 million, or $1.65 per share. In addition, we add a $101 million present value for other pipeline products in development and milestones expected from the current partners as well as $90 million of cash available to the company by the end of 2013. Combined, we derive a firm value of $293 million, or approximately $5 per share.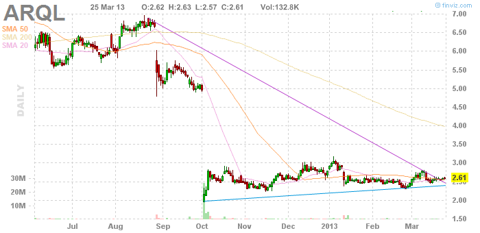 Fourth Pick: Sarepta Therapeutics
Sarepta Therapeutics (NASDAQ:SRPT) is focused on developing first-in-class RNA-based therapeutics to improve and save the lives of people affected by serious and life-threatening rare and infectious diseases. Sarepta's diverse pipeline includes its lead program Eteplirsen, for Duchenne muscular dystrophy, as well as potential treatments for some of the world's most lethal infectious diseases.
Yoffe: Sarepta has climbed almost 1000% since July last year. What is exciting about the company right now? Do you think that this increase is justified?
Dr. Benjamin: Sarepta has had a meteoric climb - we do believe the increase was justified given the strength of the benefit seen for their lead drug Eteplirsen in DMD patients. The significant improvement in approvable clinical endpoints such as the 6 minute walk test suggests that the drug does in fact ameliorate disease progression. Based on the twelve patient study, the company's market cap has risen from approximately $100 MM to $1B. In our opinion, this new valuation not only takes into account the potential for an accelerated approval, but also showcases investors understanding that the technology is a platform and can be applied to many genetic diseases, for example, certain cases of hemophilia. If successful in even one more indication after DMD, we could see multiples of this valuation. That said, it won't occur overnight and significant hurdles still remain for the company.
Yoffe: What are the upcoming catalysts for Sarepta, which investors need to be considering?
Dr. Benjamin: The company has plans to meet with the FDA in March 2013 to discuss both a confirmatory Phase III trial design for Eteplirsen in DMD and to seek guidance regarding filing for accelerated approval. The company also disclosed plans to meet with the FDA in 2Q13 to discuss the chemistry, manufacturing, and controls (CMC) of Eteplirsen. While the outcome of the first FDA meeting will likely not be available until April 2013, we believe Sarepta will likely provide clarity regarding an accelerated filing after the CMC discussion. If the company decides to file for accelerated approval (huge news for investors resulting in significant share price appreciation from current levels), we believe the application could take 3-6 months to prepare, resulting in a 1Q14 filing. Assuming a 6 month review, a panel hearing, and large scale manufacturing processes in place, we believe Eteplirsen could be commercially available by 4Q14.
Other catalysts that investors must be aware of come from the Sarepta's competitors. As many of your readers probably know, GlaxoSmithKline (NYSE:GSK) and Prosensa are currently running a 186 patient Phase III trial evaluating drisapersen (a drug with an identical mechanism of action) in patients with DMD. These data will be available by 4Q13. Before that however, the company will be reporting results from a randomized placebo controlled trial in 50 patients. This will be the first time that investors get to see randomized results from drisapersen and could affect the valuation of Sarepta.
The bottom line is that in the long run, the potential of eteplirsen in DMD and the platform technology have a good chance to drive shareholder value as products make it to the market. Any differentiation in efficacy and more importantly safety could influence market share substantially once one or both competing drugs are on the market. However, in the short run, investors should brace themselves for significant volatility. Announcements from GSK/Prosensa, details regarding the dialogue with the FDA, potential for accelerated approval, and talk regarding partnering or an outright acquisition could significantly influence Sarepta shares both higher or lower.
Yoffe: In December last year, the company completed an equity financing. What can you tell us about the company's current balance sheet?
Dr. Benjamin: The company ended the year with approximately $188 MM in cash and cash equivalents, the strongest balance sheet in its corporate history. For 2013, Sarepta expects revenues from government contracts to range from $18-$24 MM with a loss from operations ranging from $85- $115 MM. Based on our models, we expect the company to end 2013 with $99.7 MM in cash and cash equivalents due to a significant amount of spending to manufacture large scale quantities of Eteplirsen. If the company is successful obtaining accelerated approval, we believe the current cash position will be more than enough to fund future development given the rapid cash flow generated from sales of eteplirsen. However, if the company decides to conduct a Phase III trial, we believe the current cash position will likely fund operations through 2015.
Yoffe: In closing, what is your rating and price target for SPRT?
Dr. Benjamin: We have a Market Outperform (Speculative Risk) rating and a 12 month target price of $39. Based on 2018 revenues of $754.8 MM and $4.57 in earnings per diluted share, and applying a revenue multiple of 8X and EPS multiple of 26X, in addition to a discount rate of 30%, we arrive at a 12-month target price of $39. While we believe these revenues could be achieved regardless of whether the company seeks accelerated approval or not, the coming 12 months will be quite fluid in terms of news flow. Data from competitors, successes in manufacturing, regulatory discussions, and patent challenges could all affect our modeling assumptions, and therefore, our target price.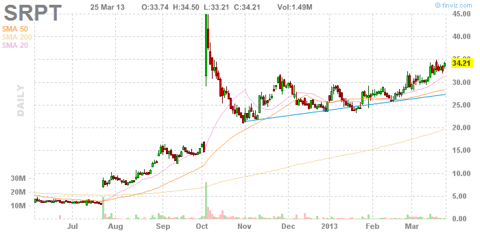 Disclosure: I have no positions in any stocks mentioned, and no plans to initiate any positions within the next 72 hours. I wrote this article myself, and it expresses my own opinions. I am not receiving compensation for it (other than from Seeking Alpha). I have no business relationship with any company whose stock is mentioned in this article.