France Telecom (FTE) is a European mobile operator based out of France that is serving its customers as an internet access provider, offering fixed/mobile communications, data transmission, as well as information management for communication applications and other services. Based on intrinsic value, FTE is clearly undervalued. However, uncertainty regarding the performance of new entrants in the market makes this a speculative play. This article briefly highlights FTE's recent market performance, lays out five reasons why FTE is a buy at only $11 per share, and concludes with several risk factors investors should consider.
Overview
Currently, FTE is extremely undervalued trading at right below $11 per share. With 2.63 billion shares outstanding, its market capitalization is roughly $28.93 billion. Using FTE's historical monthly holding period returns relative to the returns of the market, I computed a firm-specific beta and alpha value of 0.78 and -3.5, respectively. I find both of these metrics appealing. A beta value lower than one suggests the returns of the security are of lower risk than the market, which has a beta of one. In addition, a negative alpha is often an indication the security is undervalued. Also it is important to note FTE's institutional ownership is extremely low at only 2% of its total shares outstanding. This can be attributed to the European debt crisis and the slow decline in its security price over the past two years that happened as a result.
Figure 1: FTE's Three-Year Price Graph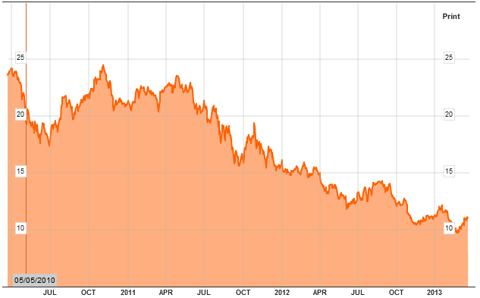 Seven reasons FTE is a buy at its current valuation:
#1 FTE's low-cost pricing strategy has served as a lucrative advantage for expanding its customer base and has essentially positioned FTE to benefit from Spain's current depressed economic state. During the past three quarters, FTE has acquired over six million new customers as a result of a change in consumer preferences. The needs among consumers in these markets are changing and the recession has forced customers to transition to lower-cost service providers such as FTE. In addition, FTE merged its operations with Deutsche Telekom and this has positioned it to benefit from reduced operating costs.
#2 FTE has plenty of room to grow. On a global scale, growth over the past year has been primarily driven by FTE's operations in Spain, Africa, and the Middle East. Despite suppressed economic activity in Spain, FTE's revenue grew by 0.9% for this region. In addition, revenue in Africa and the Middle East grew by 5.3% for this same period.
#3 FTE is focused on reducing its debt. For investors long, I am sure the divided cut in 2012 was not a favorable decision from your perspective. However, it is a solid decision on management's part. I would not consider FTE's cash flow strong, but it is adequate. Adequate enough to reduce a substantial portion of its debt outstanding. The additional cash that was previously allotted for dividends to shareholders, is now going to be allocated toward paying off debt. In the long run, this practice will increase shareholder value and benefit the company as a whole.
#4 FTE's basic valuation metrics are favorably low. Its P/B, P/S, and P/E are 0.5, 0.8 and 6.2 respectively. Over the past three years, there has been little variation in these ratios with an average range of about 1.03. FTE also looks attractive relative to the industry. The industry P/B, P/S and P/E are 1.0, 1.6 and 29.2, respectively.
#5 FTE's impressive valuation has analysts focused on the bull scenario. Intrinsic valuation suggests FTE's fair value per share is roughly $22, which I feel is conservative. In addition, analysts have been consistently upgrading this stock. Currently, the seven analysts who cover this stock have a median six-month price target of $18.50. This implies an upside of nearly 68%.
What's Next?
FTE's room to grow is apparent, however the magnitude of the pressure from existing competitors is not predictable. The biggest underlying concern is to what degree will FTE be impacted by Iliad's existence as the fourth wireless operator in France. FTE's management responded effectively and was forced to alter its pricing strategy to compete, but the potential long-run impact on FTE's profit margins is uncertain at the moment.
Overall, FTE is strong buy based on valuation. Its diverse operations provide room to benefit from recovering economies such as Spain and also prosper off economies in growing regions such as countries in Africa and the Middle East. In addition to profit margins, investors should maintain a close watch on FTE's customer base. Specifically, the number of customers FTE retains as well as new ones gained quarter over quarter. This will help gauge the extent to which FTE's competitors continue to further penetrate the market.
Sources: TD Ameritrade, Google Finance, Yahoo Finance, Morningstar, and FinViz.
Disclosure: I have no positions in any stocks mentioned, and no plans to initiate any positions within the next 72 hours. I wrote this article myself, and it expresses my own opinions. I am not receiving compensation for it (other than from Seeking Alpha). I have no business relationship with any company whose stock is mentioned in this article.