When Advanced Micro Devices (NYSE:AMD) reported quarterly results, the company cited ongoing volatility in the PC market, with bias towards the downside. Uncertainty is expected to continue until the first half of 2013. AMD has a 3-point plan to adjust to the changing conditions:
Restructure business to lower costs.
Accelerate business through new product offerings.
Leverage existing IP in similar markets for growth.
AMD expects costs to drop by 25% by the third quarter of 2013. The workforce reduction will save $190 million this year, while operating expenses are expected to drop to $450 million.
PC Market Not a Catalyst
Towards the end of 2012, AMD managed to increase the average selling price of its desktop processor, thanks to a new release of the Athlon FX CPU and the A-Series APU. In the graphics ("GPU") market, sales were helped by games being bundled with the graphics card through the "Never Settle" campaign. Despite the bundling, market share slipped 2% in 2012, while rival NVIDIA (NASDAQ:NVDA) gained 2.3%: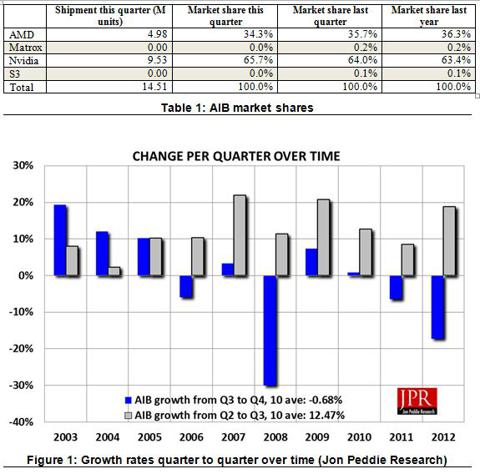 Source: JPR
In 2012, revenue declined 5% to $326 million from graphic card sales. The struggle for AMD to gain market share in GPU will likely continue in 2013, so it is unlikely to be a catalyst in expecting share price to rise. AMD partially offset the decline by achieving record game console revenue.
Balance Sheet Stabilizing
AMD ended 2012 with a cash balance of $1.2 billion. This was achieved despite revenue dropping by 17% from the previous year, to $5.4 billion. R&D expenses represented 27% of net revenue, and AMD ended the year with a non-GAAP net loss of $102 million. With 747 million shares outstanding, AMD lost $0.14 per share (non-GAAP).
AMD forecast revenue to decline by up to 9% in the current quarter. For 2013, the company aims to be free cash flow positive.
The positive impact for AMD from four new markets is discussed below.
1. System on a Chip ("SOC")
AMD released an x64-based quad core processor, codenamed Kabini. The chip targets netbooks and ultra-thin notebook markets, along with other mobile devices. Temash, an SOC for the tablet, gives AMD exposure to the mobile market and diversification away from desktop chips. AMD forecasts revenue from embedded chips will be 20% of total. Within 3 years, these chips could represent as much as 40% to 50% of total revenue.
2. Dense Servers
Initial shipments of SeaMicro systems were promising. Moving forward, AMD intends to commit to both ARM-based and x64-based server processors.
3. Nintendo Wii U
AMD said that chip sales to Nintendo (OTCPK:NTDOY) helped improve revenues in the fourth quarter. However, data compiled by NPD Group suggests Wii U sales may have dropped to as low as 57,000 units in January 2013. In total, 3.06 million units of Wii U may have been sold.
4. Sony PlayStation 4
Sony (NYSE:SNE) announced AMD would be powering the PS4 with an 8-core "Jaguar" CPU and Radeon GPU, instead of a chip designed by NVIDIA. The win could be attributed partially to Sony wanting an x86-based core built alongside a powerful GPU.
The contract win validates AMD's APU approach in supplying the chips for consoles. The APU will be an efficient architecture, compared to using discrete components alone. Efficiency is also gained with interconnects among the memory, GPU, and CPU. AMD is able to provide customization, which will ensure high performance for the PS4.
Conclusion
AMD is not abandoning the PC market in the interim. Its APUs, which are based on Jaguar cores, have a revised memory controller and integrated GPU. This gives better performance and lower power usage, and ensures that AMD continues to have a position in the PC market.
The win by AMD to supply the processor and graphics chip for the Sony PlayStation 4 validates AMD's strategic shift towards customization. AMD demonstrated an ability to be a low-cost chip supplier without sacrificing performance. AMD is supplying a high-powered processor and graphics solution on a single piece of silicon. This approach keeps costs low and enhances energy efficiency. Investors looking at AMD solely in the context of its business in the PC market are missing an opportunity.
Disclosure: I have no positions in any stocks mentioned, but may initiate a long position in AMD over the next 72 hours. I wrote this article myself, and it expresses my own opinions. I am not receiving compensation for it (other than from Seeking Alpha). I have no business relationship with any company whose stock is mentioned in this article.