By Sumit Roy
Natural gas output in Pennsylvania skyrocketed in 2012.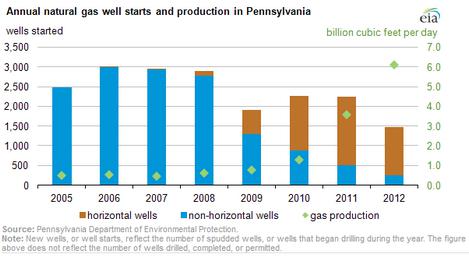 Though the number of wells drilled fell by nearly a third, natural gas production in Pennsylvania jumped a whopping 69% in 2012, according to the Energy Information Administration. Output in the state rose from 3.6 bcf/d to 6.1 bcf/d.
The EIA said that improved drilling and well completion techniques led to higher production per well. The administration also cited a large backlog of wells that had accumulated in recent years due to a lack of infrastructure. As additional infrastructure came online in 2012 those wells were completed, boosting output.
Going forward, Pennsylvania production should continue to increase, led by the giant Marcellus shale. The Marcellus is considered one of the lowest-cost, if not the lowest-cost, play in the country. Analysts at Societe Generale estimate that drilling in the Marcellus is profitable as long as natural gas prices remain above $1.90/mmbtu.