To find currently undervalued stocks, I ran a screen with the following filters:
Price-to-book is below 1
Forward P/E is below 15
Price/Free-cash-flow is below 5
EPS growth for the next 5 years is forecasted to be over 0%
Payout ratio is below 20%
I came up with six companies of which four were based in the United States, one in Greece, and one in China. For the sake of simplicity I focused on only the three companies based in the United States: Capital One Financial, CNO Financial Group, and Protective Life Corp. All three are in the financial sector and two of the three are insurance companies.
Capital One Financial
Capital One (NYSE:COF) is a financial company that provides credit and debit card products as well as banking services for retail consumers and small businesses. It only operates in the United States, UK, and Canada with no visible plans for expansion into other international markets. This is a fairly visible company that trades at a volume of between 40,000 and 60,000 shares a day. With a beta of 1.71, it is close to twice as volatile as the S&P 500 (NYSEARCA:SPY).
Capital One is trading at only 7.86 times earnings, compared to the financial sector average of 15.48. In fact, it's trading close to its 5 year low for earnings multiple (6.00) which makes it relatively cheap. It's also trading at only $0.76 per $1.00 of assets it controls compared to the industry average of $1.08. The numbers seem to show that Capital One is well placed to take advantage of the improving credit and debit card businesses. However, one of the caveats is that COF pays a dividend of only 0.37% compared to the industry average of 2.73%. On the other hand, the payout ratio of 3.14% is considerably lower than the industry's 33.5% which leaves a lot of cash for growth of dividend and assets.
Capital One has a calculated Graham valuation (based on a growth of 8% over 5 years) of $66.87 which means it's currently trading at an 18% discount over fair value. Another bullish trend can be seen in the increasing revenue (up 21% in the past 5 years). The increase in gross profit has outpaced the increase in revenue which may mean increasing efficiency and good management.
The chart for COF shows that the MACD has moved above the signal line and is diverging while the RSI and Ultimate oscillators are both in uptrend territory without being overbought. The price has recently moved above the 25 day moving average and is approaching the 50 day moving average but this could be a short-term occurrence rather than a new trend. Volume is slightly higher than normal, though it could be due simply to improved investor confidence in the market.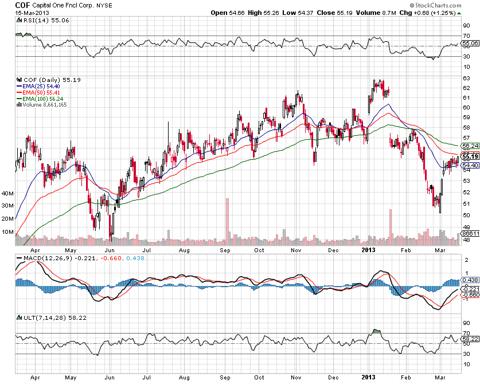 Based on the Graham valuation and ratios, Capital One seems to be severely undervalued and I expect the market to correct that. The technicals support the fundamental analysis which makes this an all-around sound investment. As the bottom line grows at Capital One, its ratios will inevitably improve barring any big developments.
CNO Financial Group
I recommended CNO Financial Group (NYSE:CNO) as a buy last August when it was trading around $9.20. It's up 25% since then but there's room for more growth. It operates such subsidiaries as Colonial Penn and Washington National which provide life insurance, health insurance, and a handful of other types of insurance policies.
CNO Financial is trading at 0.47 times its book value compared to the insurance industry average of 0.85 times book value. It's also trading at 3.81 times its Free Cash Flow per share compared to the industry average of 6.85. In fact, every single ratio for CNO is below that of the industry and sector averages which leads one to believe it is still mispriced. The profit margins at CNO have grown over the past five years as well as their earnings per share. Not only is revenue increasing but so is their efficiency.
CNO pays a dividend of 0.74% which is lower than the industry's 1.55%; however, its payout ratio is only 6.29% which leaves a lot of room for growth. The downside here is that this is a new dividend payer so its stability is difficult to determine.
CNO's Graham value is $13.17 which gives it plenty of upside. The chart for CNO shows that the price is well above the moving averages. The MACD is above the signal line though it seems to be moving back and forth. The ultimate oscillator is in uptrend territory without being overbought. The RSI, on the other hand, is entering overbought territory so we may see a temporary pullback or dip.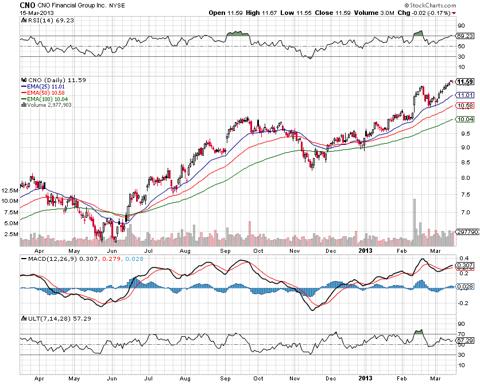 While CNO pays a dividend, the real value here lies in the stock appreciation potential. The ratios all show that CNO is trading well below its fair market value and the dividend is simply a plus. Because of the RSI's entry into overbought territory, some investors may feel comfortable waiting for a temporary dip to $11 before investing. However, for long-term investors, a small dip may not be worth the risk of buying in at a higher price because of a trend continuation.
Protective Life Corp
Based out of Birmingham, Ala., this $2.35 billion market cap is extremely undervalued. The company has five main operating segments: Acquisitions, Annuities, Asset Protection, Life Marketing, and Stable Value Products. Michael Nau had a good article about Protective Life (NYSE:PL) and his bullish stance on it that is very informative.
Protective Life is trading at 0.54 times book value and 8.60 times earnings compared to the industry averages of 0.85 and 12.64. The dividend yield is a solid 2.28%, though the payout ratio is higher than the industry average (18.41% versus the industry's 11.87%).
The Graham valuation based on a 0% growth rate (to be conservative) is $39.00 which still gives it a 12% upside. The reverse discounted cash flow shows a growth rate of 4% over the next 10 years to justify the current price of the stock.
The chart shows mixed signals. The price is above the moving averages, a bullish signal. The MACD is above the signal line and diverging and the ultimate oscillator is in uptrend territory without being overbought. The RSI, however, shows that the stock is currently overbought which may mean that we should see a short-term correction soon. This could be the perfect time to buy.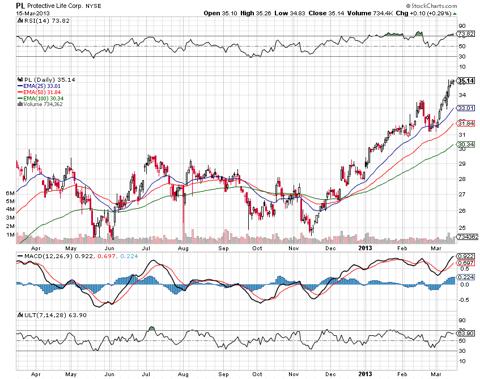 All three of these companies are great buys but it's important to do your own research and figure out whether they fit your appetite for risk and reward or not. Options contracts are also available for all three companies which generally provide a less risky alternative for investing, though they come with their own disadvantages. This article should be considered only as a starting point for your research, not the final decision maker.
Disclosure: I have no positions in any stocks mentioned, but may initiate a long position in CNO, COF, PL over the next 72 hours. I wrote this article myself, and it expresses my own opinions. I am not receiving compensation for it (other than from Seeking Alpha). I have no business relationship with any company whose stock is mentioned in this article.