On Monday, March 25, 2013, Elon Musk, Co-Founder and CEO of Tesla Motors (NASDAQ:TSLA) made a tweet that he might just end up regretting.
On March 25 at 2:48 PM EST, Mr. Musk sent out the following Tweet to his followers: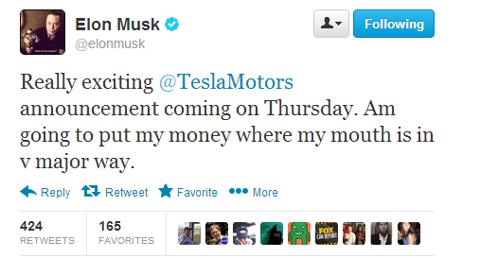 Immediately following his tweet, the stock of Tesla moved higher by nearly 4%.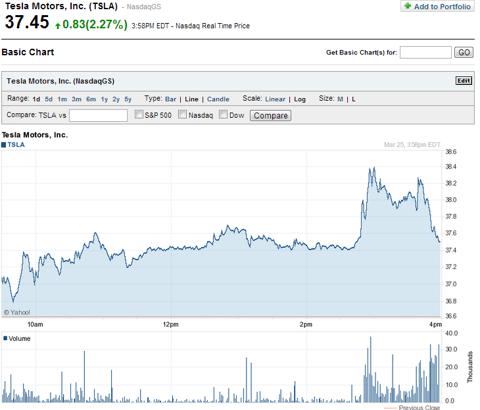 I probably don't have to tell readers that Tesla makes and sells electric vehicles. The company has been in the spotlight of late, mostly due to a battle between Musk and the NY Times over a damning review of its Model-S Sedan which apparently cost the company nearly $100 million in sales.
According to the Tesla's investor relations website, there were no planned announcements for Thursday March 28th, 2013.
We might remind readers that Mr. Musk is Co-founder, CEO, Chairman of the Board, and head of product design at Tesla Motors. Musk as of 12/31/12 held 27.5% of Tesla's outstanding shares. Tesla acknowledges that Musk is crucial to its operations in its recent 10-Q:
We are highly dependent on the services of Elon Musk, our Chief Executive Officer.

We are highly dependent on the services of Elon Musk, our Chief Executive Officer, Product Architect, Chairman of our Board of Directors and largest stockholder
Mr. Musk as the CEO and head of product design at Tesla has access to private information not available to the investing public. Musk revealed positive suggestions relating to this private information to his Twitter followers, while also implying that he would be increasing his investment in Tesla based on this upcoming 'exciting announcement'. Musk's statement -'put my money where my mouth is in a major way' in our mind should be considered a violation of SEC Insider Trading laws.
It is likely that Mr. Musk has also violated Regulation FD by offering a suggestive opinion that Tesla's 'really exciting announcement' would lead to increased success for Tesla, enough so, that he is willing to increase his investment in the company.
Similar to Reed Hastings at Netflix, Mr. Musk released private information to a select number of people (his 167K or so Twitter followers) while not releasing any of these suggestive remarks to the investing public.
This wouldn't be first time that Musk tweeted private information about Tesla. Back in December of last year, Musk revealed material facts about the company's financials:

Tesla has never informed investors that Mr. Musk or Twitter are the means for which it will occasionally release material information to the public.
So what could the implications be for Musk? The SEC, as evidenced by their investigation into Netflix CEO Reed Hastings, do not consider (despite some of the grey areas surrounding social media) Twitter and Facebook to be public methods of communicating material non-public information.
Musk should have and must have known that any material non-public information must be disseminated to the public at the same time, via an 8-K. A tweet isn't playing by the rules, and Musk or any CEO of a publicly traded company has to realize this.
As evidence of some of the 'what-if's' all we have to do is look back to the tweeting of one Gene Morphis, the former CFO of the clothing retailer Francesca's. Morphis learned his lesson the hard way and was let go after informing his Twitter followers that his board meetings were going well:

Musk is a more integral part of Tesla as compared to what Morphis might have been at Francesca's, yet it seems quite obvious to us that Musk's tweet was certainly more egregious in violating SEC laws.
For another example in 2010, the the SEC fined Office Depot $1 million for hinting to its covering analysts that they would miss earnings expectations. Now we do realize that if Tesla were levied a $1 million fine, it wouldn't really be a big deal in the grand scheme of things, yet why did Musk hint that he would put his money where his mouth is?
We don't know what sort of actions Musk took prior to or following his tweet on March 25th. We do know that if he was purchasing shares based on material non-public information, then he could have potentially violated SEC insider trading laws. We would encourage the SEC to ask Mr Musk and Tesla for more information surrounding Musk's tweet.
Disclosure: I have no positions in any stocks mentioned, and no plans to initiate any positions within the next 72 hours. I wrote this article myself, and it expresses my own opinions. I am not receiving compensation for it (other than from Seeking Alpha). I have no business relationship with any company whose stock is mentioned in this article.