Marvell Technology Group (NASDAQ:MRVL) in their latest quarterly report just filed shows a per share estimate for the current quarter of between $.12 - $.14. In order to arrive at these figures, they provided a spread sheet showing the calculation (see below). They showed net profits of between $53.5 and $71.9 million. The only line I added to their spread sheet was the shares outstanding line which is simply the required number of shares to relate the net profit figures to the per share figures i.e. $53.5 million divided by 436 million shares equals $.12. The reason this figure is important is because in the financials for the end of the last quarter they showed a shares outstanding figure of 525 million shares. This new 436 million figure hidden in their projection shows that they plan to complete their buyback program and eliminate the shares before the end of this current quarter. I don't think most analysts expected the speed with which this program was executed. This represents a 17% drop in share count quarter over quarter.
Additionally, the semiconductor category seems to be very sensitive to good news of late. Things have been down so long any kind of good news is taken as a pretty big surprise. For example, Micron Technology (NASDAQ:MU) just announced slightly better results for their latest quarter. This prompted Credit Suisse (and others) to boost their price target from $8 to $14. MU's price jumped 12% the day of the announcement. Should MRVL significantly beat their net operating estimates for this next quarter, the impact of this positive announcement coupled with the dramatic reduction in their shares outstanding could cause quite a bounce in the stock price. It would not be unrealistic to see MRVL move back to the $13-$17 trading range which was where it had been trading before its last major decline which started around the beginning of 2012.
It will be interesting to see whether:
1 - MRVL's management chooses to open up yet another buyback program between now and the end of April.
2 - David Einhorn has decided to increase his ownership of the 52 million shares he announced as of 2/21/2013
3 - There will be some positive news from coming from the patent trial with Carnegie Mellon University which moves to the next level beginning May 1, 2013.
Even without items 1-3 above, MRVL should be able to get to $15 just on the strength of a positive earnings report for this quarter and the surprise of the yet to be announce lower outstanding share figure.
It should be a very interesting couple of months.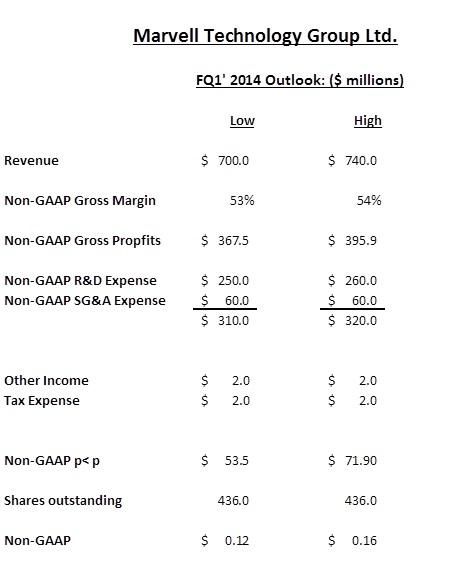 Disclosure: I am long MRVL. I wrote this article myself, and it expresses my own opinions. I am not receiving compensation for it (other than from Seeking Alpha). I have no business relationship with any company whose stock is mentioned in this article.
Additional disclosure: I am long shares and LEAPs