The mobile app market feels like a digital gold rush with everyone rushing to stake a claim. While there are a number of minor markets for apps, the only two that matter at the moment are the Apple (NASDAQ:AAPL) App Store and Google (NASDAQ:GOOG) Play.
Both have broad offerings of digital products, including apps, books, music and movies. Both have large market shares controlling more than 80% of the smartphone operating system market between the two of them.
Source: Gartner (Aug 2012)
Here's the catch. Although Google controls the operating system market, Apple definitely has the lion's share of the mobile app market. According to the App Annie Index Report (November 2012), there are several points of which you should be aware.
First, Apple's App Store has over four times the revenue from paid mobile apps and in-app purchases when compared to Google Play.
But, revenue growth for Apple is relatively flat compared to Google. App revenue grew 13% for iOS from January 2012 to October 2012. For the same period Google's app revenue grew 311%. Also, if you look into the details, you will find that revenue growth for both companies is derived from the United States and Japan. The US is relatively flat, but Asia and Europe represent substantial growth markets.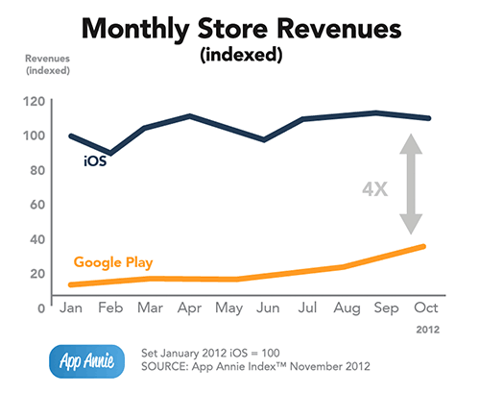 So after looking at the data above, the obvious question is if Google controls 65% of the device market compared to Apple's 20%, why don't the app revenues reflect this?
First, Apple has always had a bit of fanatical following. Apple fans have a loyalty that doesn't exist for other brands. This was partly due to the rivalry between Microsoft (NASDAQ:MSFT) and Apple that has existed since the late 80s. While the rivalry doesn't really exist anymore as Microsoft has faded into the background as companies like Google and Amazon (NASDAQ:AMZN) took over, Apple has kept a very loyal fan-base for products like the iPod, iPhone and iPad.
The Apple fan-base loyalty certainly must play some role in this revenue differential, but I believe the explanation is a little more straight-forward. It is based in how the two companies operate their app stores.
Apple's Walled Garden
The Apple App Store is a walled garden. Carefully manicured with not a weed in sight. To sell an app on the app store, first, a developer must be a registered Apple Developer and pay a fee of $99 just to submit an app for consideration. All apps are reviewed according to a relatively fuzzy set of criteria and either accepted or rejected based on this review process.
When an app is rejected, it is not always clear why this happens. There are actually sites that list famous app rejections, highlight the oftentimes capricious rules the App Review Team uses to determine acceptance.
This has caused quite a bit of derision in the press directed towards Apple, but you cannot argue with the results. iOS apps are typically very stable and very high quality. The phone just works and the apps you download work the same way. And obviously users are willing to pay for that.
One final point. Writing software for iOS requires a developer with a strong knowledge of Objective C and a Mac development platform. Since Objective C is only used on the Mac and a relatively small number of developers are comfortable with it, this only increases the cost for developing and publishing an iOS App.
Google Play's Free for All
In contrast, Google Play requires a $25 fee to start submitting apps and there is no review process. Apps simply appear in the Google Play market relying on popularity and user feedback and review to reduce the noise level.
This means that anyone can submit an app with no formal review. Google does publish quality guidelines but they are self-enforced. The result is that there are a large number of apps available in Google Play but only a small percentage of these apps are comparable to the quality of an Apple App.
Finally, apps for Android are developed using Java and can be created on a Mac, Windows or Linux workstation. Since Java is one of the primary development languages in demand today, most developers are very familiar with it and as a result the salary levels are substantially lower for a qualified Java Developer.
All of this means that developing for Google Play is much cheaper and more approachable for almost anyone to publish an app and because of this, the quality of a large number of apps is much lower.
An App Developer's Perspective
A medium to large size company would probably start with an iOS app first or at least develop apps for both iOS and Android at the same time.
A smaller garage developer would very likely start with Android for the simple fact that the risk is lower. It is not necessary to expend the extra effort to develop an app that might be rejected. The developer creates the app, launches it, resolves issues based on user feedback and repeats. And then, only after determining the app's potential does the small developer pursue launching the iOS version.
A company outsourcing its development can expect the cost to be substantially higher for iOS as compared to Android with the added risk of rejection by the Apple App Store review process.
Investor's Perspective
One of the companies that provides extensive analytics and rankings for apps on both iOS and Google Play is App Annie. Using the App Annie Index Report can provide useful insight into both the health and growth direction of the two app markets.
Note: App Annie just started providing analytics for the Amazon App Store as well but this will be the subject of a future article.
Also, if you watch the top publishers by monthly revenue index for both markets, you can follow app revenue growth for the mobile aspects for companies like Electronic Arts (NASDAQ:EA) and Zynga (NASDAQ:ZNGA).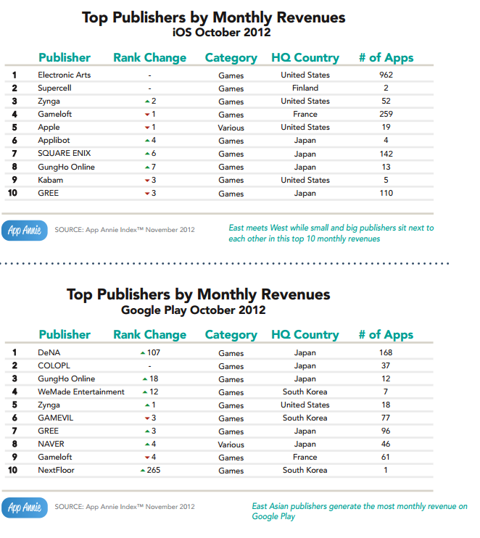 This information will give you a significant advantage in predicting trends for these companies.
Conclusion
Apple has a large lead due to the quality factor built-in to their app store, they have no growth. Based on the rate of growth that Google Play is enjoying, they will overtake the Apple App Store by 2016.
In my opinion, Apple is losing this race badly which is all the more embarrassing since they have a much higher quality product. Even with the impressive international growth, Apple is simply holding its ground. One of the issues is lack of significant growth in iPhone and iPad market share.
I personally don't see any increasing value in Apple, at least not in their app store, unless they make some substantial changes. For Google Play, while I see nothing but upside, any substantial changes that they make in Google Play to increase the quality will only have a positive impact on revenue.
Buy Google on a pullback and then hold on till they pass the $1000/share threshold.
Disclosure: I am long GOOG, AMZN. I wrote this article myself, and it expresses my own opinions. I am not receiving compensation for it (other than from Seeking Alpha). I have no business relationship with any company whose stock is mentioned in this article.