Warren Buffett has called the lottery a "tax on stupidity." That might be a bit harsh, but I generally agree with him.
However, while I don't spend any money buying lottery tickets, I do really enjoy it when someone gives me one as a gift. A free crack at a few million dollars can't be a bad thing right?
As an investor, I also like to try and pick up lottery tickets for free. One way that I try and do that is to invest in shares of companies that have a market capitalization that is pretty much fully supported by the cash on their balance sheets. Therefore, I'm paying a fair price for just the cash on hand, and anything else the company has comes for free.
In addition to that cash, I want these companies to have other assets that have the potential to be worth a lot more than the current share price. These other assets are my "free lottery ticket."
I came across one opportunity like this back in 2010 when the BP oil spill resulted in the shares of Gulf of Mexico explorer Cobalt International (NYSE:CIE) getting crushed.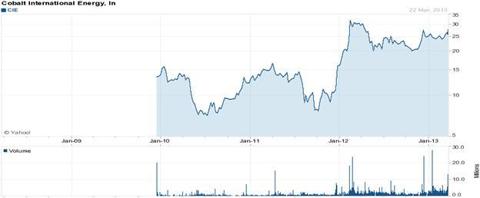 At one point in 2010 after the BP disaster, investors were able to acquire Cobalt shares for not much more than the billion dollars of net cash that the company had on its balance sheet. The market was pricing Cobalt as though the only value in the company was the cash on its balance sheet.
In addition to that cash, Cobalt had a deep inventory of large deepwater oil exploration prospects.
By buying Cobalt at little more than the cash on its balance sheet, all of those deepwater prospects were available for free. I had my free lottery ticket in the form of those deepwater prospects.
Since 2010, Cobalt has had several successful exploration well results and the share price has quadrupled. I sold the shares that I had owned in Cobalt in early 2011 with roughly a double from my purchase price. I should have held on longer.
I like this approach to investing, so I thought I'd try and find more "Cobalt like" opportunities.
In my search, I decided to look for companies with the following criteria:
1 - Companies that trade for little more or preferably less than the cash on their balance sheets.
2 - Companies that have in addition to their cash a "lottery-ticket" like upside and catalyst.
3 - Significant insider ownership.
4 - At least one shareholder that I am familiar with and respect to give me some comfort that someone intelligent has given the company a thorough review.
I came up with the three following companies that met my criteria:
Company #1 - HRT Participacoes (OTC:HRTPY)
HRT Participações em Petróleo S.A. is an independent Brazilian oil and natural gas exploration and production ("E&P") holding company, formed by a group of senior geoscientists and engineers who previously held key positions at Petróleo Brasileiro S.A - Petrobras, and the ANP as senior geoscientists and engineers.
The Company's senior management possesses significant technical knowledge and operational experience in the Brazilian and Western African sedimentary basins as well as extensive environmental expertise in Brazilian onshore and offshore E&P activities and regulatory knowledge of the Brazilian oil and natural gas industry.
HRT believes it is one of the largest independent Brazilian E&P oil companies, measured by acreage, with a portfolio of exploration blocks of approximately 75,425 km² (18.6 million acres) in onshore blocks in the Solimões, Espírito Santo, Recôncavo and Rio do Peixe Basins in Brazil, and offshore blocks in the Walvis and Orange Sub-basins in Namibia.
Criteria One - Share Price Supported By Cash On the Balance Sheet
(Note that HRT's financials are in Brazilian Real)
Shares Outstanding - 295,412,000
Share Price - R$3.67
Market Capitalization - R$ - 1,084,162,000
Net Cash - R$ - 1,052,000,000
In American dollars, HRT has a market capitalization of $1,084,162,000 x .497 = $538 million
HRT's cash balance is virtually identical to its market capitalization. HRT meets criteria one.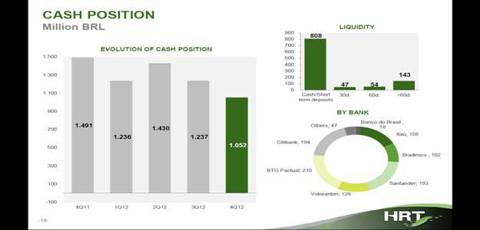 Criteria Two - A Lottery Ticket Upside and Catalyst
HRT has three main assets.
Asset 1 - Cash of R$1.05 billion that I referred to earlier.
Asset 2 - Onshore Brazil Solimoes Basin Assets that TNK-BP paid $1 billion to HRT for a 45% interest in. That would suggest that the remaining 55% that HRT owns could also be worth somewhere around $1 billion.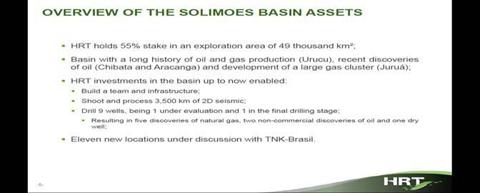 Asset 3 - Offshore Namibia assets that reserve auditors estimate are prospective for 7 billion barrels of oil.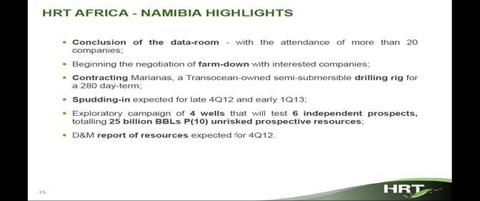 Assets two and three are quite obviously my free lottery ticket upside.
The Solimoes Basin assets are actually onshore Brazil and contain a contingent resource estimate of over 500 million barrels of oil equivalent. HRT has made some significant gas discoveries here and if they can prove that the discoveries can be commercially developed it could be a significant catalyst.
The Namibian Offshore assets are prospective for over 7 billion barrels of oil and gas net to HRT. Now that is truly a lottery ticket! HRT is valued by the market at the value of its cash. Should a discovery in the hundred million barrel plus range occur, HRT is going to be a multi-bagger from here. HRT meets criteria number 2 as the size of these exploration targets are the lottery ticket and any successful exploration results the potential catalyst.
Criteria Three - Insider Ownership
HRT's founder, Chairman and CEO is Marcio Mello. He has his net worth and heart and soul tied up in this company.
He is fully aligned with shareholders and very motivated.
Criteria Four - Familiar and Respected Shareholder
I originally became interested in HRT specifically because of its largest shareholder Southeastern Asset Management. Southeastern is a well known and respected value investing firm with a track record dating back to the late eighties.
Company #2 - MGT Capital (MGT)
MGT Capital (NYSEMKT:MGT) is in the business of monetizing intellectual property rights. Right now, its main property right is held by its subsidiary MGT Gaming, Inc., which holds intellectual property relating to casino gaming systems, and has plans to enforce its proprietary rights against possible infringers.
The business model is actually pretty simple.
Step 1 - Identify intellectual property that could be worth far more than MGT has to pay for it.
Step 2 - Acquire a controlling interest in said intellectual property.
Step 3 - Take the necessary course of action needed to realize the value inherent in that intellectual property.
Criteria One - Share Price Supported By Cash On the Balance Sheet
MGT Capital's current Enterprise Value Looks like this:
Shares (note that warrants and preferred converts are out of the money) - 3.0 million
Share price - $2.91
Market Capitalization - $8.73 million
Net Cash on Balance Sheet - $6.5 million
MGT's cash balance nearly supports the entire market capitalization of the company.
MGT meets criteria number one.
Criteria Two - A Lottery Ticket Upside and Catalyst
Right now MGT's main intellectual property relates to a new breed of slot machines that allows players to compete against the house as well as other players during special bonus rounds. This creates multiple levels of excitement and new ways to generate big wins. In short, group play slot machines are just a lot more fun than the old-style machines.
MGT has filed a patent infringement case relating to this intellectual property. The lawsuit claims infringement against Caesars Entertainment (NASDAQ:CZR), MGM Resorts (NYSE:MGM), WMS Gaming (NYSE:WMS) and Penn National Gaming (NASDAQ:PENN)
MGT is seeking an injunction against continued acts of patent infringement AND damages to compensate for the prior infringement.
The damages would relate to a reasonable royalty for the infringement plus interest and costs.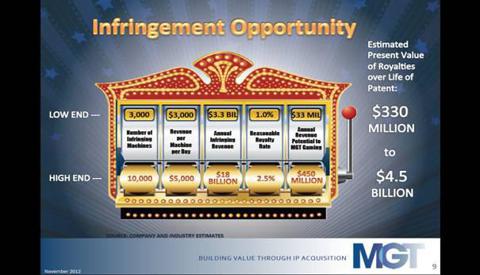 If successful in the lawsuit, the company believes the present value of the royalty stream over the life of the patent could be $330 million to $4.5 billion.
That outcome would be many, many multiples of the market capitalization implied by the current share price of MGT.
MGT meets criteria two as it has lottery ticket upside and a legal success would be the catalyst to move the stock higher.
Criteria Three and Four - Insider Ownership/Proven Shareholder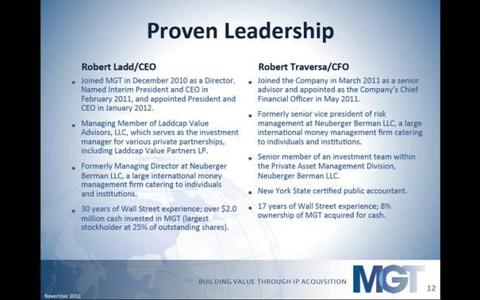 Robert Ladd is a value hedge fund manager who is also CEO of MGT. Ladd has over 30 years experience and is very much aligned with shareholders as he has personally invested $2 million buying shares and owns 25% of the company.
MGT Capital's financial information was pulled from its SEC filings. Please keep in mind that this is a smaller company and the trading of shares is less liquid.
Company #3 - Petrobank Energy
Description (from the company's website)

Petrobank (OTCPK:PBEGF) is a Calgary-based heavy oil exploration and production company with operations in Western Canada. Petrobank is focused on creating value for its shareholders by acquiring assets at an early stage, using innovative technology to develop and produce the assets and distributing business units to shareholders to realize full value. The Company's structure consists of our Heavy Oil Business Unit, which owns significant heavy oil resources that are being developed using our patented THAI®technology, and Archon, which owns THAI® and related technologies and seeks to license the use of these patented technologies worldwide.
Criteria One - Share Price Supported By Cash On the Balance Sheet
Petrobank Valuation
Shares Outstanding - 97,800,000
Stock Price - $0.67
Market Capitalization - $65,500,000
Cash and Marketable Securities - $100 million ($1 per share)
Petrobank's cash and securities are worth well in excess of the current share price.
Petrobank meets criteria one with flying colors.
Criteria Two - A Lottery Ticket Upside and Catalyst
Petrobank has the following oil assets:
Saskatchewan Oil Assets (Kerrobert and Luseland) - 5.4 million barrels proved and probable, 20.6 million barrels of contingent resource, 67.5 million barrels of exploitable oil.

Alberta (Dawson Oil Assets) - 58 million barrels of contingent resource, 436 million barrels of oil in place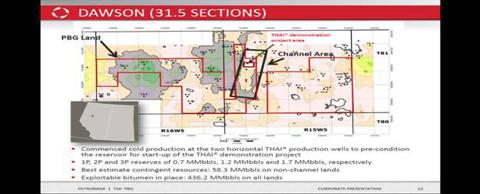 That oil in the ground is not the lottery ticket for Petrobank. That lottery ticket is the technology that Petrobank is trying to utilize to extract that oil.
The technology is called THAI, which is short for Toe To Heel Air Injection.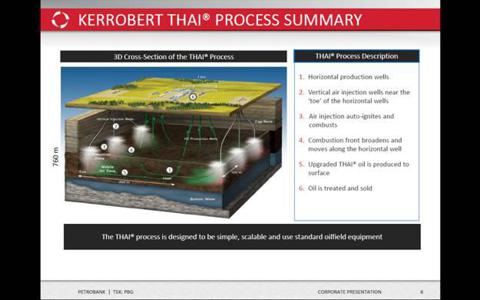 THAI is meant to revolutionize the way that heavy oil and the oil sands are produced. Based on lab and computer simulation, Petrobank believes that THAI can recover twice as much of the oil in place than the current best alternative method (OTCPK:SAGD) can.
Not only that, but THAI promises to recover twice as much oil with lower capital, operating and environmental costs.
If it works as advertised, THAI is a step change in technology that will be applied to billions of barrels of oil worldwide. Petrobank owns this technology and if it were to be adopted as best practice, Petrobank would earning a royalty off every barrel produced using it.
Again, like the lottery tickets discussed for HRT and MGT, this THAI lottery ticket for Petrobank could someday be worth multiples of the current share price.
The catalyst would be seeing production rates at Petrobank's Kerrobert project move towards levels considered commercial.
Criteria Three - Insider Ownership
Petrobank is run by CEO and Chairman John Wright who did a friendly recapitalization of the company in 2001. Again this man has both his net worth (almost 4 million shares) and his heart and soul invested in this company which is exactly the sort of alignment I'm looking for.
Criteria Four - Known Shareholder
Orbis Investment Management, a well-respected value hedge fund owns 16% of the outstanding shares of Petrobank. Orbis has an excellent long-term track record and runs a concentrated portfolio. The fact that Petrobank is part of this portfolio is of great interest to me.
Disclosure: I am long OTCPK:PBEGF. I wrote this article myself, and it expresses my own opinions. I am not receiving compensation for it (other than from Seeking Alpha). I have no business relationship with any company whose stock is mentioned in this article.