Another Major Contract for Cheniere's Sabine Pass LNG
A new long-term LNG contract announced yesterday by Cheniere Energy (NYSEMKT:LNG) shows no departure from what has become almost a standard for U.S. LNG export projects: the contract has a tolling format and is based on a fixed capacity charge (in this case, $3/MMBtu with some escalations for inflation) plus a markup to Henry Hub price on the volumes shipped (15%).
In its press release, Cheniere Energy Partners (NYSEMKT:CQP) (a majority-owned subsidiary of Cheniere Energy, Inc), announced that it has signed a 20-year ship-or-pay agreement with Centrica plc (OTCPK:CPYYY; OTCPK:CPYYF) for 1.75 metric tons per annum of LNG exports from Cheniere's Sabine Pass facility (details of the contract are discussed further in this note). This is the second contract for Train 5 of the company's proposed six-train development. Together with the contract with Total (NYSE:TOT) announced previously, the agreement brings committed volume on Train 5 to 3.75 mmtpa (of the total 4.5 mmpta), sufficient to support commercial development. Capacity on liquefaction Train 6 is currently being marketed.
Cheniere Partners is currently developing six liquefaction trains at Sabine Pass, each with expected nominal capacity of approximately 4.5 mmtpa. The first four trains have been well subscribed with long-term contracts.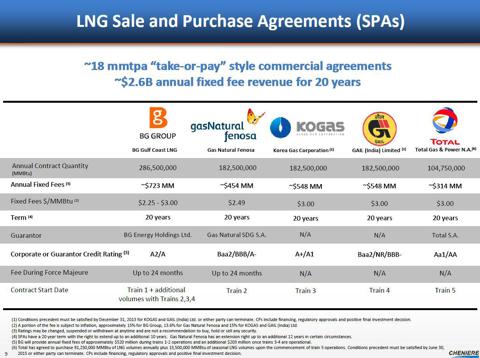 Click to enlarge
(Source: Cheniere Energy, March 2013)
The company has commenced construction of the first two trains (in-service date expected in 2015-2016) and expects to commence construction of the third and fourth trains in the first half of this year. The permitting process and preliminary engineering have been initiated for the fifth and sixth trains.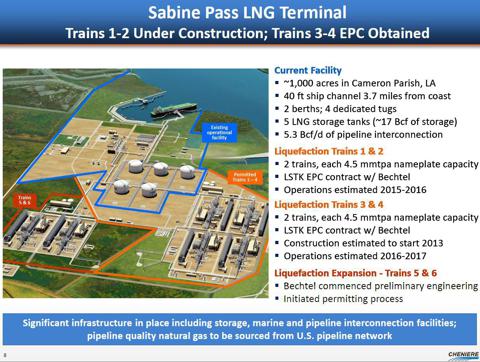 Click to enlarge
(Source: Cheniere Energy, March 2013)
Once all the six trains are in-service, the Sabine Pass LNG export facility will be able to ship out an equivalent of ~4 Bcf/d of natural gas.
U.S. LNG Exports: Essentially A Done Deal?
The past few months have been marked by several significant long-term contract announcements in the U.S. LNG sector. In February, Freeport LNG announced a binding 20-year liquefaction tolling agreement, or LTA, with BP (NYSE:BP) for 4.4 mtpa of LNG. The contract followed the LTAs with Osaka Gas (OTC:OSGSF) and Chubu Electric Power (OTC:CHUEF) for a total of 4.4 mtpa that Freeport LNG executed in June 2012. Also in February, TEPCO (OTCPK:TKECF), the largest Japanese utility, announced that it intends to purchase 0.8 mpta of LNG under a 20-year LTA from Sempra Energy's (SRE) Cameron LNG. Similar to Cheniere, all these contracts are linked to Henry Hub pricing.
In a matter of just one year, the U.S. nascent LNG export industry went from "still a long shot" to "essentially a done deal." At least three projects have now signed long-term supply agreements with major LNG buyers, and recent indications from both project developers and LNG purchasers suggest that several more long-term contracts are likely to be announced in the near future. Two large projects - Cheniere's Sabine Pass Liquefaction and Freeport LNG Expansion - are getting close to being fully subscribed. As a result, other U.S. projects will likely gain leverage in securing long-term agreements that are pivotal to obtaining project financing.
In addition, several other LNG projects have recently received Major Oil companies as their sponsors, including Chevron (NYSE:CVX), Exxon Mobil (NYSE:XOM), and Royal Dutch Shell (NYSE:RDS.A).
The series of recent announcements adds up to a critical mass of evidence suggesting that several large proposed LNG export facilities now have very strong chances of being completed.
What Has Driven The Success Of The U.S. LNG Concept?
One important factor stands behind the surprisingly powerful momentum that has become apparent in the U.S. LNG Export sector: early on in the marketing process, several U.S. LNG projects have essentially broken ranks with the rest of the international LNG industry by abandoning the oil-linked pricing in long-term contracts. A very competitive Henry Hub-linked formula that was offered instead has attracted strong demand from LNG buyers, particularly in Asia. The new pricing strategy used by the U.S. LNG pioneers, such as Cheniere, has set competitive precedents that other similar projects may have to accept and follow in order to stay in the game. With many U.S. LNG export projects still in contract marketing phase, the Henry Hub-indexed pricing may gain critical mass and become a game-changer in the international LNG trade going forward.
The aggressive marketing of Henry Hub-based agreements by U.S. tolling projects spells bad news (and shrinking operating margins) for global LNG trade in general. It also puts in question near-term feasibility of merchant LNG developments that are targeting to capture the commodity price differential between current oil-based pricing for LNG and the low cost of stranded natural gas in various parts of the world. With the broad availability of Henry Hub-linked LNG options from the U.S., oil-based LNG pricing for new contracts may be "suspended" by potential buyers, at least for the time being. Henry Hub may in fact become a new price-setting reference point for the global natural gas trade, impacting exporters from Australia to Russia.
The Henry Hub-linked formula has its obvious drawback: while it helps to eliminate the commodity price risk for the project and is very attractive to customers, it translates to slim operating margins that are locked in essentially for the multi-decade duration of the project.
A perception still seems to exist that the currently proposed U.S. LNG export projects are being developed to capitalize on the wide arbitrage between the very high LNG price in Asia and the very low feedstock price on the North American continent. In reality, U.S. LNG export projects - particularly those that are currently moving ahead - often have a very different business model. They essentially pre-sell their future capacity to liquefy natural gas and load it on LNG tankers for a fixed rate of return on their invested capital. The exported LNG is effectively priced on a "cost plus" basis and therefore is just an FOB version of the Henry Hub price.
The benefits of the Henry Hub-based pricing strategy should not be overlooked, however:
First, the key reason why U.S. LNG export projects have enjoyed success with customers is that they have been able to offer a competitive price for the LNG. Competition among potential LNG buyers leads to attractive returns on multi-billion investments in LNG facilities.
Second, incremental demand for North American natural gas from LNG exports will eventually result in an uplift to benchmark prices on the continent, providing better compensation for the Upstream sector.
As I wrote earlier, U.S. LNG has several distinct advantages relative to competing projects around the world:
Massive, reasonably priced natural gas resource in the ground and highly sophisticated and efficient E&P industry capable of quickly ramping up supply;
A wide selection of severely underutilized regasification facilities, with existing pipeline access, that can be used for brownfield liquefaction expansions (reduces the cost of construction as much as two-fold relative to greenfield projects);
Stable and secure political and legal environment;
Importantly, a unique high-capacity pipeline network that allows the sourcing of feed gas from almost any location across the continent and eliminates the need for a captive upstream component of the project.
As a result, the U.S. LNG exports have cost advantage in three of the four major components of the LNG value chain: the upstream (shale/tight gas and highly productive extraction industry), midstream (pipeline grid and liquids processing in place), and downstream (low-cost brownfield expansions already connected to the pipeline network), - with remote position relative to Asian markets being the sole disadvantage.
All these factors have made a departure from the oil-linked pricing formula feasible and, in the context of a highly competitive market, probably inevitable.
Cheniere's contract with Centrica - which is summarized below - provides valuable insight in the business model of U.S. LNG exports. Full detail of the contract can be found in Cheniere Energy's March 25 8-K filing.
Cheniere Energy Partners' Contract With Centrica Plc
Centrica is the sixth customer to contract for LNG exports at Sabine Liquefaction.
Centrica is a Top 30 FTSE 100 integrated energy company operating predominantly in the UK and North America. Centrica's businesses include British Gas, which serves around 12 million homes in Britain - nearly half of the country's homes - and one million UK businesses.
Under the Sales and Purchase Agreement (SPA) with Cheniere Energy Partners, Centrica will purchase LNG on an FOB basis, under which LNG will be loaded onto Centrica's vessels, for a purchase price indexed to the monthly Henry Hub price plus a fixed component. Deliveries from Train 5 are expected to occur as early as 2018. The structure and pricing of the contract appear very similar to the agreement with Total.
According to Cheniere's 8-K filing, Centrica has agreed to pay Sabine Liquefaction a contract sales price for each MMBtu of LNG delivered under the SPA. The contract sales price will be equal to $3.00 plus 115% of the final settlement price for the New York Mercantile Exchange Henry Hub natural gas futures contract for the month in which the relevant cargo is scheduled.11.5% of the fixed portion of the contract sales price will be subject to an annual adjustment for inflation.
Centrica will have the right to suspend delivery of all cargoes of LNG scheduled in a month by a timely advance notice, in which case Centrica will continue to be obligated to pay the fixed portion of the contract sales price with respect to the quantity of LNG suspended but will forfeit its right to receive the suspended quantity. Centrica will have the right to resume delivery of cargoes of LNG by a timely advance notice.
The SPA will have a 20-year term, commencing on the date of first commercial delivery of LNG from the fifth liquefaction train (as determined in accordance with the SPA). Centrica will have the right to extend the 20-year term for an additional period of up to 10 years.
Appendix: Cheniere's Centrica Contract - Terms and Conditions
The following is an excerpt from Cheniere Energy's March 25, 2013 8-K Filing. Please read the entire document on the Company's website or the SEC website.
The obligations of Sabine Liquefaction to proceed with the fifth liquefaction train under the SPA will become effective when the following conditions have been satisfied or waived:
Sabine Liquefaction has received all regulatory approvals required for construction and operation of its fifth liquefaction train and related facilities in Cameron Parish, Louisiana;
Sabine Liquefaction has secured the necessary financing arrangements to construct and operate its fifth liquefaction train and related facilities;
Sabine Liquefaction has taken a positive final investment decision to proceed with construction of its fifth liquefaction train and related facilities;
Specified regulatory authorizations are in effect permitting Sabine Liquefaction to export LNG from the United States; and
Sabine Liquefaction has issued an unconditional notice to proceed with the construction of the fifth liquefaction train.
Sabine Liquefaction will designate the date for the first commercial delivery of LNG from the fifth liquefaction train within the 180-day period commencing 50 months after the date the preceding conditions have been satisfied or waived.
Centrica would have the right to terminate the SPA if Sabine Liquefaction declared an event of force majeure (as defined and provided in the SPA) one or more times and the interruptions from such force majeure events aggregated 24 or more months during any 36-month period and resulted in a 50 percent or greater reduction in the annual contract quantity of LNG available to Centrica during that period. Centrica would also have the right to terminate the SPA if, among other things, Sabine Liquefaction failed to make available to Centrica 50 percent or greater of the cargoes scheduled in any 12-month period, or the fifth liquefaction train had not commenced commercial operations at the Sabine Liquefaction facility within 180 days after the date designated for the first commercial delivery.
Sabine Liquefaction would have the right to terminate the SPA if: ((i)) Centrica declared an event of force majeure one or more times and the interruptions from such force majeure events aggregated 24 or more months during any 36-month period and resulted in Centrica being prevented from taking 50 percent or more of the annual contract quantity of LNG during that period; (ii) Centrica failed to take 50 percent or greater of the cargoes scheduled in any 12-month period;
((iii)) any guaranty required to be delivered by Centrica under the SPA was not delivered for a period exceeding 10 business days or such guaranty ceased to be in effect for longer than 10 business days; (iv) Centrica or its guarantor failed to satisfy certain credit rating requirements; ((v)) any guarantor was not an affiliate of Centrica; (vi) Centrica or its guarantor failed to execute certain agreements with financial lenders; (((vii)) Centrica failed to comply with applicable trade laws; or (viii) Centrica violated provisions of the SPA restricting how LNG purchased under the SPA may be used. Either party would have the right to terminate the SPA if: a bankruptcy event (as defined in the SPA) occurred with respect to the other party; (ii) the other party failed to pay amounts due under the SPA in excess of US$30 million;
the other party's business practices caused it to violate certain applicable laws; or (iv) the conditions to the commencement of the 20-year term specified in the SPA were not satisfied or waived by June 30, 2015, or a later date if so agreed by Centrica and Sabine Liquefaction. Under the SPA, Sabine Liquefaction and Centrica will be responsible for their respective taxes, and each may assign the SPA as provided in the SPA. The descriptions of material terms of the SPA set forth above are not complete, are subject to further provisions (including exceptions, qualifications and alternatives), and are qualified in their entirety by reference to the full text of the SPA, a copy of which is filed herewith as Exhibit 10.1 and incorporated herein by reference.
Disclaimer: This article is not an investment recommendation. Any analysis presented in this article is illustrative in nature, is based on an incomplete set of information and has limitations to its accuracy, and is not meant to be relied upon for investment decisions. Please consult a qualified investment advisor. The information upon which this material is based was obtained from sources believed to be reliable, but has not been independently verified. Therefore, the author cannot guarantee its accuracy. Any opinions or estimates constitute the author's best judgment as of the date of publication, and are subject to change without notice.
Disclosure: I have no positions in any stocks mentioned, and no plans to initiate any positions within the next 72 hours. I wrote this article myself, and it expresses my own opinions. I am not receiving compensation for it (other than from Seeking Alpha). I have no business relationship with any company whose stock is mentioned in this article.