Investment Thesis
Yahoo! Inc. (NASDAQ:YHOO) is up 15.84% since the beginning of the year. I believe that some of this increase has been because of the overall bullish stock market. It has helped propel Yahoo get to a new 52-week high. However, this rise has not been without cause. Yahoo has strong fundamentals and great growth opportunities for the future. Depending on the outcome of the Dailymotion acquisition, Yahoo will improve its online video-streaming segment. Yahoo was once at $108.17 nearly 14 years ago. There are many reasons for why it can reach those heights again in the long-term. I believe that it is a good idea to buy shares of Yahoo on the next market pullback. If the stock price comes down to around $22, it would be a great addition for your portfolio. The strong balance sheet, potential acquisitions, and transformations brought about by CEO Marissa Mayer make Yahoo a strong buy for the long-term.
Company Report-Initiation of Coverage
Rating & Target
BUY
Target Price (12-18 months): $30.50
Current Price (03/21/2013): $23.26
Total Return to Target: 31.13%
52-Week Range: $14.59 - $23.09
Market Data
P/E Ratio (NYSE:TTM): 6.71
Beta: 0.87
Market Capitalization (Mil.): $24,333.12
Shares Outstanding (Mil.): 1,101.30
Dividend: --
Company Description
Yahoo Inc. was founded by Jerry Chih-Yuan Yang and David Filo in January 1994 and is headquartered in Sunnyvale, Ca. It is a digital media company, which delivers personalized digital content and experiences, across devices and across the globe. The Company provides online properties and services to users, as well as a range of marketing services designed to reach and connect with those users on Yahoo and through a distribution network of third-party entities. The Company generates revenue from the display of graphical advertisements, the display of text-based links to advertisers' websites, and other sources. Its offerings to users currently fall under three categories: Communications and Communities, Search & Marketplaces and Media.
1-Year Performance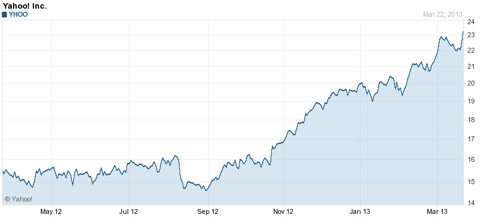 Source: Yahoo Finance
Investment Overview
Expansion in New York
Yahoo Inc. is expanding in Western New York State where it will build a new data center and customer care facilities. The plan builds on Yahoo's existing Lockport data center, which opened in 2010, and is expected to create 115 new jobs in engineering, technology and customer service. Yahoo's expansion into Western New York will provide additional capacity and world-class customer care service, ensuring that Yahoo users have fast product experiences and access to helpful customer support. This builds on Yahoo's human resources department's idea of "We need to be one Yahoo, and that starts with physically being together." The Company is trying to discourage employees from working from home in order to encourage more productive interactions within the company. The new data center will utilize the company's Yahoo Compute Coop architecture, which is a world-class, energy-efficient data center design that uses significantly less energy and water than conventional data centers. The unique shape of the building and the use of outside air-cooling for about 98 percent of the year eliminate the need for expensive and energy-intensive chillers to keep the servers cool.
Yahoo acquires social recommendation startup Jybe
Yahoo Inc. acquired a small mobile startup company, Jybe, which was founded by former employees of the struggling Web portal two years ago. It has bought the company for an undisclosed amount, as the firm continues its push to provide customized content to users. Jybe aims to help people find the things they like to do based on what's trending in their social circles. It recommends movies, books and restaurants based on data contained in social networks. The Company said that the last it would shut down the Jybe service, while the Jybe engineers and data scientists would focus on Yahoo's efforts to bolster its product line-up.
Potential deal to acquire a controlling stake in Dailymotion
Yahoo Inc. is in talks to acquire a controlling stake in Dailymotion, one of the world's most popular online video websites. Yahoo could purchase as much as 75 percent of Dailymotion with the possibility of buying the rest of the site at a later date. The online video website is owned by French telecommunications firm France Telecom-Orange. Dailymotion could be valued at roughly $300 million, according to a report, which noted that the deal is not imminent and could fall apart. Dailymotion is hoping that selling a majority stake to a U.S. partner will help boost distribution, content and marketing deals. The addition of the largest streaming video site after YouTube would give Yahoo a major presence in the Web video outside the U.S. Dailymotion has 116 million unique monthly visitors and more than 2 billion videos viewed. At a recent technology conference, CEO Mayer said video "is going to be very important to our strategy." Last July, Yahoo struck a syndication deal with Dailymotion.
Strong management
Marissa Mayer was appointed as President, CEO, and Director of Yahoo Inc. on July 17, 2012. Prior to joining Yahoo, she served as the Vice President of Local, Maps, and Locations Services at Google, Inc. beginning in 2010. Prior to that, she served as Google's Vice President, Search Products and User Experience, and in a variety of other capacities since joining Google in 1999. She is in the process of trying to transform Yahoo into a technology powerhouse after it was eclipsed by Google, Facebook Inc. and other web companies. Her stated goal is to turn Yahoo into a force in mobile-device software for consumers and provide customized content for them based on their interests, background and location. Under Mayer, Yahoo has revamped some of its websites, such as Yahoo Mail, Flickr and the home page, and made a handful of small company acquisitions for the purpose of bringing on talented computer programmers and product managers. The Company has been slowly introducing changes in its user interface to carry more ads and reinvigorating its mobile experience. She has been praised for her job so far at Yahoo, by repositioning itself to provide more useful, customized products for its customers and content customers.
Strong financials
Yahoo has a P/E ratio of 7.07 compared to the industry average of 21.61 indicating that the stock is underpriced compared to its competitors. Its current ratio is 4.38 MRQ compared to the industry average of 3.24 MRQ indicating that it has a lower ratio of liabilities to assets than its competitors. Yahoo has better liquidity than other companies, such as Google (NASDAQ:GOOG) with a current ratio of 4.22. The Company also has a strong gross margin of 67.50% compared to the industry average of 53.21%. Its net profit margin is a remarkable 65.66% compared to the industry average of 18.29%. The management's effectiveness is shown through higher return on assets and return on equity than the industry averages.
Negatives and possible risks
· Generate the majority of its revenue (81% of total revenue in 2012) from display and search advertising, and the reduction in spending by or loss of current or potential advertisers would cause its revenue and operating results to decline
· Changes in regulations or user concerns regarding privacy and protection of user data, or any failure to comply with such laws, could adversely affect its business
· Acquisitions and strategic investments could result in negative impacts on its operations and in unexpected liabilities
· Slow growth in sales compared to industry average-1.64% increase in MRQ from quarter 1 year ago compared to industry average of 17.41% growth
Industry Overview
Yahoo's major competitors are Facebook (NASDAQ:FB), Google, Microsoft (NASDAQ:MSFT), and AOL (NYSE:AOL). Yahoo faces significant competition from integrated online media companies, social networking sites, traditional print and broadcast media, search engines, and various e-commerce sites. Several of their competitors offer an integrated variety of Internet products, advertising services, technologies, online services and content in a manner similar to Yahoo. It also competes with social media and networking sites, which are attracting a substantial and increasing share of users, users' online time, and online advertising dollars. If the competitors are more successful than Yahoo is in developing and deploying compelling products or in attracting users, advertisers, publishers, developers, or distributors, its revenue and growth rates could decline. Compared to Google, Yahoo had a much smaller growth in sales over the past quarter. While Yahoo's EPS has declined in its MRQ compared to last year, Google's EPS has increased. Overall, Google has had a stronghold of the search engine market share over the past years.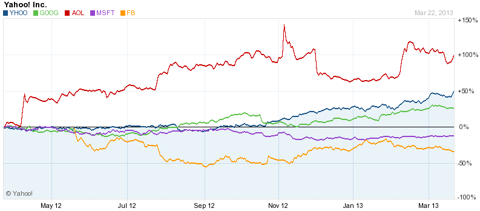 Source: Yahoo Finance
Basic Technical Analysis
There was a golden cross between the 20-day MA and 100-day MA in October 2012, which triggered the stock price to rise ever since. It has been increasing steadily over the past 5 months as was the rest of the stock market. Therefore, it is hard to determine if the increase was due to the overall bullish market or increasing confidence in Yahoo and its profitability. According to the Bollinger Bands, the stock has been trading close to the upper band. This may indicate that the stock is currently overbought and it may be more beneficial to wait for a pullback before investing in Yahoo.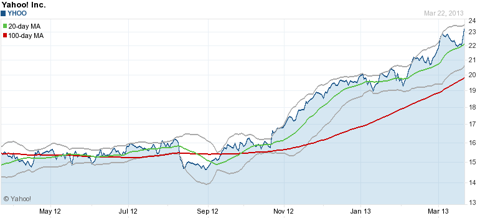 Source: Yahoo Finance
Conclusion
The strong fundamentals and planned transformation for Yahoo make it a very appealing stock for investors. Even though it is at a 52-week high, it still presents great upside. However, because of the overall markets being so bullish over the past 4 months, I think that it is best to wait for a pullback on Yahoo. If the stock falls back to around $22, it would be a prime time to buy it before it has further increases. In the short-term, the stock may be volatile because of the competition present and the potential acquisitions for Yahoo. However, in the long-term, Yahoo has a lot of room for growth with the help of further acquisitions and under the management of its proven CEO Marissa Mayer. Yahoo's transformation has already begun, but there is still much to do to make the company a serious threat to Google. As Yahoo increases its focus on its mobile presence, this shift in power is imminent.
Disclosure: I have no positions in any stocks mentioned, and no plans to initiate any positions within the next 72 hours. I wrote this article myself, and it expresses my own opinions. I am not receiving compensation for it (other than from Seeking Alpha). I have no business relationship with any company whose stock is mentioned in this article.