In this article I will analyze the potential for Zynga (NASDAQ:ZNGA) relating to its forthcoming foray into UK gambling.
Zynga has its eyes fixed on the world of online gambling, or RMG (real money gambling). They will shortly be trialing the project in the UK, where gambling laws are lax (to say the least). This strategy is not hard to understand when you see the figures for gambling in the UK. According to data from the UK Gambling Commission, from a population of approximately 60 million, 73% of people gamble on a regular basis. The 73% includes all types of gambling, of which playing the Lottery takes by far the largest chunk, if we take out Lottery you're left with 43%. From a separate survey in 2009, it found 5.6% had used an online gambling service. Then in this article from The Independent, the researcher predicted that this year 9 million Britons will gamble online, whilst also stating that the UK online gambling industry's value is expected to burst through the £2bn barrier for the first time in 2013, and over the next four years, the European industry will grow by 34 per cent.
UK online gambling market size, by value and volume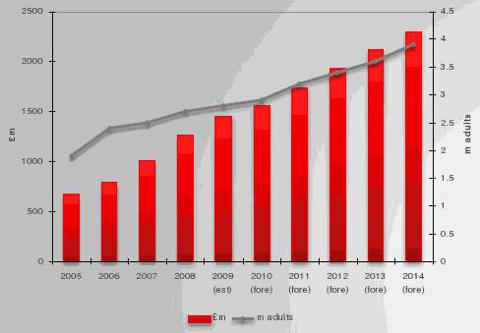 Click to enlarge
source: Microsoft Advertising
These quotes were taken from another article published in The Independent where Maggie Kirkpatrick of the Consumer Credit Counseling Service states;
"There are an awful lot more people gambling at home now because it is so much easier to do at home," she said. "The advertisers present this as 'your friend in the home', on the end of a computer."

These include "an enhanced and regularly refreshed range of games on offer, with different themes, prize levels and price points to appeal to all tastes" and "steady growth in the number of players, especially younger, online players who love the smaller prizes on offer."
It also mentioned that online gambling is on the rise, with more people being attracted to the fun, and social aspect.
The UK is a great starting block
This chart shows Gambling losses by country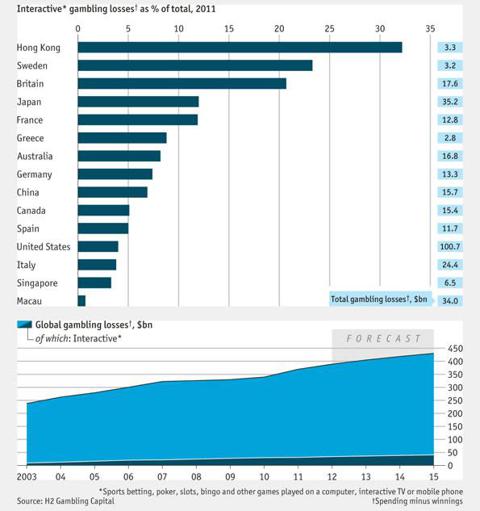 Click to enlarge
source: The Economist H2GC
Additionally, Facebook (NASDAQ:FB) has been testing the concept of RMG through Gamsys with their Bingo Friendzy games, which started in August 2012 on their UK Facebook website. We can assume the experiment has proved lucrative, as Facebook is now looking to expand its offering through a partnership with Zynga.
"Real-money gaming is a popular and well-regulated activity in the U.K., and we are allowing a few developers to offer games there to adult users on Facebook Platform in a safe and controlled manner." said a Facebook spokeswoman.
According to the Gamsys LinkedIn profile, I learned that Gamsys now employs 700 people throughout Europe, and is looking to acquire more great talent; It also states;
"You can also find Jackpotjoy on Facebook, where social gaming is becoming an increasingly important part of our business."
Zynga launches in the UK
Two websites have been set up in the UK, Zynga Plus Poker, Zynga Plus Casino, these sites are there to initially grab email addresses, and start the initial marketing buzz. Unfortunately, there doesn't seem to be any hard numbers as to how the sign up process is going, but looking at Google Trends for the two sites, there is very little interest. This may be because the marketing wheels have not yet started.
CEO Mark Pincus has famously said;
"We're not the company to win the hardcore real-money gamers," he said. "But we think we are for the mass market audience."
This may be true, as Zynga games are used by more people than any other games. This is exactly the reason why hardcore gamers will be attracted; according to a raft of comments provoked by this article, Zynga's massive database of inexperienced poker players is exactly the right draw for hardcore real-money gamers - grinders as they are called. They will certainly like to take advantage of the large pool of inexperienced poker players. If Marc Pincus believes that he is going to change the way online gambling is perceived, and that there may be a more friendly, even family orientated feeling that can be realized from their very cute games, then he may be sorely misguided. The British public has been bombarded for a few years now with different sales pitches, and have realized that it's all gambling at the end of the day. This being said, the various games do accumulate vast sums for their providers. What he will realize though, is that it's not going to be an easy ride, with British consumers very aware of what is being sold.
If it appears they are promoting gambling in the guise of well-known games, then it may be perceived by parents that a large American company is taking advantage of our children - a backlash may ensue. However, with very strict laws on advertising in the UK though, I would be surprised if marketing along these lines would ever be allowed anyway.
Who is bwin.party?
Zynga is partnering with bwin.party (LSE.BPTY) a Gibraltar based company (Gibraltar being a UK state off the coast of Spain), and will be essentially skinning their games with Zynga branding. Bwin.party is the merger of separate companies, Bwin and Party Gaming in January 2011. The two CEOs, Jim Ryan and Norbert Teufelberger share the top spot now. They claim to be the world's largest listed online gaming company at £1.16 billion market cap.
Bwin.party has a terrible reputation amongst their affiliates, having apparently the worst paying affiliate program of any gambling company. Their latest terms and conditions have been invoking a very negative reaction. Apparently, bwin.party had been reducing commissions, and removing sub affiliates without warning. Now that bwin.party have built their business to be non dependent on affiliates, you can understand to a certain degree why they've changed their tactic towards these partners, but Zynga will need to be aware that the people they are partnering with can change their terms if it doesn't suit them.
Bwin.party may be happy to have a new partner for marketing spend though, as they seem to have been hit hard by extra costs through unexpected taxes, and regulations. This makes you wonder who needs who the most, and I think it's a 50:50 deal, as I point out below.
Zynga expands further into Europe?
Looking further afield into Europe, and the possibility of Zynga expanding its offering into other countries. There is a very real chance, and clear opportunity looking at some European countries such as France and Italy, which are forecasting huge growth in online gambling, but the move would not be straight forward. It's inevitable though that Zynga will have to do this if they want to expand, as it's virtually impossible these days to cross-border online gambling operations. There have been numerous accounts of companies having operations closed down, or severely taxed because governments have changed the rules. Martin Weigold explains how bwin.party have faced these challenges.
As each Country has its own regulatory minefield to walk through, having an experienced partner is extremely useful. For this reason, Zynga will probably follow bwin.party, as they have an understanding of the complicated environment that each country enforces. Indeed, they operate, and have operated in various European States with varying amounts of success. In a recent interview with Martin Weigold, the CFO of bwin.party, he tells us a lot about the complex nature of the European gambling marketplace. He also makes a statement that may be hinting at the Zynga tie up;
"we are not happy with our Poker performance, and we plan to make a complete refresh of the product during 2013, and the first part of that refresh will happen in the second quarter."
Conclusion
Looking at the competitive nature of online gambling in the UK, it can be shown that marketing spend has declined over the past year or so and promotion via social networking, and celebrity endorsements is increasing. This may be an opportunity for Zynga as their deep pockets, and millions of users could give them a superior advantage to capture the market. Or, alternatively they could find themselves throwing their dollars into a money pit, with users unwilling to convert from free to paid with enough fervor. I feel this secondary view is unlikely, as all the signs seem to be favoring Zynga - as long as they don't do anything stupid!
So, Zynga is not blindly walking into the unknown - the UK online gambling arena is alive and kicking. This could very well be a tipping point for Zynga. If they get this right then it's a game changer for them and for the shareholders.
*Note. When I refer to online gambling, I am also including mobile, as the two are difficult to separate with regards to obtainable figures at the moment. Some analysts reckon that mobile accounts for at least 10% of online gambling, but this is probably speculation. Be certain though, that mobile gambling is on the growth curve.
Disclosure: I am long ZNGA. I wrote this article myself, and it expresses my own opinions. I am not receiving compensation for it (other than from Seeking Alpha). I have no business relationship with any company whose stock is mentioned in this article.